The Best Coffee Machines To Start Your Day On A Good Note
Keen to get your caffeine fix at home? Here are our favourite coffee makers for a great-tasting shot of stimulation and focus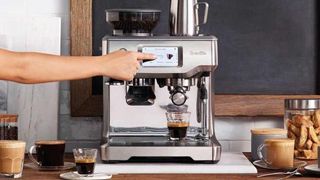 (Image credit: Unknown)
Many people rely on caffeine to get them going in the morning, but not as many know it's a great stimulant to use before a workout. In fact, it's one of the most commonly found ingredients in pre-workout supplements – but the effect can be easily replicated with a shot of espresso. Of course, the result will be the same whether the coffee tastes nice or nasty, but with so many fine home coffee makers available for all price ranges, it seems a crying shame to suffer the sort of muddy slop that used to pass for home-brewed coffee a decade ago.
If you're not sure where to start in your search, begin with a whistlestop tour of the four main types of coffee machine. Then read on for our pick of the best coffee machines that we've tested, listed by category.
See related
Types Of Coffee Machine Explained
Manual Espresso Machines
If you want the best possible coffee these are the machines to go for, but be warned: you'll need some barista skills – grinding the beans, tamping the coffee, steaming the milk and cleaning the machine. As well as the superior taste (once you've mastered the art), these versatile machines can produce all types of coffee. There's a huge range of price: machines can cost anywhere between £100 and £2,000.
Bean-To-Cup Machines
If a manual espresso machine sounds too laborious but you still want the quality that comes with using unground coffee beans, a bean-to-cup maker might be more up your street. These handy machines deliver a measure of coffee so all you have to do is put water and whole coffee beans in and press a button – you don't even need to clean the machine after each coffee. The most expensive bean-to-cup machines also feature integrated milk frothers, which heat the milk to the exact temperature of your preferred coffee style. That said, the results rarely match those of a manual machine, and they're not cheap – prices start at £400 for one of sound quality.
Pod And Capsule Machines
These are often referred to as Nespresso machines, and while that brand pioneered the technology, there are equally good rivals now. This type starts at just under £100, but you can pay top dollar for models with built-in milk frothers, which means you can create cappuccinos and lattes at the touch of a button – although they still don't compare to those you can make with a manual espresso machine.
Filter Coffee Machines
One thing about all the machines listed above: they can't produce coffee in large amounts. So if you have a coffee-loving household to keep caffeinated, this traditional option could be your best option. Generally this type uses ground coffee, although some models do have integrated grinders (or you can buy a separate grinder if you like your beans freshly ground). They won't produce anything fancier than plain black coffee – but they'll keep it heated throughout the day. Filter coffee machines are definitely the cheapest category of coffee maker out there: they generally cost between £30 and £200.
---
The Best Manual Espresso Machines 2020
Sage Bambino Plus
Best Affordable Manual Espresso Machine
The Bambino Plus is the cheapest manual espresso machine in Sage's line – and while it costs more than other entry-level machines, it more than justifies the price with its stylish exterior and a compact design that won't take up too much space on your kitchen worktop.
If you like your coffees short and black the Bambino delivers a superb espresso, but what we really like is this machine's automatic milk texturing, which produces deliciously dense, creamy, foamed or steamed milk at the simple touch of a button. Our one beef with the Bambino? Like other, cheaper, models in this list, its pressurised baskets (the perforated metal wells where you tamp down the ground coffee) don't get the best from high-quality artisanal coffee, but for other types you won't have any problems.
Buy from Currys PC World | £329
---
Sage Barista Express
Best Manual Espresso Machine Under £500
If your budget is £500, you have two top choices: Gaggia's fabulous Classic and this stellar all-in-one machine. While the Classic delivers the superior coffee, it doesn't come with an integrated burr grinder (a device made of two revolving toothed metal rings that grind the beans) and it isn't as easy to use as the Barista Express. This machine will deliver a top-class espresso, latte or cappuccino without the typical amount of labour a manual espresso machine usually requires.
It's easy on the eye and won't look out of place in a stylish kitchen, and it also comes with a range of accessories. These aren't of the pointless, feature-creep variety – for instance, there's a tamper that attaches itself magnetically to the machine so you don't lose it, plus a stainless steel milk jug and another tool to help measure out the perfect amount of ground coffee. Factor in a clear, concise manual, and you've got an excellent all-round experience.
Buy from AO | £449
---
Sage Barista Pro
Best Manual Espresso Machine Under £750
This marks a step up in quality from the Barista Express, and it ranks among the very best of mid-range manual espresso machines. Cheaper ones deliver a serviceable espresso, but if you want one with some serious, inky punch, the Pro will pull every last drop of flavour from each coffee ground. Not only that, it's far more consistent, with an integrated burr grinder that does an excellent job of accurately delivering the same quantity of ground coffee each time, while the volumetric sensor pushes the same amount of water through the coffee time after time. It's a totally manual machine, which might intimidate some, but you'll see your time and effort in the stunning results.
₹2,695.15 VIEW AT AMAZON
---
Sage By Heston Blumenthal The Dual Boiler
Best High-End Manual Espresso Machine
Given the virtuoso chef whose name is attached to this product, it's little surprise that this is a machine for people who take coffee making very, very seriously indeed. Short of kidnapping your favourite barista, this is the closest you'll get to the flavours of your favourite coffee shop at home. Everything about its design and build is superb and all its various components are industry-quality. The dual boiler allows you to steam milk and pour espresso at the same time, making the whole process that bit more straightforward. Needless to say, the final cup of coffee is exceptional.
Buy from John Lewis | £1,139
---
The Best Bean-To-Cup Coffee Machines
Gaggia Naviglio
Best Affordable Bean-To-Cup Machine
As we said in our buying guide, bean-to-cup coffee machines don't come cheap, but if you're looking for an affordable option, you can't beat the Naviglio. Despite its budget-end price, it still produces a delicious espresso and we found it only needed small adjustments to achieve a great taste. The manual steam wand also lets you froth milk in a jug to create lattes, cappuccinos and other milky styles. It's possible to produce tastier bean-to-cup coffees at home, but you'll need to spend a sizeable amount more.
---
Gaggia Anima
Best Mid-Range Bean-To-Cup Machine
There are plenty of bean-to-cup machines that hover around the £1,000 price mark, but Gaggia's Anima drops fancy features like the one-touch cappuccinos to undercut them. The built-in grinder doesn't quite produce the finely ground coffee we've seen elsewhere, but for £600 or so, it's still of a fine quality and overall it delivers for espresso fans. It also has a milk frother for those who prefer their coffee milky.
---
Melitta Caffeo Barista TS Smart
Best Bean-To-Cup Machine
Ever since we first put it to the test, the Melitta Caffeo Barista TS has been our favourite fully automatic coffee machine. The Smart version is simply an improvement on an already excellent product. It can create a selection of espresso-based brews that are oh-so-close to manual machine standard.
It's certainly got enough features to keep you occupied. The two bean hoppers will deliver a number of different coffee drinks, all easily manageable from the touch panel on the front of the machine. Of course, the new Smart version ups the game by adding Bluetooth connectivity –giving you total mastery of the drink creation process from your smartphone, meaning you needn't get out of bed to get your morning brew going.
Buy from Currys PC World | £749
---
The Best Pod And Capsule Coffee Machines
Krups Inissia
Best Affordable Nespresso Machine
At less than £100, this is a fabulous introduction to at-home Nespresso coffee. The plastic build goes some way to explaining the low price, but don't let that deter you – it's still attractively designed and comes in a spectrum of colours to suit your decor. One notable thing it doesn't do is automatically steam milk – for that, we suggest you buy an Aeroccino 3 frother separately.
---
Nespresso Vertuo Plus
Best Mid-Range Capsule Machine
Finding itself suddenly surrounded by rival products, Nespresso has upped its game by producing an entirely new type of coffee capsule: the Vertuo. While standard Nespresso pods will deliver either an espresso or lungo, the Vertuo has been designed to create a type of longer, more flavoursome black coffee.
For creamy coffees that arrive with minimal effort on your part, this is an ideal choice. It's just a shame that it's not compatible with standard Nespresso capsules and that the so-called centrifusion technique of spinning the capsule does make it pretty noisy.
Buy from John Lewis | £79.99
---
Nespresso Creatista Uno By Sage
Best High-End Capsule Machine
If you're after a capsule machine that doesn't quite deprive you of total creative control, take a look at the Creatista Uno. Yes, it will accept a Nespresso pod and deliver a selection of different coffees at the end of it, but rather than add the milk automatically, it leaves that to you. Fill the stainless steel jug with milk, dunk the frothing wand in, select your temperature and frothiness of choice, hit the steam button and then walk away. We're calling the process barista-lite.
The Creatista Uno comes with other easy-to-use features, such as the push-to-open capsule holder and handy espresso cup platform. The water tank is substantial in size, and the drip tray is big enough to accommodate all but the largest of mugs. All in all it's a great option.
Buy from John Lewis | £329
---
The Best Filter Coffee Machines
Melitta Look Timer
Best Affordable Filter Coffee Machine
Despite that £50 price, the Melitta Look Timer is one of the best filter machines available on the market right now. Seriously, invest in some high-quality ground coffee, and the brews that this machine will produce will be gorgeous.
As with most filter coffee machines, it uses paper filters. There's more creative scope here than you might expect – you can adjust the taste of your coffee by using different types of filter, and you can use the dial to tweak its strength, too. The hotplate will keep it warm if you like to return for a refill – although we don't suggest you leave it on for too long, as the flavour grows stale and unpleasant.
---
Melitta Aroma Elegance Therm Deluxe
Best High-End Filter Coffee Machine
If it's the finest-quality filter coffee that you seek, you'll find it in this machine's jug. It's incredibly simple to use, with a removable water reservoir that's easy to fill and a coffee-making process with zero hassle. Much like Melitta's Look Timer, this uses paper filters, and different types produce different results.
The coffee is dispensed into a thermal jug, which does an excellent job of keeping it hot but without heating it to the point of ruining the taste. Our favourite feature is the clock and timer controls, which let you set it to start brewing at a scheduled time.
Sign up for workout ideas, training advice, reviews of the latest gear and more.