The Best Pre-Workout Supplements
Use our expert guide and taste tests to pick the right pre-workout supplement and you'll make greater gains faster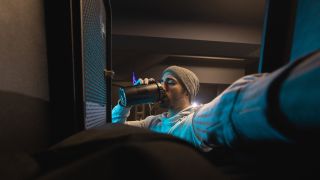 (Image credit: Getty Images)
Many people are now accustomed to taking supplements such as protein powder after a workout, but it's not so common to consume a pre-workout supplement. These are intended to help you excel in your training session and kick-start the recovery process before you even begin the workout.
But what's in them, what do they do and will you actually benefit from using them? We asked dietitian Anna Groom, speaking on behalf of the British Dietetic Association, for more info on pre-workout supplements.
You'll find the interview below our picks of the best pre-workout supplements, but the key points are that this type of supplement generally contains a combination of carbohydrates, amino acids and caffeine, and can provide a boost to help you get through training sessions. There's no doubt all three of these elements can be useful and they all feature in our guide to the best supplements (well, we don't think individual amino acid supplements are worth it because you'll find these in ample quantities in the best protein powders), but they aren't strictly necessary for most people.
The Best Pre-Workout Supplements You Can Buy
It's one thing understanding what goes into pre-workout supplements. It's quite another deciding which tub is worth buying. While we aren't scientists and can't authoritatively speak to how effective each product is, we can chug down a load of them and tell you which we'd buy. Coach contributor Rory Mellon took on the task, and here are his impressions along with the vital stats. The ones Mellon has kept using have been labelled as recommended.
---
1. ON Gold Standard Pre-Workout
The benchmark for other pre-workout powders
RRP: £24.99 for 330g | Serving size: 11g | Calories: Not listed | Protein: Not listed | Carbs: Not listed | Caffeine: 175mg
Mixes well
Good range of flavours
Lower in caffeine than others
Optimum Nutrition's Gold Standard range has long been a Coach favourite and this offering is another winner. With creatine (3g per 11g serving), beta-alanine (1.5g), amino acids such as L-citrulline (750mg) and a dose of caffeine (175mg), this has everything you'd want from a pre-workout supplement. The inclusion of a host of vitamins, which ON claims have a positive effect on your metabolism, gives this powder that extra edge.
Watermelon taste test: Between the reasonably small 11g serving size, and comparatively high recommended 350ml of water, it doesn't come as shock that this powder mixes very well. Sweetened with sucralose and acesulfame K, it goes down extremely well. The benchmark by which other pre-workout supplements should be measured.
Buy from ON | £21.99 for 330g
---
2. BSN N.O.-Xplode
RRP: £17.99 for 390g | Serving size: 13g | Calories: Not listed | Protein: Not listed | Carbs: Not listed | Caffeine: 200mg
Mix of caffeine and amino acids
Low in carbs
Putting aside the awful name, N.O.-Xplode is a powerful pre-workout supplement that has been around for more than 15 years. In each 20g serving you'll find 150mg of caffeine, 1.3g of beta-alanine, 3g of creatine, 3g of L-arginine and plenty of vitamins to support your metabolism doing its thing. A decade and a half on, this formula is still one of the best around.
Blue raspberry taste test: Pro tip, N.O.-Xplode really froths up, causing some spillage after a particularly vigorous shake. This is a very sweet drink, probably too cloyingly sweet for some, but if you can't stomach the sour kick that comes with some other pre-workout powders, it's a great choice.
---
Myprotein THE Pump
Great for evening workouts
RRP: £26.99 for 320g | Serving size: 16g | Calories: Not listed | Protein: Not listed | Carbs: Not listed | Caffeine: 0mg
No caffeine
Works quickly
Doesn't mix well
With no added caffeine, THE Pump aims to give your evening workout a boost without having a detrimental effect on your sleep. Containing 300mg of VASO6, a patented ingredient containing catechin (which is said to help weight loss), as well as a dose of vitamin C and 3.2g of beta-alanine, this pre-workout powder hits quickly and had me itching to get moving.
Orange and mango taste test: The Pump is rather sweet and the mango overpowers the orange, but it's pleasant and very drinkable. Unfortunately, the suggested mix instructions resulted in a powdery aftertaste, so I'd advise using more water than recommended. Also, the formula leaves a foamy residue in the shaker that was annoying to wash out.
---
Supreme Nutrition Pre-Workout
A hefty caffeine kick for your training
RRP: £28.99 for 400g | Serving size: 20g | Calories: 63 | Protein: 10.3g | Carbs: 5.3g | Caffeine: 300mg
High level of caffeine
Decent serving of protein
Includes creatine
Leaves residue in shaker
Supreme Nutrition has packed this powder with good stuff to give your workouts a boost, including BCAAs (5g per serving), creatine monohydrate (5g), citrulline malate (2.7g) and beta-alanine (1.5g), plus 300mg of caffeine to keep you sharp. One oddity in the ingredients list is pine bark extract, but according to SN it reduces recovery time so we're not complaining.
Blue raspberry taste test: The dark turquoise colour of the drink once mixed gives the impression it's going to be sickly, but it strikes the right balance between sweet and tangy. The recommended amount of water (250-350ml) is higher than some on this list, and it creates a thin drink that went down easily, although it did leave some specks of powder in the bottom of the shaker.
---
Bulk Elevate
A complete powder for training and recovery
RRP: £39.99 for 660g | Serving size: 33g | Calories: 118 | Protein: 18g | Carbs: 11g | Caffeine: 200mg
11g carbs for energy
Mixes well
Substantial serving of protein
Higher in calories than others
Not filling
Elevate combines 12 active ingredients in a unique formula. The inclusion of vitargo (10g per 33g serving), a sports performance carbohydrate, and an impressive 5g of citrulline malate to assist blood flow helps Elevate offer more than just an energy boost. There's also 3.5g of beta-alanine and 200mg of caffeine.
Orange and mango taste test: This sucralose-sweetened drink tastes a lot like orange squash, but with a slightly sour kick. It mixes rather well and, unlike some supplements on this list, has a really pleasant aftertaste. It's not especially filling, though, and since you're advised to take it on an empty stomach, you'll be working out hungry with this one.
---
USN BCAA Power Punch
Zero sugar and carbs but high in protein
RRP: £25 for 400g | Serving size: 11g | Calories: 35 | Protein: 10.3g | Carbs: 0g | Caffeine: 300mg
Vegan
Zero carbs
Artificial taste
One of the few vegan-friendly pre-workout supplements, the powder packs 6,900mg of branched-chain amino acids and 2,500mg of L-glutamine into each 11g serving – plus, it has no added sugar. There's also an 11mg dose of vitamin B6 in each scoop, which reduces tiredness and fatigue, and helps you to power through tough sessions.
Tangerine taste test: The recommended mixture of two 11g scoops and 500ml of water creates a bright orange-coloured drink that is rather artificial in taste – the inclusion of sucralose and acesulfame-K are most probably responsible. Thankfully, the drink is thin enough to get down fast.
---
Bulk Powders Elevate Zero
Protein-packed and low in sugar
RRP: £39.99 for 440g | Serving size: 22g | Calories: 81 | Protein: 19g | Carbs: 1.76g | Caffeine: 200mg
Low in carbs and sugar
Substantial serving of protein
Bitter with flecks of residue
This tweaked version of Bulk's pretty great pre-workout supplement has slightly less sugar (from 0.27g down to 0.22g per serving) and a lower carb count (10.5g down to 1.76g) compared with the original. There's no vitargo here, but there's still 2.5g of beta-alanine, 5g of citrulline malate and 200mg of caffeine.
Pineapple and grapefruit taste test: Unsurprisingly, Elevate Zero tastes a lot like regular Elevate, except that ditching some of the sugar leads to quite a bitter aftertaste. A large quantity of tiny brown flecks collected at the bottom of the shaker as well, which made the final few sips very unappealing.
Pre-Workout Supplements Explained
What ingredients do pre-workout supplements usually contain?
There are many different pre-workout drinks on the market, but the majority will contain a combination of carbohydrates, amino acids and caffeine.
What are the possible benefits of using them?
The idea is to provide additional nutrients to promote performance and subsequent recovery from exercise. By providing easily digestible energy in the form of glucose or fructose this ensures adequate provision of energy for working muscles. Amino acids are the building blocks of protein, which is important for recovery of muscles and to support growth of muscle following resistance training.
Will the average gym-goer or amateur athlete benefit from using them?
The average gym user would benefit from following a healthy diet and meeting macronutrient and micronutrient requirements before considering any supplementation. Choosing a healthy diet and snacking on items such as fruit, yogurt, nuts and dried fruit can provide sufficient energy in those doing recreational activities.
It's worth focusing on hydration as well as energy provision, because – regardless of carbohydrate or protein intake – if a person or athlete is dehydrated they will not be able to perform and train to their potential. Dehydration can also become a serious health risk.
Those training regularly or training for a specific event may benefit from further dietary support to meet their increased needs.
Are pre-workout supplements something you should use before every workout, or only tougher sessions?
You have to take care not to overcompensate for energy expenditure through excessive nutritional intake. From experience, I have often found that individuals overestimate the energy burned during exercise and subsequently eat high-calorie snacks like protein smoothies or bars, or flapjacks. If exercising for weight management, this negates the beneficial effect of creating a calorie deficit through exercise. Therefore individuals should carefully plan their training and log their eating to ensure there is increased nutritional provision only on days of increased energy expenditure and intensity.
Are there any downsides to using them?
Care should be taken when using any supplement because of the potential inclusion of other ingredients. Some supplements will contain caffeine, which while typically harmless to most people in small quantities (with the exceptions of children, pregnant women and those sensitive to caffeine), in larger doses can potentially cause side effects.
Some supplements may also contain creatine. This has been proven to potentially improve performance in specific sports but it can also cause unwanted weight gain from fluid retention.
There is also the risk that supplements may contain undesirable contaminants that are not permitted in sport. Always check any supplements on the UKAD Supplement Hub information database.
Sign up for workout ideas, training advice, reviews of the latest gear and more.