The Best Protein Powders And What To Look For When Buying Protein Powder
Find the best protein powder to support your training with expert advice on what to look out for and our tasting notes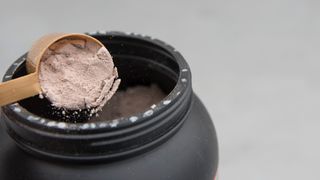 (Image credit: Monique Woo / Future)
While few, if any, amateur athletes need protein powder to support their exercise regime, it can be a highly convenient way to ensure you have all the fuel required to repair and build muscle after a workout.
You might assume that all of them do the same job, but that's not the case. Coach spoke to Dr Daniel Fenton, clinical director and GP at London Doctors Clinic, and Lily Chapman, a performance coach and nutritionist at digital coaching site P3RFORM, about the differences between protein powders, how much price matters and whether they contain any ingredients you should be wary of. We then assessed the best protein powders out there using Fenton and Chapman's criteria and tasted them too, so you have a better idea of what you're buying.
Fenton's in-depth advice is below, but here's his takeaway: "I suggest you choose a low-fat, low-carbohydrate, high-protein powder. While you require all three to aid muscle development, balance is key."
The good news is those three qualities describe all the supplements in our selection of the best protein powders below.
How We Choose The Best Protein Powders
Once we got the lowdown on protein powder from Fenton, we examined the nutritional composition of each supplement through that lens. Then we mixed each one into a protein shake and tried it, paying attention to how well it mixed, the resulting consistency and—most importantly—how it tasted.
The Best Protein Powder
We've tried a lot of protein powders of all different stripes, but the most common and popular type is whey protein which is what we'll cover here.
---
1. Optimum Nutrition Gold Standard 100% Whey
The best protein powder
Specifications
Flavors:
13, including cookies and cream, and double rich chocolate
Serving size:
30g-32g, depending on flavour
Carbs per serving:
1.6kg-1.8g
Reasons to buy
+
Mixes quickly to create a thick shake
+
Great taste with a wide range of flavors
+
Relatively high protein per serving
Reasons to avoid
-
Fairly average calorie content
It's bold to call your product "gold standard" but in this case it's not unwarranted. It's reasonably priced, with a chunky serving of protein, under 2g of carbs and 116 calories per 31g serving. With 29 servings in each standard 908g tub you won't have to replace it as often as others, and there are plenty of flavours to choose from.
Double rich chocolate taste test: This shake marked a notable step up from other similarly-priced options I've tried, bettering its rivals' taste and texture. The double rich chocolate flavour tastes more decadent than a supplement should, and the powder mixed well too. A couple of shakes produced a smooth, thick milkshake-like drink that masked the fact it was mixed with water. Despite this, it didn't feel as heavy in my stomach as other protein powders I've tried.—Harry Bullmore
---
2. Bulk Pure Whey Protein
Best whey protein powder for most people
Specifications
Flavors:
20, including birthday cake, tiramisu, rocky road, and pistachio ice-cream
Calories:
114 (chocolate)
Reasons to buy
+
Good value
+
Variety of interesting flavors
+
Regular discounts reduce the price per serving
Reasons to avoid
-
Inferior type of whey used
-
Need to buy in bulk to get the best deal
Bulk is used by heavyweight boxer Anthony Joshua—and if it's good enough for AJ there's a high chance it's good enough for you. With the variety of flavors available (including eight different chocolates), your tastebuds are sure to be tickled. Each serving packs a punch of 22g of protein, while the inclusion of 5g of branched-chain amino acids (BCAA) per serving is a nice touch at this price.
Chocolate taste test: It says a lot about a protein powder if it tastes good with plain old water. The chocolate Pure Whey Protein didn't take too much shaking to get silky smooth and the result was a flavoursome blend. Although there are powders out there that taste more like a real milkshake, the final result was most drinkable.—Charlie Allenby
---
3. Hermosa Whey Protein Powder
Best-tasting chocolate protein powder
Specifications
Flavors:
Chocolate, vanilla
Calories:
125 (chocolate)
Reasons to buy
+
Relatively high in protein
+
Chocolate flavor is a treat
Reasons to avoid
-
Expensive
-
Not many servings per tub
If you're a fan of bougie workout classes and have a membership at a boutique gym, then there's a good chance you'll love Hermosa. The protein shake is aimed at the Lululemon/Barry's Bootcamp crowd, but it's more than a status symbol. The 21g of protein per serving is around par, but its flavor is worth the price alone. Although it's slightly on the calorific side, you can forgive it when what you're drinking tastes this good.
Chocolate taste test: The powder mixed well and had a smooth, enjoyable mouthfeel. Even with water, the shake tasted of chocolate (rather than the synthetic profile that plagues some cheaper powders) and its richness would only be enhanced with milk.—CA
---
4. Myprotein Clear Whey Isolate
Most refreshing protein shake
Specifications
Flavors:
15, including cranberry and raspberry, pineapple, watermelon, and orange mango
Reasons to buy
+
Exceptionally low in calories
+
Orange mango flavor is a treat
Reasons to avoid
-
Expensive at RRP for a Myprotein product
Myprotein is renowned for producing great nutrition supplements that don't cost the earth. Its Clear Whey Isolate is slightly pricy when bought at RRP—but as with most Myprotein purchases, it will often be discounted, leaving you with a cost-effective way of getting your protein. Clear Whey Isolate has a high level of protein per serving (20g) without the calories commonly found in whey powders. It also doesn't have a milky taste or texture—handy if you're put off by the normal profile of a protein shake.
Orange mango taste test: The orange mango clear whey isolate had a look and mouth feel much more like an energy drink compared with standard whey protein, making it a refreshing way of refueling that was easy to consume. The orange mango flavor mixed seamlessly and didn't taste at all like E numbers and additives.—CA
---
5. Foodspring Whey Protein
Best all-natural whey
Specifications
Flavors:
Vanilla, strawberry, chocolate, and cookies and cream
Reasons to buy
+
High in protein
+
All natural
Reasons to avoid
-
Relatively high in calories
Like the Organic Protein Company (in more whey protein powder, below), Foodspring's USP is being 100% natural. Sugar is replaced with a purified extract of stevia, helping to keep the calorie count down. Compared with the offering Organic Protein Co.'s, though, Foodspring's Whey Protein contains a more respectable amount of protein per serving and its flavors are more palatable.
Cookies and cream taste test: In the interests of fairness, all powders in our whey taste test were mixed with water – even if the manufacturer recommends using milk or a milk substitute instead. We're highlighting this because, when mixed with H2O, the cookies and cream flavor mixed well but tasted a bit thin. We can imagine that, when combined with milk, the result would be transformed, leaving a rich and creamy shake you'll look forward to after each workout.—CA
---
6. The Protein Works Whey Protein 360 Extreme
The best quantity of protein per serving
Specifications
Flavors:
19, including banana milkshake, choc orange swirl, salted caramel bandit, and French vanilla
Reasons to buy
+
More protein per serving than most
+
Added vitamins and minerals
Reasons to avoid
-
Expensive if not discounted
-
Vanilla was slightly grainy
If a protein powder has the word "extreme" in the name, it can sometimes be off-putting to the average Joe. But The Protein Works' best-selling whey blend's branding is to help differentiate it from its standard Whey Protein 360. The upgraded formula features an impressive 27g mix of fast- and slow-release protein per serving to help with muscle recovery and growth. It also has a blend of vitamins and minerals to provide oomph to your post-workout supplement.
French vanilla taste test: Vanilla is the ultimate test for a protein powder because there are no big flavors to hide behind. Although it had the slight graininess that is common to other vanilla shakes we've tasted, the result was a thick, easy-to-drink shake that didn't taste too watery. That said, you'd probably want to opt for one of the other 19 flavors if you need your protein shake to offer excitement.—CA
---
7. Ultimate Performance Whey Protein
The cheapest protein around
Specifications
Flavors:
Chocolate ice-cream, strawberry ice-cream, and vanilla ice-cream
Protein per serving:
21.8g
Reasons to buy
+
Relatively low in calories
+
Cheap
Reasons to avoid
-
Limited flavors
-
Can only buy in bulk
Ultimate Performance's Whey Protein is the cheapest whey (sorry) to start your protein journey. It doesn't scrimp on the nutritional side either, leaving you with a well-formulated shake that is relatively low in calories and high (21.8g) in protein. The limited number of flavors may disappoint more adventurous palettes, but they are three classics so they'll be suitable for most.
Strawberry ice cream taste test: The luminous pink color of this shake might be a mite off-putting for some, but it didn't taste half as synthetic as it looked and the only downside was that some clumps were left even after vigorous shaking.—CA
---
8. Organic Protein Company Whey Protein
A rare organic protein powder
Specifications
Flavors:
Unflavoured, Madagascan vanilla, raw cacao and maca, isolate, strawberry, elderberry and beetroot, and banana and lucuma
Calories:
96 (raw cacao & maca)
Protein per serving:
15.17g
Reasons to buy
+
100% organic
+
Under 100 calories
Reasons to avoid
-
Flavors require a refined palate
-
Relatively expensive price per serving
This whey from the Organic Protein Company does what it says on the tin (bag, really). Made with five ingredients—in contrast to some of the lengthy lists of additives seen elsewhere—it's one of the "cleanest" whey protein powders on the market. The downsides of this are a relatively small serving of protein per serving and flavors that won't be to everyone's tastes. Even so, its sub-100 calories will tick the boxes for those looking for the benefits of protein without calorie gains elsewhere.
Raw cacao and maca taste test: Cacao is an acquired taste and it's bitter compared with the milk chocolate many of us know and love. Once you get over the initial shock, the shake is drinkable, though it remained watery, with a grittiness from unmixed powder.—CA
---
9. Gnarly Sports Nutrition Grass-Fed Whey
Easy-to-digest whey protein
Specifications
Flavors:
Vanilla, chocolate
Reasons to buy
+
Easy to mix
+
Inoffensive flavors
+
Added pre- and probiotics
Reasons to avoid
-
Higher in carbs than others
-
Few flavors
Gnarly's whey concentrate powder is a little higher in carbs than most non-recovery powders, but that will help to top up your energy levels if you're using it to recover after HIIT or cardio sessions. Along with 25g of whey, each serving also contains prebiotics and probiotics to support your gut health, as well as digestive enzymes to help the shake settle in your stomach.
Chocolate taste test: The powder mixes very easily and the texture of the drink is silky smooth without any lumps at the bottom. The chocolate flavor was the typical bland affair you get from protein shakes, but entirely inoffensive and easy to get down in a hurry. Gnarly could use a few more flavors in its range, though, with only chocolate and vanilla available.—Nick Harris-Fry
---
10. Crazy Nutrition 100% Tri-Protein
Best protein powder for baking
Specifications
Flavors:
Vanilla, chocolate, salted caramel
Reasons to buy
+
High in protein
+
Low in carbs and sugar
+
Vanilla flavor works well in baking recipes
Reasons to avoid
-
Expensive
-
Only three flavors
-
Thin texture
Tri-Protein's pitch is that it mixes six types of protein powder which will be absorbed at three different rates to avoid stomach aches and curb hunger pangs. Whey isolate and hydrolysate is digested in the first phase, followed by whey concentrate and milk protein concentrate, and finally micellar casein and calcium caseinate. It's worth bearing in mind that our expert calls milk powders a "cheap bulking agent" below which are high in lactose.
Vanilla taste test: I can't validate Crazy Nutrition's digestion claims with a simple taste test, but necking this shake after a workout did leave me feeling less heavy than most whey powders. It tasted good too, although the texture was quite thin when mixed with water. Where it really excelled, however, was in recipes; namely, protein pancakes and a protein cheesecake. It added a pleasant flavor to both without proving overpowering or leaving any unwanted lumps in the mixtures.—HB
Best Protein Powder Buyer's Guide
Picking between the huge range of protein powders available is difficult, especially when each and every one of them makes grand promises about the effect they will have on you.
You might assume that all of them do the same job, but that's not the case, as we discovered when we quizzed Dr Daniel Fenton, clinical director and GP at London Doctors Clinic.
What are the key things people should look out for when looking for the best protein powders?
"How much protein you obtain from each serving, the amino acid profile, the cost, taste and number of additives are a few key factors. I tend to focus on yield—the actual amount of protein you obtain from each serving—and amino acid profile.
"I suggest you choose a low-fat, low-carbohydrate, high-protein powder. While you require all three to aid muscle development, balance is key.
"The difference in protein content in various powders can be phenomenal. Do not simply pay for a brand name – the proof is in the numbers. Look carefully at the concentration and type of branched-chain amino acids (BCAAs) included in the protein. Leucine has been shown to be one of the most important BCAAs so it should contain decent quantities."
What should you get if you pay more money for protein powder?
"There is a natural tendency to think that more expensive products are better—but this is a fallacy. Content is more important than cost. All protein powders will contain some additives including thickeners, preservatives, sweeteners and fillers.
"I would strongly recommend taking a look at the label before you purchase. While your main focus is gaining muscle, you should aim to avoid putting nutritionally-redundant chemicals into your body. Here are a few of the things to look out for.
"Avoid artificial sweeteners, which includes sucralose, aspartame and saccharin. The presumption is that these are better for you than sugar but this is not quite true. There is no good evidence that they reduce weight gain, type 2 diabetes or metabolic syndrome and some studies actually show an increased risk of adverse health outcomes.
"Milk powders are a cheap bulking agent widely used in protein powders. They are high in lactose sugars which is terrible if you are lactose intolerant. This can contribute to gastrointestinal upset including bloating and loose stools.
"Oils and fats are added to protein supplements to increase richness; they are non-essential ingredients which can contribute to hypercholesterolemia [high cholesterol]. It is fairly common to see high cholesterol levels in bodybuilders and athletes despite their immense fitness levels and generally healthy eating—taking protein powder with added oils is thought to be a contributing factor."
Is it worth looking out for extra benefits from protein powder such as vitamins and minerals, or fibre?
"The simple answer is no! While these make for an excellent selling point, if you are eating a balanced diet alongside the protein supplement you should not need additional vitamins."
Is there a limit to how much protein the body can absorb from a serving?
"The human body is an impressive machine, which likes to maintain a balanced constant internal environment. We can fill ourselves with protein, but we will only absorb as much as we require for muscle synthesis.
"The Department of Health recommends approximately 55g of protein a day for male adults and a little less for females. Obviously, if we exercise at high intensity, muscle turnover is higher and protein demand is therefore greater, so we will often require more than this. But if we consume too much protein, the body will simply metabolize and excrete it. This means you could literally be flushing money and protein down the pan."
---
What protein powder is best for muscle gain?
Let's face it, you're not chugging protein shakes down for the sheer pleasure of it. You want more muscle, so we asked Lily Chapman to cut to the chase.
"Overall intake should be a priority," says Chapman. "In order to accelerate muscle gain, you should aim to consume around 1.6-2.0g of protein per kg of bodyweight every day. For example, a 70kg individual should consume between 112-140g of protein across the course of their day." That tallies with the target suggested by a dietitian when we asked how much protein you need to build muscle.
There are three more factors that make some types of protein better for muscle gain than others. "Choose a powder that has a high amount of protein per serving, is 'complete' in relation to amino acids, and has a high digestibility or bioavailability rate. The latter is measured by either the Protein Digestibility Corrected Amino Acid Score (PDCAAS) or the Digestible Indispensable Amino Acid Score (DIAAS).
"Whey isolate, casein and soy all have similar PDCAAS and DIAAS values and are therefore regarded as the 'best'. Strength-based studies have also found muscle protein synthesis to be more stimulated following ingestion of these, in comparison with other protein types."
Types Of Protein Powder
The most common type of protein powder product will create a shake that contains protein and virtually nothing else. These are designed to fuel lean muscle growth following a workout, and so avoid extra carbs and sugars and keep the calories to a minimum to deliver on the "lean" part.
Mass gainer shakes go in the other direction and contain huge amounts of everything. They are high in calories and carbs as well as having more protein than a standard shake. People tend to use mass gainers during a period of bulking up, usually during the winter before cutting (reducing body fat but retaining muscle) in the spring, a well-worn bodybuilding technique. A mass gainer is useful for those in serious physique training, but less so when you're just aiming for a higher protein intake each day.
Recovery shakes are another common option, and these are aimed more at endurance athletes who need a high amount of carbs and electrolytes as well as protein to recover after their training sessions. Recovery protein powder often also contain vitamins and minerals to support the immune system, and are popular with those who play team sports like football and rugby, as well as among runners, cyclists and swimmers.
Meal replacement shakes are generally categorized as entirely different products from protein shakes, but often use whey protein and can have a similar nutritional profile as recovery shakes. Meal replacement shakes can be used as a meal substitute when you're short on time, or they can be a low-calorie option that helps you to lose weight. They often are high in protein to increase satiety while still low in calories overall.
What are the differences between whey and casein?
"Whey versus casein can be seen as fast versus slow protein," says Fenton.
"Muscle growth is determined by simple science: protein (muscle) breakdown vs protein synthesis. If the synthesis of new muscle protein is greater than the breakdown of muscle protein, you will get a net gain of muscle mass.
"Whey is typically processed very rapidly into amino acids, which will reach peak levels within an hour of consumption and therefore assist muscle synthesis very quickly. However, the peak levels also fall very quickly.
"Whey is considered an anabolic protein because it rapidly accelerates protein synthesis so it's great for quick muscle regeneration, but has very little effect on naturally occurring muscle breakdown after a workout.
"Casein can take several hours to be metabolized and as a result creates a slower release of proteins to help muscles recover and grow. It is often referred to as an anti-catabolic protein, because it also helps to prevent excess protein breakdown.
"The downside is that casein will remain in the stomach for a substantial period of time, and one can appreciate that it is difficult to complete a high-intensity workout with a full stomach.
"In essence, balance and timing are key for maximum gains. Ignore those who say 'casein is the key', or 'only whey works' – scientifically, this is simply untrue. Both work very well if used appropriately, complementing your workout and your own natural metabolism."
Sign up for workout ideas, training advice, reviews of the latest gear and more.