The Best Meal-Replacement Shake Options If You Can't Find The Time To Eat
Plus, expert advice from a dietitian on when to use them and when to avoid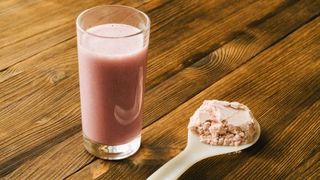 (Image credit: unknown)
If you're looking to lose weight in a hurry, meal-replacement shakes can look like a very tempting option. These shakes aim to provide the nutrition you need in a convenient, low-calorie drink, so you don't have to go into great detail with a diet plan or learn a load of new recipes to make healthier meals.
However, that doesn't mean they are a good idea or will even be effective. When we asked dietitian Anna Daniels, speaking on behalf of the British Dietetic Association, about them, she warned that meal-replacement shakes were not something she'd normally recommend.
What are meal-replacement shakes?
Meal-replacement shakes are basically a liquid that can be drunk in place of a meal.
Are they something a dietitian would recommend to someone trying to lose weight?
It is not normally something that I recommend, certainly not for weight loss. If someone is wanting to lose weight, looking at their whole diet and lifestyle and making smaller, longer-term changes would be a better approach for long-term weight management. The risk with a meal-replacement shake is that they tend to be a shorter-term approach, and taking up this kind of "diet" mindset often won't work in the long term. However, it does depend on the individual and in some cases it can be a useful tool to kick-start a plan.
When can they be useful?
There really is no need to use shakes if you can properly plan your meals and create meals with fewer calories or better nutrition. However, they may be useful for someone who is time-poor and can't plan meals and create lower-calorie versions. That is when a meal replacement can be an easy and fast way of getting in nutrients and ensuring that you are receiving the ideal energy requirements for your individual needs.
What should you look out for in a meal-replacement shake's nutritional info?
You can find these shakes at many health food shops or online sites. However, they don't all have the adequate and balanced nutrients of a nutritious meal, so it's important to choose the right one for your needs.
Some weight-loss shakes can also be high in added sugar, so be sure to read the labels, choosing nutritionally complete shakes where possible.
For someone who, in the short term, just wants to replace one meal per day with a light 200-calorie shake, it wouldn't be so imperative that the shake is nutritionally complete. However, if you want to replace more meals [which, again, isn't something Daniels normally recommends], then ensuring the shake provides adequate nutrients, vitamins and minerals along with fibre is essential.
See related
The Best Meal-Replacement Shakes To Buy
With Daniels's advice ringing in our ears, we've collected your best options. There are broadly three types of meal-replacement shakes available in the UK. Shakes designed to help you lose weight have a nutritional profile that are low in calories, but still reasonably high in protein and fibre to help you feel full.
There are also shakes which are better understood as extra meals for when you're training hard or bulking – these typically are even higher in protein.
The final type of shake is marketed as a healthy option when you're "on the go". It's worth remembering that it may be healthier than other "on the go" ultra-processed foods, but all meal-replacement shakes are ultra-processed so the healthiest approach by far is to eat more traditional meals. If you really struggle with time, healthy meal delivery services offer a healthier, quicker alternative.
People need different things from meal replacement shakes, whether that's because of dietary preferences or lifestyle characteristics, and usually they have to scour the nutrition information to find out if it will suit their needs. That is not the case with Abnormal, which creates a shake for you based on a questionnaire that ascertains your preferences and general requirements.
Naturally there are some similarities across shakes – they're all going to include vitamins and minerals and be relatively high in protein, for example. But we were impressed with the range of questions, which include things like how long you spend in the sun, how much cardio and non-cardio exercise you do, and whether you regularly skip meals, alongside expected queries like if you want your shake to be plant-based and whether you have any allergies. At the end of the process you're given a run-down of how your answers have affected the make-up of your shake, and then you can choose flavours.
The shakes themselves come in single-serve recyclable paper sachets, which make them even more convenient. The ones we tested mixed well in water, though you need to use a shaker with a filter or ball to get rid of all the lumps. The taste is pleasant too, and compared with many other meal replacement shakes we've tried, there were fewer… gastrointestinal after-effects.
Buy from Abnormal | £60 for 30 meals
---
This weight-loss shake clocks in at 250 calories per serving, but packs in an almighty 30g of protein and 5.6g of fibre. To our minds that makes it best suited to gym-goers who are hoping to lose weight as part of physique training. The shake is plant-based, and includes a range of vitamins and minerals, but we'd take the claim about it being made with "real food" with a pinch of salt. The primary ingredient is pea protein isolate which is made through a process of wet fractionation. Would you call a green powder real food? Us neither.
Buy from PhD | £20 for 840g
---
Eating Huel doesn't sound that appetising, does it? But wait, it's a portmanteau! For human fuel. Ah, still not exactly mouth-watering. However, it is an undeniably accurate description of the product, which is powdered human fuel, hitting all the essential nutritional notes. It's high in protein at 29g per 100g serving, and the calorie count is 400. There are 26 vitamins and minerals thrown into the mix, along with some probiotics. It also comes in seven flavours.
Buy from Huel | £50 for 3.5kg
---
BeNu Complete Balanced Nutrition
This new brand from Myprotein is from the Huel school of shakes, intending to supply maximum sustenance in the shortest time possible. Each serving is 400 calories and has plenty of protein, fibre and carbs, but remains low in sugar. There's also a third of your RDA of 27 vitamins and minerals. There's a vegan version available, but perhaps what we like the most is that the smallest pack size contains five servings, so if the flavour you chose falls flat, you don't have 30-plus disappointing mealtimes ahead of you.
Buy from Myprotein | £8.99 for 500g
---
SlimFast Meal Replacement Powder Shake
SlimFast remains the quintessential diet shake in our minds, having been around for four decades, and it has the advantage of being cheap and easy to get hold of. Each serving contains just 230 calories, along with 15g of protein and 4g of fibre to help ensure you feel full despite the relatively low calorie count. There are six flavours to pick from, and the SlimFast range also includes snacks and pre-mixed drinks if you haven't got time to whip up a shake.
---
SCI-MX OMNI MX All-In-One Lean
If you're using a meal-replacement shake to help you build muscle then SCI-MX's Leancore powder is the one you want – each 100g serving contains an absolutely massive 41g of protein. There are also 46g of carbs to help top up your energy reserves after tough workouts, but the overall calories are kept fairly low at 370 per serving.
Buy from SCI-MX | £34.99 for 2.2kg
---
Saturo Meal Replacement Drink
Like Huel these drinks are designed to provide a nutritionally-complete meal, so they're not low in calories, containing 500 per 500ml serving. Saturo's pre-mixed drinks make life incredibly easy for you, and they're also vegan, with soy being the source of the 25g of protein in each serving. You can get a taster pack of 18 bottles that contains all three flavours available – chocolate, coffee and the somewhat-intriguing original.
---
The Protein Works Vegan Meal Replacement
This low-calorie powder is ideal for vegans looking to lose weight, with just 221 calories per shake but a hefty 19.5g of protein and 10.4g of fibre to delay the tummy rumbles. There are five different sources for the protein – soy, pea, brown rice, white hemp and sunflower – so you get a complete range of essential amino acids, and the shake also contains vitamins and minerals, including B12, which is tough for vegans to get enough of without supplementation.
Buy from The Protein Works | £18.99 for 500g (currently reduced to £9.49)
Sign up for workout ideas, training advice, reviews of the latest gear and more.