What Is A Dietitian And Why Should You Trust Their Nutritional Advice?
Learn the difference between nutritionists and dietitians, and why it's the latter you should seek out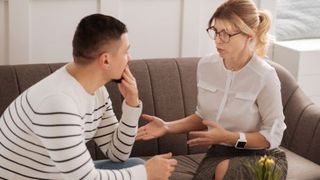 (Image credit: Unknown)
There is a lot of nutrition advice out there and while almost all of it is well-intentioned, it doesn't always come from credible sources, even if the person dishing it out seems to have an impressive title.
If you want the most informed advice you can get, you need to go to a dietitian. Here's dietitian Sarah Khweir, speaking on behalf of the British Dietetic Association, to explain why.
What is a dietitian?
A dietitian is a nutrition professional who is regulated by law. It is a protected title for those who have qualified with an undergraduate or postgraduate degree in dietetics, and are registered under the Health and Care Professions Council. They are governed by an ethical code and use the most up-to-date information on food, health and disease to help translate dietary information into practical advice for the public. Dietitians can assess, diagnose and treat diet- and nutrition-related problems in individuals as well as at a wider public level.
What do dietitians typically do?
Dietitians work across a wide range of public and private organisations. Most dietitians work in the NHS, where they will see patients who are admitted to hospital and those who attend outpatient clinics.
They also work in the community within GP surgeries, health centres, community hospitals, nursing homes and in patients' homes. Dietitians work closely with a wider team including nurses, doctors and pharmacists. They will attend patient meetings and ward rounds, and offer training to educate staff on dietary practices to provide an optimal service to patients.
They may see adults and children with malnutrition, faltering growth, gastro-intestinal diseases, mental health disorders, kidney diseases, cancer, food allergy, diabetes... to name a few! They also provide education for patient groups and keep resources up to date to provide to patients. Dietitians also complete quality improvement projects to help drive positive change. No two days are the same!
See related
What is the difference between a dietitian and a nutritionist or nutritional therapist?
Nutritionists and nutritional therapists are unable to work with sick people or give advice to those with diet-related medical problems. Neither have a legal requirement to be registered with a governing body and neither title is protected, meaning anyone can call themselves a nutritionist or nutritional therapist.
Nutritionists can register voluntarily, and often tend to work in public health, while nutritional therapists tend to use homeopathic methods to treat illness – which is not backed up by scientific evidence and may not be approved via the NHS route.
A dietitian's advice is the gold standard. They have gone through university training, practical NHS placements and have a legal responsibility to their clients to only offer impartial, evidence-based advice. They can work in all areas related to food and their practice must adhere to a strict code of conduct.
Dietitians cannot be experts in every area and therefore there are specialist dietitians who work in specific areas who can help with specific issues. Basically, if you want to make sure you are getting the best possible information, see a dietitian!
Sign up for workout ideas, training advice, reviews of the latest gear and more.