Is Sushi Healthy? Yes, If You Follow This Dietitian's Advice
How to ensure your favourite fishy treat is good for you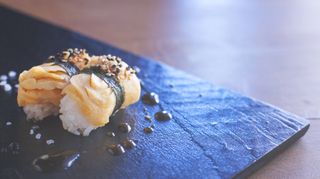 (Image credit: Unknown)
Whereas once the prospect of eating raw fish would have sent Brits into the comforting arms of a sausage, sushi has become such a staple of the country's cuisine that it can be picked up as part of many a supermarket's meal deal.
Part of the fishy dish's appeal is its reputation for being healthy, especially compared to a standard lunchtime sarnie. Its link to the Japanese diet, which is fast overtaking the Mediterranean diet as the go-to reference for healthy eating, helps sushi's credentials no end.
However, while the Japanese diet is undoubtedly healthy, sushi, especially the way we tend to enjoy it in the UK, is not always as good for you as you think. There's both dark and light sides in those little fishy packages.
First, the good stuff. Here's Jennifer Low, registered dietitian and British Dietetic Association spokesperson, with the sushi's nutritional highlights.
"If you choose ones that have oily fish you will be having some omega-3 fats, which are one of the healthy fats we should all be eating more of. Also some will contain vegetables, although often not enough to make a whole portion of your five-a-day."
And the bad?
"Watch the salt content, especially if you like to add soy sauce. If you're having it at home or at work I'd consider buying a lower salt soy sauce and using it sparingly.
"Also, some of the pre-packed sushi has a lot of sugar as sushi is typically made with sushi vinegar, which has sugar added to it."
So salt and sugar need to be monitored carefully. We also might do well to take a lesson from the Japanese, who tend to eat more sashimi, which is just the omega-3 rich raw fish, rather the sushi rolls common on Western menus.
However, the good news for sushi fans is that, on balance, it ranks as a healthy option.
"It definitely can be one of the better choices – just make sure you read the label and know what you're getting in terms of energy, sugar and salt."
If you really want to ensure your sushi supper is healthy, Jennifer recommends making it yourself. "It's actually really easy to make and then you are in charge of the type of rice you use and how many vegetables you add." Get started with our primer on how to make sushi at home.
Sign up for workout ideas, training advice, reviews of the latest gear and more.