The Best Healthy Meal Prep Services In The UK
Take the hassle out of eating healthily with one of these tried-and-tested meal prep services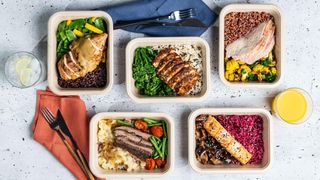 (Image credit: Chefly)
Even if you have the best of intentions, it's not always easy to find the time to cook healthy meals. Fortunately, there are several ways to cut down the time it takes to make a nutritious meal, like using one of Joe Wicks's 15-minute recipes, or signing up for a recipe box service.
The best healthy meal prep services require even less of your time. Your meals arrive pre-made and all you have to do is stick them in the microwave or oven. They're the smart alternative to ready meals and takeaways, because you get the convenience without the high levels of sugar, fat and salt.
Healthy meal prep services tend to come in two forms. The most common send out a whole bunch of meals you keep in your freezer or fridge, while others offer a daily delivery service. The latter tend to be more expensive, but can be set up to supply every meal and snack you eat each day.
Below you'll find out how we rate the best healthy meal prep services in the UK, ranked in order of our preference. We've also awarded the very best services we've tried with an Editor's Choice badge as a testament to their quality.
How We Test Healthy Meal Prep Services
Why you can trust Coach Our expert reviewers spend hours testing and comparing products and services so you can choose the best for you. Find out more about how we test.
A company will send us a package of meals that's in line with one of its usual orders, whether that's a box of two or three meals, or a week of daily deliveries covering breakfast to dinner plus snacks. Does this mean we only say nice things to keep the free food coming? No – scroll to the bottom of this article to read about services we didn't rate as highly.
We aim to try a range of meals that suit different dietary preferences, always including vegan and low-calorie meals in our reviews where possible. We're looking for satisfying, tasty meals that don't skimp on vegetables in particular, because if you can't hit your five-a-day with a meal prep service then when can you?
The Best Healthy Meal Prep Services
(opens in new tab)
The best microwave meal prep service
Reasons to buy
+
Large portion option
+
Easy-to-use website
+
Good amount of veg
Reasons to avoid
-
Quite expensive
-
Few vegan options
This delivery service seriously impressed us on many counts, including the most important of all – the delicious flavours in each meal we tried. Standouts included the Beef Brisket Massaman Curry and the vegan Sheepless Shepherd's Pie. The beef curry in particular was far tastier and more satisfying than a 490-calorie meal (690 calories for the large serving) has any right to be, though it was pretty high in saturated fat to be fair.
The principles Tastily lives by are sound and healthy. All the meals are between 400-500 calories (or 600-700 calories for large portions), and include a big serving of veg. There's a good range of veg too, even within the same meal, so you're getting a welcome variety of nutrients.
(opens in new tab)
The large portion option is an excellent development and we wish more meal prep services employed it. If you're very active you need more than the standard serving size you get with these services to stop you hitting the snack cupboard hard half an hour after finishing your meal.
It's easy to see a full nutritional breakdown of each meal available on the Tastily website too, in both regular and large portions, so you can pick those that suit your diet goals as well as your tastebuds. There's a range of vegan options and you can filter the meals quickly to find the right ones for you, and once you start an order a slider shows you how much you can save per meal by buying in bulk, starting from £7 a meal for four down to £6 a meal for 12.
Flavour is foremost with any meal service, and Tastily also backs it up with a range of options that's large enough to satisfy all comers but not so large as to make picking your meals a chore – thanks partly to the impressively easy-to-use website. Top marks all round.
---
(opens in new tab)
Satisfying meals for active types
Reasons to buy
+
Tastier than many alternatives
+
Large portions
+
Balanced macros
Reasons to avoid
-
Some might want lower-cal options
-
Breakfast dishes aren't as good
-
Not enough veggie options
Prep Kitchen splits its service into two fitness goals – fat loss and muscle gain – which determines the portion size of the meals you order. You then select how to approach your macros, choosing between balanced and low-carb, which replaces some carbs with more protein and vegetables.
You get the same meals on all plans, and all those meals are delicious in our experience. The dishes were never dry even after being microwaved from frozen, and the flavours always packed a punch, especially the spicy dishes.
Active people in particular will be well served by Prep Kitchen thanks to the focus on filling, balanced meals that support hard training days. One downside is the small number of vegetarian options, and we also weren't big fans of the breakfasts and snacks from Prep Kitchen – they weren't significantly better than toast or cereal – so would advise sticking to the main meals.
Read more in our Prep Kitchen review
---
(opens in new tab)
The best vegan meal prep service
Specifications
Price:
Six-meal box £40.50, 12-meal box £59.88
Reasons to buy
+
Varied and tasty meals
+
Two or more of your five-a-day
+
Convenient
Reasons to avoid
-
Cheaper options available
We've tried the dinners, lunches and sides from this plant-based service, and were hugely impressed by all of them. The meals are tasty and satisfying, and remarkably varied. The lunch bowls in particular livened up our midday meals immensely, each containing a variety of veg and grains alongside a non-traditional mash – the coconut and edamame mash was the best we tried.
The meals come frozen and take six to 10 minutes to heat up in the microwave. You can order boxes of either six or 12 meals, although the 12-meal option contains two lots of six meals rather than 12 different ones. You can also add sides, desserts and smoothies to your box; the sides are a worthwhile addition if you're a very active person, since you might want a bit more food than is provided by a single meal.
There are low-calorie options on the Allplants menu, but the meals are pretty low in calories anyway – all the ones we tested came in under 600. They are also high in fibre and contain at least two portions of your five-a-day, and tick the healthy box without ever making it seem like they're aiming to, which is always the best way to do it.
Read more in our Allplants review
---
The best meal prep service for gym-goers
Specifications
Price:
Three meals a day from £24.50 a day (100 days), £27 a day (10 days)
Reasons to buy
+
Fresh and convenient
+
Tasty and healthy
+
Good range of plans
Reasons to avoid
-
Can feel repetitive
-
More expensive than other services
Fresh Fitness Food's delivery service is about as close as you can get to having a personal chef and nutritionist making your meals every day without, you know, actually having those things. It's helpful to think of it that way too, because FFF is expensive, but the price does reflect what you're getting.
What you're getting is bulk deliveries every few days (or daily deliveries in London) of healthy meals tailored to your preference and goals. If you're looking to bulk up, there's a plan for that, as well as plans for lean gains, fat loss and a balanced plan for general health. Within those plans you can choose the types of food you do and don't want to get, including plant-based and low-carb options, or even set the exact macros you want to hit.
The meals take two to three minutes to warm up and are uniformly tasty and filling. If you opt for one of the more aggressive bulking plans then you can expect a lot of protein, mostly from chicken and white fish in our experience, but on the balanced plan we found it contained a good variety of foods and acceptable amounts of veg (you can never have too much veg).
It's a supremely convenient service, which makes it easy to eat healthily and puts you in the best possible place to achieve your fitness goals. The price starts at £24.50 a day for three meals, but that's if you order 100 days up front. Drop that to 10 days and it's £27 a day.
Read more in our Fresh Fitness Food review
---
Going vegan has never been easier
Specifications
Price:
From £4.95 per meal
Reasons to buy
+
Recyclable packaging and carbon neutral deliveries
+
Impressive amount and variety of veg used
Reasons to avoid
-
Some dishes didn't enjoy being microwaved
This frozen vegan meal delivery service has nailed it on pretty much every count. Planty uses 100% recyclable packing and offers carbon-neutral deliveries. It also has an easy-to-navigate website that provides in-depth nutritional details for every meal, and those meals are very tasty indeed, which is the most important factor of all, of course.
We ate 10 of the meals on the menu, and highlights were the butternut and mango madras and the shepherd-less pie. While some meals were less enjoyable than others – we often find that stir-fries and pasta dishes are diminished by microwave reheating more than curries and stews – none of the meals were truly disappointing. They were all laden with plants, as you'd expect, and the variety of veg used was impressive.
You can buy a box of six, eight or 10 meals from Planty on a subscription or one-off basis, and they arrive frozen so you can pop them straight in your own freezer to save for when your time is tight. They take 10 minutes or less to heat up in the microwave, and the portion sizes are enough to fill you up on a normal day, though if you're feeling ravenous an extra side won't hurt.
---
(opens in new tab)
Great for your gut health
Specifications
Price:
From £5.95 a meal, or £9.95 for two people
Reasons to buy
+
Evidence-based nutrition
+
Low-FODMAP meals
+
Focus on gut health
We're fascinated with our gut microbiome here at Coach, so this frozen meals service won us over by including a stat for each meal that shows how many different plant types it contains, because 30 different types a week helps to create a more diverse gut microbiome. Field Doctor also offers low-FODMAP meals, ideal for those with IBS who are following the low-FODMAP diet or endurance athletes who might be trying it to reduce exercise-related gastrointestinal problems.
There's a pleasing focus on evidence-based nutrition underpinning the meals here, with a diversity of plant foods and wholegrains, plus a load of beans and legumes included wherever possible.
All of the above wouldn't matter if the meals tasted rubbish, so the really good news is that they don't, with a variety of enjoyable options on the menu. Vegans are well catered for as well, and you can use a filter to show low-calorie or high-protein options, as well as only showing the low-FODMAP meals.
---
(opens in new tab)
Surprisingly filling low-calorie meals to help with weight loss
Specifications
Price:
From £22.99 per day (1,200 calories), £26.99 per day (1,800 calories)
Reasons to buy
+
Complete provision of meals and snacks for the day
+
Tasty and filling
Reasons to avoid
-
Not much nutritional info given
-
May not provide enough for those training hard
This delivery service is all about weight loss, with two low-calorie meal plans available – either 1,200 or 1,800 calories. Both involve three meals and two snacks, which are delivered to your door in a large box along with heating instructions and a nutritional breakdown for each meal.
There are four different menus to choose from – classic, vegetarian, pescatarian and plant-based; the latter is also gluten-free – and you can opt for a three- or four-day plan. The meals are tasty as well and surprisingly filling given the calorie restrictions in place – high amounts of protein and fibre no doubt help. However, it's sometimes a little too clear you're on a weight-loss plan – one meal we tried was just a box of crunchy vegetables with a small amount of dressing. We enjoyed it, but there are low-calorie meals that are more of a treat.
If you're training hard to pack on muscle or set PBs in running events, you may want to look at something like Fresh Fitness Food instead, but if you're trying to lose weight, Balance Box will take care of your diet for you.
Read more in our Balance Box review
---
(opens in new tab)
Tasty high-end fresh meals with meat or fish
Specifications
Price:
From £6.99 per meal
Reasons to buy
+
Variety of delicious meals
+
Plenty of protein
+
Packaging is recyclable
Reasons to avoid
-
Need to look on the website to find nutritional info
-
More expensive than other delivery services
The Chefly meals we tested were some of the tastiest we've had from any delivery service, and while they're not as overtly focused on fitness as some other services, each dish generally had a good balance of macros and was certainly loaded with enough protein to satisfy any keen exerciser. The calorie count for each sits somewhere between 400 and 600, which is easy to fit into a healthy, balanced diet, and we were impressed at the range and amount of vegetables included too.
There are no vegan or vegetarian options on the menu at the moment, though we have been told vegan options are on the way. We'd also have liked clearer nutritional information on the packaging – you have to go to the Chefly website to get any info, and even there you only get protein, carbs, fat and calories. Knowing the fibre content, for example, would be a bonus.
With meat or fish always on the menu, the prices also tend to be higher than with other services. Chefly's meals start at £6.99 per meal if you order 12 a week, rising to £7.50 per meal for six or nine meals or £9.99 if you just order four meals. The meals are delivered on Wednesdays, come in recyclable packaging and need just three minutes in the microwave.
---
(opens in new tab)
9. The Transformation Chef
Ready meals at their best
Specifications
Price:
Six-meal starter box £34.95, complete plan £74.95-£79.95
Reasons to buy
+
Delicious and satisfying
+
Variety of meals
Reasons to avoid
-
More expensive than others
-
More veg would be good
These microwave meals provide balanced, delicious meals rather than cutting calories – frankly it's nothing short of ready meals at their finest.
We were impressed by the flavour of the meals, with even the recipes containing large chunks of meat or fish being tasty. For our money chicken breast is normally a microwave meal no-no because it ends up being too dry, but the chipotle recipe from The Transformation Chef was on point.
Slightly larger portions and a few more vegetables in each meal would have been welcome, and we did come unstuck when we mistook lemons for potatoes in one meal, which is our fault for diving in while looking at our phone, but these meals are great to have on standby in your fridge in a pinch.
You can try The Transformation Chef's service with six-meal starter box, or go all in on a complete plan which contains 12 meals and a couple of snacks. Both have vegan options too. The meals arrive on a Tuesday morning and stay fresh in the fridge for seven days.
---
(opens in new tab)
Delicious and easy Persian meals
Reasons to buy
+
Hearty and tasty meals
+
Balanced meals
Reasons to avoid
-
Needs more veg
-
Can be high in fat and salt
-
Less variety than other services
The range of Persian frozen meals available from Shuro Shirin has a lot to recommend it. For one, we have no idea how to make Persian food so it brought something legitimately new to our kitchen table. And for two, the range is also laden with the kind of hearty, warming fare that's perfect for the winter.
Lamb fans in particular will be pleased by the selection, since it is a staple of Persian cuisine, and there are few delicious lamb stews available elsewhere. In fact, all the stews and soups we tried were spectacularly good, both rich and satisfying – a treat that we'd happily sub in for a takeaway, which despite the bonus of zero cooking would undoubtedly be less healthy and less delicious.
We must admit these are not truly health-focused meals: with flavour prioritised, the dishes are often quite high in saturated fat and salt, while the vegetable count is on the low side. However, they're never so high in fat, salt or calories that it's impossible to eat them as part of a balanced diet, while there are some dishes filled with pulses, as well as vegetarian and vegan options that naturally go heavier on the vegetables.
The rice you can order to eat with the stews suffered from oven or microwave cooking, which dried it out. You'd be better off making your own to have with the stews, which come out the other side of the reheating process as if they were freshly made.
---
(opens in new tab)
A comprehensive service with adjustable portion sizes
Reasons to buy
+
Portion sizes to suit all
+
Build your own meals
The company behind No1 Bootcamp, which puts on European fitness and weight loss holidays, is now delivering healthy meals across the UK. The packages available come in three portion sizes – lite, balanced or max – and you can choose between meat and fish or plant-based meals.
However, what sets No1 Food Prep apart is that you're not stuck to a limited list: you can also make your own meal combinations, picking the protein, veg side and carb from the extensive list of options. You can choose the portion size of each part of the meal, and also eschew carbs entirely in favour of a double helping of veg if you like.
The meals are delivered on Wednesdays and Sundays and come in microwaveable containers that have the basic nutritional info of the meal on the lid along with cooking instructions. We tried out a variety of fish- and plant-based meals, and were consistently impressed by the flavours and also by how satisfying the portions were. We opted for the balanced portion size, rather than lite, which are 20% smaller for those looking to lose weight, or max, where the portions are ramped up for those looking to build mass or support a particularly intense training regime.
---
(opens in new tab)
Delicious, hearty Caribbean meals
Specifications
Price:
£30 for five meals
Reasons to buy
+
Balanced and tasty meals
+
Low-calorie options
Reasons to avoid
-
Can be dry after reheating
-
Not much variety
The home-cooked meals Winny made for her son Shaun to take to work were so popular with others that it made perfect sense to start packaging them up and sending them all over the UK. It's the best kind of backstory and the meals live up to it – they're tasty and hearty Caribbean fare that we looked forward to heating up.
We were also impressed by how balanced the meals were. You can choose low-calorie options (expect rice instead of mac-and-cheese) or high protein, but in general there's a welcome balance of vegetables, protein and carbs. You can also pick meals with just the meat and vegetables, if you're keen to reduce the calories and carbs further.
The sauces are delicious and our main complaint is you don't get enough of them in each meal, with the result that they can end up a little dry after being microwaved straight from the freezer. You are advised to defrost them in the fridge overnight then microwave for a more flavourful experience, but that makes it less convenient. One solution is to buy some of Winny's Jerk Sauce as well and then slather the meals in it once cooked, or in a pinch make do with a spot of BBQ sauce like we did.
Five meals cost £30, but that price drops if you subscribe – it's £28.50 for five meals a week, for example.
---
Gluten-free frozen meals
Specifications
Price:
From £4.50 per meal
Reasons to buy
+
Easy-to-order frozen meals
+
Free from gluten and dairy
+
Balanced meals
One of the best recipe boxes has branched out into selling healthy frozen meals as well. After a soft launch when the frozen meals were restricted to people ordering a recipe box, they're now a standalone product so people who only know how to use a microwave can enjoy convenient, healthy ready meals too.
The meals are all gluten-free, dairy-free and mostly under 600 calories, and they take less than eight minutes to reheat. Currently there are 25 different meals on the menu including nine veggie options.
---
14. Stocked
Frozen meal blocks to make life easier
Specifications
Price:
£64 for six packs of eight blocks
Reasons to buy
+
Easy to adjust portion sizes
+
Good vegan options
Reasons to avoid
-
More work than other services
-
Small portion sizes
Stocked takes an unusual approach to frozen meals, delivering packages of eight blocks that you can reheat and eat as a meal by themselves, or use as part of a meal alongside some carbs and other vegetables. The latter approach is the one that makes the most sense, because most of the meals are sauces that are best with rice or pasta. This means Stocked meals require more effort in the kitchen than others.
There are eight blocks in each pack, which Stocked suggests is enough for two to four meals, but you'd struggle to get more than three meals from that even when adding in your own carbs, unless you're dishing out very small portions. The meals were a little bland in our experience, but they're easy to spice up yourself, and the range includes several good plant-based options including a hearty ragu made with vegan sausage.
Stocked's approach should make the meals substantially cheaper than with other prep services, but even if you order six packs at once it costs £1.10 a block, and you really need three for a meal plus other food on the plate. Stocked is cheaper than getting full meals delivered, but perhaps the saving isn't big enough since there's more work to do on your end.
---
(opens in new tab)
Low-carb, gluten-free meals
Specifications
Price:
From £7.49 per meal
Reasons to buy
+
Range of meal plans
+
Low-calorie options
+
Available in some gyms
Reasons to avoid
-
Not as tasty as alternatives
-
Might not be filling enough
-
Expensive
MunchFit's meal plans are divided into four categories: lean, balanced, strong and green. The first three refer to the amount of calories and carbs you get, with lean meals having the fewest and strong the most, while green is the vegan option. All the meals are high in protein, and you can choose from two, three or four meals a day for three, four, five or six days a week.
The meal plans are expensive. The cost per meal is £7.49 even if you go all-in ordering for four meals a day, six days a week, on a 12-week subscription. It rises to £9.99 per meal if you just have two meals a day three times a week.
We found the meals uniformly enjoyable – if not the most delicious we've come across from a microwave-meal service – and there was a solid portion of veg with most of them. We would like to see a larger-portion option designed for keen runners and cyclists, who may need more carbs and calories even than those provided on the strong plan.
---
(opens in new tab)
A convenient service to cover all of your meals and snacks
Specifications
Price:
From £24 a day for a five-day plan
Reasons to buy
+
Clear and easy order process
+
Variety of meal plans
Since the point of using a meal prep service is to make your life easier, that should start with the ordering process. The Good Prep absolutely nails this with a very easy-to-use website that guides you through selecting the breakfasts, lunches, dinners and extras (like juices and snacks) for your box, with clear nutritional information and prices.
The meal plans all contain three meals a day plus snacks and can be based on fitness goals, such as Trim & Slim for those looking to lose weight, or Grow & Gain to bulk up. There's also a vegan plan and a general balanced option.
We tested out the Grow & Gain plan and while the meals weren't outstandingly delicious or novel, they were all enjoyable and, for the most part, filling enough to sustain us during a demanding period of marathon training. The exception was after a long run of 22 miles, when we needed a lot more calories and carbs than the meal provided, but that's fair enough.
Sign up for workout ideas, training advice, reviews of the latest gear and more.