The UK's Best Recipe Boxes
If you want to take some of the hassle out of eating well, try one of these healthy recipe boxes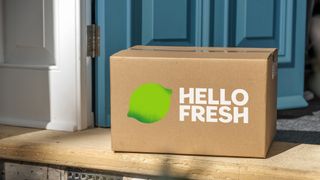 (Image credit: HelloFresh)
What's the worst thing about cooking? If you answered "peeling vegetables" you're close – peeling vegetables is terrible – but you're still wrong, because it's a trick question. The worst thing about cooking isn't part of cooking at all: it's planning meals and shopping for the ingredients.
Those two things will suck up time like nobody's business, but you can skip them and still enjoy the fun part of cooking – the bit in the kitchen (aside from peeling) – by getting recipe boxes delivered to your door.
Recipes boxes have become so popular of late that companies have been popping up all over the place, making it somewhat tricky to pick between them, so we've been trying as many brands as possible to help you make an informed decision. The key factor for many people will be cost, which varies widely between brands, but there are other things to consider as well. Dietary preference is obviously important as well – most brands will cater to vegetarians and vegans, but others go the extra mile and offer packages to suit free-from diets, or quick low-hassle recipes for midweek dinners, or meals designed to support general health goals such as bulking up or losing weight.
From our experience, we also think the amount and type of packaging a company uses is worth taking into account too, because getting a whole load of ingredients divided into serving size portions can lead to a lot of plastic going in the bin. Ideally a company will use recyclable materials and take the packaging back to use again.
When testing recipe boxes we also rate how repeatable the recipes are. If premade spice mixes or hard-to-find ingredients are used, the chances are you'll make it once and never again, so we grant extra credit to companies sending recipes that are easy to make with ingredients from even a small supermarket. Part of the appeal of the recipe box is expanding your culinary repertoire, after all.
With all that in mind, here are the best recipe boxes we've tried in alphabetical order, with the best of the best given Editor's Choice badges.
The easiest recipe box service
Specifications
RRP:
From £2.99 per portion
Reasons to buy
+
Clear instructions
+
Extensive choice
+
Good value
Reasons to avoid
-
Slightly confusing website
There's a lot to like about Gousto's recipe box service. The range is huge and you can pick individual recipes to suit your tastes or dietary requirements, including vegan, vegetarian, gluten-free and dairy-free, and there are meals that take just ten minutes to make. All the recipes are well thought out and easy to cook without rushing or having to focus on three different pans at once.
Gousto gets extra credit by tending not to use premade spice mixes, at least in the recipes we've tried. Instead you get all the spices needed listed (and packed separately), which means you can find the ingredients more easily to remake the recipes yourself. And you will want to remake the recipes, especially if you dip into the Everyday Favourites range, which includes simple, quick versions of classic dishes like chicken curry, a three-cheese pasta bake, and chilli con carne. These aren't the healthiest meals available from Gousto, but they do contain at least two of your five-a-day and are likely to please everyone, which is pretty crucial if you're using the recipe box to feed a family.
The latest addition to the range is a series of Lean In 15 recipes from Joe Wicks. These aren't all 15-minute recipes, but many are, and even the ones that take longer are fairly quick and easy. The recipes come in two types, high and low carb, and the low-carb ones ditch bread, rice and pasta entirely, often replacing them with more veg – think lettuce instead of wraps, for example. The high-carb meals are great for active days, and we've found the quicker recipes from the range are perfect for knocking up after a hard run.
Buy from Gousto | From £4.37pp for two-person meals, £2.99pp for family meals | Gousto review
---
Best low-carb recipe box
Specifications
RRP:
From £4.94 per portion
Reasons to buy
+
Clear instructions
+
Easy-to-use website
+
Keto menu option
Reasons to avoid
-
Higher in calories than others
-
Smaller menu than rivals
The USP here is that Green Chef caters to people following the low-carb, high-fat keto diet, with meals that keep the carbs under 20g per portion. However, there's a lot to enjoy here even if you're not on that bandwagon, with other meal plans including vegan, balanced and low-carb (under 35g per portion). Even though we are card-carrying members of the carb club, we still enjoyed all the meals, thanks largely to the plentiful servings of vegetables. The variety of vegetables used was also welcome – we've been trying to expand our horizons because the different types of fibre in different vegetables can keep your gut healthy. The three recipes we tried – one each from the keto, vegan and balanced plans – were easy to cook within 30 minutes, and if you're handy with a knife it'll be even less.
The website is also extremely clear and easy to use, and Green Chef is up front about its pricing, which isn't always the case with recipe box services. It is marginally more expensive than well-established players like HelloFresh or Gousto, and meal options are somewhat limited at the moment. However, it's just arrived on these shores after success in the US, so we'd expect it to increase the choices available to UK consumers soon.
Buy from Green Chef | Green Chef review
---
Best vegan recipe box
Specifications
RRP:
From £26 for two meals
Reasons to buy
+
Healthy, veg-filled meals
+
Clear instructions
+
Focus on sustainability
Reasons to avoid
-
More expensive than other recipe boxes
-
Limited range
We like the cut of Grubby's jib. This plant-based recipe box company places a lot of emphasis on a sustainable approach, using 100% recyclable and compostable packaging, sourcing most of its ingredients locally and even delivering its boxes by bike in London.
The meals also impressed us with the variety and amount of vegetables used, and if you're looking for a healthy recipe box that will diversify your diet and introduce more plant-based meals to your menu in particular, it's up there with the best. The dinners were all easy and quick to cook too, making for the perfect midweek meal.
The downside is that Grubby's meals are a fair bit pricier than those from the likes of Gousto and HelloFresh, and the range on offer is smaller with just five on the menu for each week. However, there is always something tasty available and there's no doubt Grubby's meals will leave you satisfied that you made a smart choice for your dinner.
---
Best recipe box overall
Specifications
RRP:
From £3.15 per portion
Reasons to buy
+
Wide range
+
Tasty, easy meals
+
Good value
If you are really looking to take out all the preparatory steps of cooking, HelloFresh's recipe boxes are an appealing proposition. You don't even need to bother with the measuring, because all the ingredients – even the chopped garlic – are shipped in the precise amounts needed. The recipe instructions are so clear that they are almost entirely foolproof.
HelloFresh has options to suit most dietary restrictions, although not vegan. The classic box comes in regular or vegetarian form, and the new preferences menu lists gluten-free, dairy-free, veggie and low-calorie recipes. If you're always short on time, you can also opt for the rapid box, which contains recipes that can be made in 20 minutes or less.
The classic recipes are reliably tasty, though not always as healthy as some other options on this list, but HelloFresh has a range of low-calorie options on its menu, each of which come in under 550 calories. Generally there's a couple of portions of your five-a-day in each meal, though adding some veg on the side will be a worthwhile move for some of the more indulgent classic options.
Buy from HelloFresh | HelloFresh review
---
Best recipe box for expanding your menu
Specifications
RRP:
From £4.69 per portion
Reasons to buy
+
Tasty, healthy meals
+
Varied menu
Reasons to avoid
-
More expensive than others
-
Recipes can be tricky at times
-
Meal prices aren't clear on website
Mindful Chef's meals manage to pull off the tricky balance between being pretty easy and quick to make while still introducing interesting flavours and preparations. They're slightly more complicated than HelloFresh and Gousto meals, but most can be done in under half an hour and there are 15-minute options – and you are rewarded for that extra concentration during cooking with fantastic flavours.
The menu changes regularly, but some of our past favourites include Persian mint chicken with pomegranate, even if we did spray pomegranate seeds all over the kitchen in an attempt to prise them loose from the fruit, and the jerk jackfruit. There are always several vegan options available and you can easily sort the recipes on the website according to your dietary preferences, or ranking them by how high in carbs or calories they are.
While we have no intention of adopting Mindful Chef's "no 'stodgy' carbs" approach in all our meals, the fact that its recipes never contain white rice, pasta or bread means that you will get to experience some novel carbs, like black rice, or interesting carb alternatives – beetroot chips anyone? They certainly got our seal of approval.
The family recipes on offer, however, failed to hit the spot for a three-year-old and a five-year-old. In fact the amount of preparation required for the miso and cashew aubergine buddha bowl almost caused a lockdown-fatigue-induced meltdown. The final result was greedily wolfed down by the adults, however, as was the creamy veggie moussaka with green beans, and there was plenty left over from both dishes. If you have ravenous teenagers with a taste for something other than breaded protein and ketchup, you may have better luck with this part of Mindful Chef's offering.
You can browse a library of the company's past recipes on the website for free, which is particularly welcome if you're concerned the preparation may be beyond you. You also get a booklet containing 20 recipes in the current range when you order a box. Mindful Chef also sells frozen meals, which are a handy, healthy option to have ready on days when you can't face cooking.
Mindful Chef also offers a next-day delivery service, which began as a way to help those who were struggling in the pandemic. Order before 9pm for guaranteed next-day delivery of a three-meal recipe box for two people (£42). The recipes rotate weekly with the current box containing chicken pasanda curry with toasted almonds, Asian fish papillote with roasted sweet potatoes, and harissa pork meatballs with parsley millet.
More About Food Delivery Services
Sign up for workout ideas, training advice, reviews of the latest gear and more.