The ​​Best Recovery Protein Powders For Endurance Athletes
Refuel after your toughest sessions with these carb and protein-packed recovery powders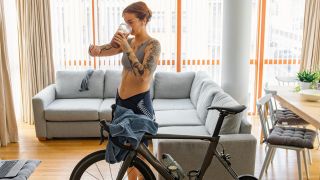 (Image credit: Getty Images / Justin Paget)
All protein powders will help your body recover after a workout, but most – including the ones featured in our selection of the best protein powders – focus purely on repairing and rebuilding muscle. This means they are high in protein, but often low in pretty much everything else, because the aim is to support muscle growth without adding too many carbs and calories to your overall daily intake.
Sometimes you need those extra carbs and calories, though, and that's where a recovery protein powder comes in. These are best suited to endurance athletes like runners, cyclists and triathletes who tackle longer training sessions, and to people hitting the gym multiple times each day, because the carbs replenish your energy reserves while the protein aids the rebuilding of your muscles.
Along with carbs and protein, recovery powders will also often contain electrolytes to replace those lost in sweat in long workouts, as well as a mix of vitamins and minerals designed to support the body's ability to handle a high training load.
We're working our way through trying a wide selection of the options to help guide you to the right recovery protein powder for you. Of course, you may be able to get by without a supplement. Try this recovery smoothie recipe from runner Laura Muir or this green recovery smoothie recipe taken from The Runner's Cookbook by Anita Bean to see you through a marathon training plan or 100-mile cycle training plan.
The Best Recovery Protein Powders
SiS REGO Rapid Recovery
The best recovery protein powder for intense training periods
Specifications
Flavours:
Banana, chocolate, strawberry, vanilla
Calories per serving:
184
Reasons to buy
+
Great for intense training periods
+
High amounts of protein and carbohydrates
+
Added vitamins and minerals
REGO is the perfect shake to help see you through the toughest training weeks, and we've used it regularly during marathon training to bounce back between runs. The powder mixes easily into a shake, which contains 20g of protein and 23g of carbs, and it uses soy protein so it is suitable for vegans. Our main criticism is the unnecessarily small scoop that comes with it, which means you have to dip it three times to make one drink.
SIS also has the more expensive REGO Rapid Recovery+ powder, which contains more carbs and protein in a bigger serving. We've also tested that and it's another great option, though probably overkill compared with the normal REGO powder for most people – as well as being pricier and less widely available.
---
Stealth Vegan Recovery Protein
Cheapest recovery protein powder
Specifications
Calories per serving:
170
Reasons to buy
+
Added electrolytes
+
Low in calories
Along with the 20g of protein and 19.5g of carbs per 50g serving, this has added electrolytes to replace those lost through sweat. The vegan protein is a blend of pea and rice protein, and the sweetener is stevia.
The texture is a little thinner than we'd have liked, but that's the norm with a recovery drink compared with a traditional protein shake. The mint overpowers the chocolate slightly, but that made the shake surprisingly refreshing after a long run in the sun, and the powder mixes very easily with water.
---
Veloforte Recovery Protein Shake
Best-tasting recovery shake
Specifications
Flavours:
Banana and cocoa with maca, raspberry and acai with ginseng
Calories per serving:
226
Protein per serving:
13.1g
Reasons to buy
+
Interesting flavours
+
Natural ingredients
+
Vegan
Reasons to avoid
-
Only two flavours
-
Expensive
-
Less protein per serving than others
Veloforte stands out in the world of supplements with its use of all-natural ingredients, producing tasty flavour combinations you're unlikely to find anywhere else. The two recovery shakes in its recovery line-up are raspberry and acai with ginseng, and banana and cocoa with maca, and both are tasty with a lighter texture than the competition.
The protein per serving is a little lower than you'll find on most recovery shakes, but 13g is still a good serving, and there's a solid 39g of carbs to help replenish your stocks after a long workout. The price is high, though there is a subscribe and save option from Veloforte that brings the cost down a little.
---
OTE Whey Protein Recovery Drink
Best high-protein recovery powder
Specifications
Calories per serving:
185
Reasons to buy
+
Fast- and slow-release protein
+
Added vitamins and electrolytes
Reasons to avoid
-
Not as high in carbs as others
-
A little lumpy
-
Only one flavour
OTE's recovery drink focuses on protein rather than carbs, with 25g of protein in each serving – sourced from whey and casein – compared with just 19g of carbs. The powder doesn't mix as smoothly as others we've tested, though any lumps in the drink were small and didn't detract from our enjoyment of it.
If you'd prefer a vegan shake OTE also has a soy protein recovery drink that offers the same macronutrients. Both powders come in sachets as well as sacks, and the sachets have a dual-opening system with options for wide and narrow-neck bottles, which helps you avoid spilling powder everywhere.
---
Rawvelo Recovery Drink Mix
Best vegan recovery powder
Specifications
Calories per serving:
355
Protein per serving :
21g
Reasons to buy
+
Vegan
+
High amounts of protein and carbohydrates
+
Added electrolytes
The large serving size recommended with this vegan powder ensures that you get everything you need to refuel after your toughest and longest workouts, with lots of calories, carbs and protein, plus electrolytes and the added bonus of psyllium husk—a prebiotic chucked into the mix to boost gut health. You can scale down your serving size if your workout doesn't demand the full 100g, which will obviously help a 1kg sack of powder last longer.
I found that even when using a full 100g serving the powder was easy and quick to mix with water, and while the texture isn't completely smooth it was fine to glug down after a long run. The protein is sourced from pea, so—like all Rawvelo products—the powder is suitable for vegans. The brand also prides itself on using natural ingredients like cane sugar to deliver the carbs in its products.
Sign up for workout ideas, training advice, reviews of the latest gear and more.