Use Laura Muir's Recovery Smoothie Recipe To Refuel After Your Toughest Runs
This simple recipe will help you reload with carbs and protein, and takes seconds to make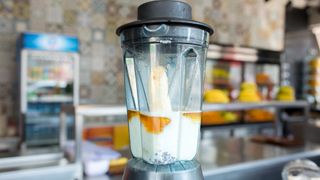 (Image credit: Unknown)
There are a lot of complicated and expensive supplements available these days, and the magical results they promise mean that you might assume that all elites are chugging down all manner of advanced nutritional beverages every time they break a sweat.
It was, therefore, refreshing to learn that Laura Muir – winner of the 1,500m at the European Championships and top medal prospect for the 2020 Olympics – makes her own recovery smoothie, and that it contains just four ingredients that can be bought in any supermarket. Even the really small ones at petrol stations.
"I often make my own smoothie," Muir told Coach at the launch of the Nike Joyride running shoe. "It's just semi-skimmed milk, a bit of Greek yogurt, honey and a banana. Or sometimes I use berries instead of a banana. I just shove it all in a NutriBullet."
In terms of amounts, Muir does it by eye – basically if your blender is overflowing you've probably put too much in. It's a tricky recipe to get wrong. And as for when she uses it, Muir saves the shake for the tough runs on her training plan.
"I would use this after any big session," says Muir. "Usually I do track sessions on Monday and Wednesday, then a hilly grass session on Saturday. I have the smoothie straight afterwards, or even sometimes during my warm-down."
See related
So there you go. You can make your own elite-level recovery drink for your running in under a minute using any blender and a bunch of cheap ingredients that you may well have in your kitchen already. We're not promising that it will spur you on to set national records and win all the golds that Muir has amassed, but if your body is getting the nutrients it needs to adapt and improve after your hard training runs, it might well help you shave a few seconds off that parkrun PB.
One of the other key parts of Muir's recovery routine is similarly low-tech, but this time is undoubtedly less enjoyable to replicate.
"I usually ice a lot of the time as well," says Muir. "I do a ten-minute ice bath, quite often just a bucket to my knee. I have my own bucket I cart around everywhere. I fill it full of ice and do that for ten minutes."
We'll stick to the smoothie for now.
Sign up for workout ideas, training advice, reviews of the latest gear and more.