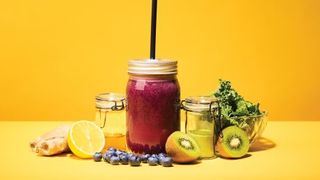 (Image credit: unknown)
Smoothies are big business. First they were an indulgent way to get a couple of your five-a-day, then a high-end gym staple and now ubiquitous.
But while enterprising supermarkets and juice bars are engaged in an arms-race of flavour combinations – mango and mint is surprisingly good – are they actually doing anyone any good? It's tough to say. A typical bottle of Innocent, the UK's biggest brand, packs in 33g of sugar, essentially the same as a can of Coke (possibly not surprising, since it's been majority-owned by Coca-Cola since 2013). The obvious problem: you'll only come back if they taste good, and our stupid caveman brains love sugar.
So what's the fix? Simple: make your own. By sticking to a few simple rules, you can customise your smoothie to your own fitness goals, and only put in what you need to support your training. Or, to make it even easier, just use our recipes below.
The Pre-Workout Energiser
Step away from the double espresso and Metallica megamix: if you're aiming to get the most from your workout, you want a more targeted approach. "The best pre-workout snacks make you feel satisfied and excited to exercise without leaving you feeling bloated or tired," says nutritionist Lee Holmes.
"That's exactly what this smoothie's designed for. The frozen banana gives you digestible carbs for energy, but it also has a drizzle of healthy fats in the tahini, as well as a great source of vegetable protein from cacao and spinach, to fuel you up for a squat session.
"Cacao is also a performance-enhancer and can help with muscle recovery and growth. Besides, who doesn't get excited when they're drinking a chocolate smoothie?"
Combine all the ingredients in a blender and whizz until smooth, then drink immediately. If you're looking to economise, frozen spinach works almost as well as fresh.
Ingredients
½ a peeled frozen banana
45g baby English spinach leaves
1tsp tahini
1tbsp raw cacao nibs
250ml almond milk
Handful of ice (optional)
The Energy Booster
Start your day right. "For the optimum morning performance smoothie, a combination of carbohydrates, vitamins and antioxidants is essential," says Richard Canterbury, founder of Love Taste Co.
"In this recipe, bananas provide your body with a slow-burning carbohydrate, while the antioxidant-rich matcha powder will increase energy and endurance. By incorporating kale into the smoothie you'll provide your body with a solid amount of vitamins and minerals in one hit and, blended with vitamin C-rich pineapple, muscles will build and recover faster."
This one will give you energy any time of day, but careful with the matcha after 3pm – it's slightly higher in caffeine than traditional black tea, so it could disrupt your sleep. If you're after a smoother texture and more healthy fat, swap the banana for half an avocado.
Ingredients
1tsp matcha green tea powder
80g banana
30g kale
30g pineapple
200ml almond milk or coconut water
The Immunity Booster
"This blend combines three of the most powerful anti-cold remedies in one potent brew," says nutritionist Will Hawkins, who works with Premier League footballers.
"Kiwi fruit – particularly the gold variety, if you can get it – has exceptionally high levels of various vitamins, in addition to potassium, fibre and phytochemicals, and studies have found it can reduce the length of colds and stop them cropping up in the first place.
"Research has found honey to be more effective in improving the symptoms of coughs than several over-the-counter medications, while the lemon juice will add an extra hit of vitamin C – which has been shown to shorten the duration of the common cold."
To make it, peel and chop your kiwi fruit and place it in a blender. Juice a lemon and add a third of that to the blender – bonus points if you add any pulp. Add in some runny honey and then blend lightly. "Be sure not to overdo it," says Hawkins. "You want plenty of fleshy bits left in to help your body better absorb all the nutrients within."
Ingredients
1 whole kiwi fruit, preferably gold
3tsp runny honey
Juice of ⅓ of a lemon
The Post-Workout Refuel
Sure, you could just slam a protein shake in the changing room, but it's worth getting a touch more elaborate. After a workout, your priority is to replenish energy stores, repair muscle damage and fuel with antioxidants to fight inflammation and cell damage. This meal in a glass has the lot – and it's easy enough to throw together in the office.
"Start with whey – a high-quality protein source is going to help maintain muscle and satiate hunger," says Myles Hopper of Precision Nutrition. Phytonutrients found in blueberries have a whole host of health benefits including supporting the body's systems.
"Colour is king when it comes to antioxidant and nutrient density, so the brighter the better if you want to boost health," says Hopper. "Almond milk is a lower-calorie option and good for people who struggle to process dairy effectively." Still hungry? Throw in some nut butter – peanut is traditional, but almond is tastier.
Ingredients
1 scoop whey protein (30g)
1 scoop greens powder
Handful of spinach
300ml almond milk
Handful of blueberries
Ice cubes (optional)
The Longevity Booster
"For general health and longevity, green is good," says Holmes. "Leafy greens, including spinach, are excellent for skin, hair and bone health – but spinach also provides us with protein, iron and other essential minerals.
"Another great thing about this smoothie is the zingy ginger, which can help relieve digestive issues, reduce inflammation and even ease pain. Cucumbers add some much-needed vitamin K, as well as potassium and manganese."
Peel and freeze a banana ahead of time – it's a good option for fruit on the verge of turning – and peel your ginger with a spoon (it's simpler and more efficient than hacking at it with a knife). Roughly chop your cucumber and then throw everything in the blender. Stevia gives it a burst of sweetness, but it's not essential. If you're ready to get crazy, throw some kale in instead of the spinach.
Ingredients
250ml almond milk
2 handfuls of baby spinach leaves
1 frozen small banana, in chunks
1 Lebanese cucumber
1tsp ginger
Stevia (optional)
Ice cubes, to taste
Sign up for workout ideas, training advice, reviews of the latest gear and more.