The Best Smoothie Makers
Find the perfect blend with the best smoothie makers available to buy now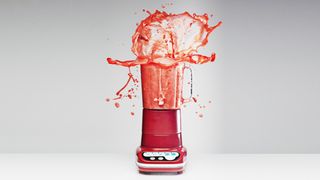 (Image credit: Unknown)
Perhaps you're checking out smoothie makers because you're keen to improve your diet and you've clocked the healthy halo that shines above every smoothie. Well, we have good news for you: a small (that's 150ml small) smoothie counts as one of your five-a-day. The inevitable bad news? You can continue drinking liquid fruit (including juices) all the live-long day and the experts have decreed you're still only getting one portion of your daily fruit and veg. That's because blitzing fruit into smoothie form destroys lots of that lovely fibre and releases sugars from their natural state, and that's not great for your teeth.
But perhaps you want a smoothie maker because smoothies are simply delicious, thanks in no small part to the thick and comforting texture, and the fresh flavours of fruit and veg. Well here's some more good news – there's nothing wrong with a little indulgence (in moderation).
What you'll get for your money
At the cheaper end of the smoothie maker scale, expect to pay between £30 and £50. This will give you a less powerful motor (in the 300 watt to 500 watt range), fewer features and smaller capacity, but if you're making basic smoothies with soft fruits and the occasional bit of ice for a small household these will do the trick.
If you want to spend more, you can, all the way up to £200 if you wish. The big difference with more expensive models is a more powerful motor, which you'll need if you fancy adding raw veg to your smoothie because you'll need something that can work its way through the tougher, fibrous flesh. Motors can go up to 1,500 watts, although it's rare that a recipe would actually need 1,500 watts. In our experience 1,000 is more than enough.
Another option you may wish to look out for is a portable blending bottle, so you don't have to decant from the blending jug and double the washing-up. Speaking of which, look out for smoothie makers that have self clean settings or are safe to put in the dishwasher. Top tip: if being able to clean your set-up in the dishwasher is a dealbreaker for you, make sure all the parts can go in there. We love the Nutribullet, but the attachment with the motor has to be done by hand – and it's nigh-on impossible to get it completely clean on the first pass.
---
Breville Blend Active Personal
Best Budget Blender
Available in a range of bold colours including hot pink, blue and lime green, this sporty-looking number is an absolute steal at £20. It comes with two 600ml plastic bottles that attach directly to the base so there's no need to decant into another vessel if you're taking it with you to the gym. The protein shaker-esque flip lids won't look out of place either.
You may need to chop up chunkier ingredients first and you'll probably need to blend for a little longer than some of its bigger, pricier rivals since the motor's only 300 watts, but its compact size is great for small kitchens or crowded worktops.
---
Nutribullet Balance
Best For Calorie Counting
Smoothies are great, but it can be tough to know just how many calories and how much sugar you're drinking. This smart blender has a digital scale under the motor and Bluetooth to connect it to your phone. Pick a recipe in the app and it'll guide you through making it step by step, helping you to measure out precise quantities. If your hand "slips" when chucking in chocolate chunks, say, the app will also recalculate the nutritional value of what you're about to drink. A truly next-level smoothie maker.
---
Salter Nutri Pro 1200
Best Value Blender
This blender boasts the feature set of a £100 or even £200 machine and yet costs less than £60, representing excellent value especially if you're looking for a powerful motor. The 1200-watt motor is more than powerful enough to plough through any ingredients, and although it's a little noisier than premium models, it gets the job done so quickly it barely matters.
Along with the blender you get a tall 1,000ml cup and two 800ml cups with flip-top lids, and Salter also includes a recipe book with 50 different recipes to help get you into the swing of blending.
---
Vitamix Ascent A2300i
Best Premium Blender
If you want to treat yourself to a professional-standard blender, Vitamix is the company to go to. Not only does it make incredibly powerful machines, it also offers a ten-year warranty. That's worth having when you're dropping almost £500 on your blender.
The Vitamix Ascent 2300i has a 1,440W motor that makes short work of anything you throw into its two-litre container. On top of pulverising fruit and veg into smoothies, the A2300i can make ice cream and sorbet, as well as soup, which is cooked using friction. And once you're done, just squirt in a little dish soap and the machine can clean itself in under a minute.
Buy from Vitamix | £449
---
Sage 3X Bluicer Pro
Best For People With A Serious Smoothie Habit
What is a bluicer, you ask? Why, has that mash-up word of blender and juicer not caught on yet? Surprising. Anyway, the advantage of this blender-juicer combo is that the masticating juicer's spout can pour fresh, pulp-free ingredients straight into the blender jug. Add the rest of the smoothie ingredients, then blitz using either the smoothie or green smoothie settings (the latter obliterates the toughest, bittiest ingredients into a smooth texture – we saw it work its magic on walnuts).
It opens up new taste frontiers, which will be of benefit to those who drink smoothies every day (maybe watch that sugar intake, ՚K guys?). Fair warning, it's only for those with serious funds. If that's you, and you're even thinking "Nice, but how can I spend more?" you can always drop another £80 on a battery-operated vacuum attachment, which will help extend your smoothie's shelf life.
Buy from Sage | £369.95

See related
Ninja 3-in-1 Food Processor
Best Multi-Tasker Blender
It would be almost quicker to list the things this multifunctional gizmo doesn't do in the kitchen – its variety of accessories help you to chop, blend and slice up anything you pop into it. The Auto IQ pulse, pause, blend and process programmes do the thinking for you, too, so you just press one button and let the Ninja go to work. You still have to select your own ingredients, though. The machine has a 700ml cup for single-serve smoothies, and a 2.1-litre jug for when you're making enough to share.
Sign up for workout ideas, training advice, reviews of the latest gear and more.