The Best Juicers To Buy In 2021
Get one of your five-a-day the easy way with our pick of the best juicers to buy right now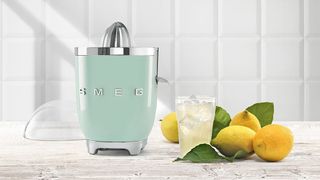 (Image credit: Unknown)
Be honest. Are you eating five portions of fruit and veg a day? Really? Every day? You are? That's great – you should still eat more though because it seems that the benefits keep growing the more fruit and veg you eat. So a small, 150ml glass of fruit or vegetable juice, or even a concoction of the two, is a great way to chalk up one of those servings. (Only one, though, remember – however much juice you drink in a day it only counts as one serving, because the process strips out some of the fibre.)
Juice is also, more importantly, tasty, and shop-bought conconctions can be ever so more-ish. Add up all those purchases and investing in an electric juicer is a great way to make a healthy habit more affordable in the long run.
There are two main types of juicer to consider: centrifugal (or fast juicers) and masticating (also known as cold press or slow juicers). Centrifugal juicers work by pushing fruit and veg down a feed tube onto a blade at the bottom of a spinning sieve, which separates the juice from the pulp. They tend to be speedy and affordable, making them ideal if your juicing ambitions don't extend beyond a daily glass of OJ.
A masticating juicer uses an auger (which looks like a drill bit) to slowly squeeze fluid from the pulp to extract a more nutritious, fibrous drink. In addition, masticating juicers are better at blitzing through tough greens like kale and wheatgrass, and use less oxygen in the process, which means that juices can be kept for longer.
Other things to consider when buying a juicer include checking whether all the parts are dishwasher-friendly and how large the feeding tube is. While some manufacturers claim that a 65mm diameter will accommodate a whole apple, we like to err on the side of caution with one that's 70mm or larger. Sure, you can cut up your own fruit, but then you can squeeze your own juice by hand – if you're paying for convenience, why not go all in? It's also worth making sure the pulp tray has a decent capacity – we'd recommend 1.5 litres as a minimum.
Whatever your reason for juicing, and whatever your budget, we've highlighted the best juicers available to buy right now.
---
Braun J500 Spin Juicer
Best All-Round Juicer
The sizeable chute on this juicer can accommodate a whole apple, which is so convenient it immediately moves ahead of most juicers in our book. All the machine's parts can be popped into the dishwasher too, and it's easy to assemble and disassemble, making juicing that little bit less of a chore. It's good for early risers too, since it will whizz you up a glass of juice in 15 seconds without causing enough of a racket to wake the neighbourhood.
---
Philips HR1832/11 Compact
Best Budget Juicer
Remember what we told you about only 150ml fruit juice being required to tick off one of your five-a-day? Well it's relevant here, because although this juicer modestly describes itself as compact, it still makes 1.5 litres of juice in one go, which is enough for (*does maths*) an entire family of ten to grab one of their five daily portions of fruit and veg. The Quick Clean feature stops pulp getting trapped in inconvenient places so you can clean the entire machine in just a minute, and the 500W motor is powerful enough to churn through chunks of even tougher customers like raw carrots and beetroot.
Buy from Argos | £69.99 (currently reduced to £64.99)
---
Smeg CJF01PGUK Citrus Juicer
Most Stylish Juicer
Yes, you read that right – stylish juicers do exist and as always Smeg leads the pack when it comes to good-looking kitchenware. This citrus juicer has a retro look that comes in a range of colours, with all the key pastel shades covered, so you can match it up to whatever else you have in your kitchen.
See related
Sage The 3X Bluicer Pro
Best Juicer/Blender Combo
While we resent and reject the portmanteau "bluicer", we cannot argue with the quality of this versatile kitchen wizard. Or indeed whizzard, if we are going for appalling wordplay. The Sage can produce a hefty 700ml of juice in around 30 seconds, more than enough for four people to get one of their five-a-day, and it has settings to suit either very soft or very hard fruit and vegetables. There's no need to stop there, however: you can juice straight into the blending jug to combine your freshly squeezed liquid with other ingredients and make a smoothie with fresh juice.
Buy from John Lewis | £319.99
Sign up for workout ideas, training advice, reviews of the latest gear and more.