23 Protein Shake Recipes For A Tasty, Refreshing Treat
Recipes
Contributions from
last updated
Upgrade your protein shake and use protein powder to make delicious, fitness-boosting combos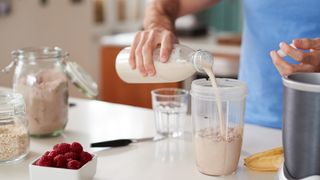 (Image credit: Shutterstock)
Drinking protein powder mixed with water can become quite monotonous, even when you've chosen using our guide to the best protein powders – most of us can only afford to buy one flavour at a time after all. But all you need to turn your protein powder into a tasty treat is a blender and a little creativity – and while you'll have to take care of the former yourself, the latter is supplied free here in the recipes from professional athletes, PTs and nutritionists.
Many of the recipes use milk instead of water, and although this will increase the calories you're consuming, it may help to increase both muscular size and strength after a gym session. Research suggests that taking protein with carbs during the post-workout window hastens muscle recovery thanks to a faster replenishment of glycogen stores.
As well as peanut butter and other nut butters – which add an extra protein hit, healthy fats and a delicious creamy taste – fruit is widely used. Obviously fruit is good for you, but don't fool yourself into thinking you're knocking off multiple portions of your five-a-day in one glass. Blending releases sugars from the fruit, so advice from the NHS cautions that no matter how much fruit you throw in or how much you drink, it only counts as one portion a day.
If you like the idea of freestyling but also like to keep a close eye on your macros, the Nutribullet Balance blender comes highly recommended. Scales are built into the base and you can tell a partner app what you're adding so it'll calculate the calories and other nutritional information. The beaker comes with a protein shaker top so you can blend, screw on the lid and throw it in your gym bag for later.
Read on for recipes that cover every type of situation and every time of day.
1. Chocolate And Peanut Butter Recovery Shake
This shake is the first of two recipes from double Olympic taekwondo champion Jade Jones, who is an ambassador for Optimum Nutrition.
"I usually make this smoothie straight after a training session because it contains whey, which is a fast-digesting protein that helps to support muscle recovery ready for my next workout," says Jones. "The protein from the peanut butter and the yogurt helps to rebuild and repair the muscles too, and it tastes great."
Just make sure you're working as hard as an Olympic champion would because this shake contains 556 calories, along with a healthy 48g of protein and 59 of carbs.
2. Morning Super Greens Smoothie
"I tend to have a super greens smoothie just before my morning workout because it's jam-packed with goodness and feels like the perfect way to kick-start the day," says Jones.
Blend together the below for a fruit and veg-filled shake that's loaded with useful vitamins and minerals. At 414 calories with 39g of protein, 30g of carbs and 14g of fat it's certainly got enough in it to fuel a workout.
100g natural low-fat yogurt
1 scoop of Optimum Nutrition 100% Gold Standard Whey Unflavoured
200ml almond milk
1 kiwi fruit
½ banana
½ medium avocado
1 handful of spinach
1 handful of kale
3. Fighting Fit Shake
This simple shake recipe comes from former pro boxer and Pure Brand Nutrition ambassador Tony Bellew. All you have to do is blend the below for a nutty, chocolatey treat that also contains a healthy portion of fruit.
1 cup chocolate almond milk
1 cup plain almond milk
½ frozen banana
¾ cup frozen mixed berries
1tbsp peanut butter
4. Breakfast Shake
If you don't have time for a sit-down breakfast, then this high-protein smoothie, which also contains good fats, fibre and a ton of vitamins and minerals, will keep you fully fuelled until lunch. "This fruity breakfast beverage contains cashew nuts and cinnamon, which can help stabilise blood sugar levels and prevent hunger pangs to give you a sustained release of energy all morning," says personal trainer and Multipower ambassador Anthony Nyman. The yogurt and whey powder increase the protein content, while the pineapple and blueberries are packed with antioxidants and other health-boosting compounds.
200g Greek yogurt
50g pineapple, roughly chopped
30g blueberries
1 scoop of whey protein isolate
A handful of cashew nuts
A pinch of cinnamon
Water, to taste
5. Pre-workout Protein Shake
If you want to have the best workout possible, make sure you give your muscles all the fuel they need to perform to their maximum potential for the duration of the session. That's what this performance-boosting smoothie helps to do, if you drink it an hour before training. The oats provide a steady stream of carbs for fuel while the protein powder will provide the amino acids that prevent too much muscle breakdown and encourage new muscle growth. "The banana in this creamy shake provides plenty of potassium, which helps to support muscle function during exercise," says nutritionist Clare Baseley (forgoodnessshakes.com). Coconut water is high in other electrolytes to aid hydration and muscle contractions.
½ a banana
A handful of porridge oats
1 scoop vanilla whey protein
1tbsp flaxseeds
330ml coconut water
Chill all the ingredients in the fridge, blend them until smooth, then sprinkle some desiccated coconut on top and drink immediately.
6. Recovery Citrus Shake
After a hard training session your body is crying out for high-quality protein to repair damaged muscle tissue so it can grow back bigger and stronger. But your body needs more than just protein to recover quickly. "In addition to plenty of muscle-building protein, this citrusy and refreshing smoothie also contains vitamin A-rich carrots to help support your immune system which can be weakened by long and intense training," says chef Dee Chauhan.
½ a carrot, peeled and sliced
½ an orange, peeled and chopped
¼ of a cantaloupe melon, peeled and chopped
1 scoop whey protein powder
125ml cashew nut milk
50ml water
A handful of ice
7. Muscle-Building Shake
Aiming to build muscle mass? Then you need to be eating more of the right kind of calories from carbs, fats and protein, which will give your body the energy surplus it needs to add size faster. "Upping your calorie intake with healthy ingredients is crucial if you're trying to add size, which is why this smoothie features nutritious and calorie-dense ingredients like dark chocolate and coconut milk – as well as a good serving of fast-acting whey protein," says nutrition specialist Scott Baptie (foodforfitness.co.uk).
20g dark chocolate (85% cocoa)
100ml coconut milk
25g scoop whey protein isolate
Pinch of cinnamon
1 banana
50g porridge oats, soaked in 100ml of water for five to 10 minutes
8. The Incredible Bulk Vegan Shake
If you're looking for a plant-based shake, you can simply substitute the whey protein used in most of the shakes on this page for a vegan protein powder, though there are a few with other ingredients you'll also need to switch out. Or you can just enjoy one of these two vegan shake recipes created by the good people from Starks Fitness. The recipes feature Starks Fitness's own vegan protein powder, but any plant-based vanilla protein will work.
Blend these ingredients for a fruity and refreshing shake that tastes a little like a Twister ice lolly. Sold!
200ml coconut milk
1 scoop SF Nutrition Vegan Madagascan Vanilla Protein
Handful of spinach
50g pineapple
½ a banana
½ a lime
9. Wonder Berry Vegan Shake
This filling shake uses almond milk as well as vegan powder to keep it plant-based, with blueberries and strawberries thrown in to add flavour and antioxidants.
200ml almond milk
1 scoop SF Nutrition Vegan Madagascan Vanilla Protein
20g blueberries
20g strawberries
½ a banana
1tsp flaxseeds
10. Super Strawberries Protein Shake
One regular strawberry contains 20% of your RDA of recovery-improving vitamin C, which is why this recipe contains five.
1 scoop of strawberry whey protein
5 strawberries, stalks removed
400ml milk
1tsp vanilla extract
Water, to taste
11. Power Latte Protein Shake
Trade your normal morning coffee for a bonus hit of calcium-heavy almond milk and insulin-regulating cinnamon.
1 scoop of vanilla whey protein
100ml chilled coffee
300ml almond milk
1tsp cinnamon
Water, to taste
12. Punchy Chocolate Peanut Protein Shake
Like liquid Snickers in a glass (but a lot healthier) with high levels of heart-healthy monounsaturated fat.
1 scoop of chocolate whey protein
400ml milk
1tbsp peanut butter
2tsp cocoa powder
Water, to taste
13. Fruit Fusion Protein Shake
Winter's the best time of year to enjoy seasonal citrus fruits, when their levels of health-boosting vitamin A are highest.
1 scoop of plain whey protein
1 orange, peeled
400ml pineapple juice
1 banana, sliced
Water, to taste
14. Berry Blast Protein Shake
1 scoop of strawberry whey
Handful of blueberries
Handful of raspberries
200ml milk
Water, to taste
15. Energy Banana Protein Shake
One banana contains 25% of your RDA of brain-boosting vitamin B6.
1 scoop of vanilla whey protein
400ml coconut milk
2tsp honey
1 banana, sliced
Water, to taste
16. Blue Flu Fighter Protein Shake
1 scoop of strawberry whey
Handful of blueberries
Handful of blackberries
2tsp manuka honey
Water, to taste
17. Healthy Honey Protein Shake
1 scoop of vanilla whey protein
2tsp manuka honey
1tsp vanilla extract
400ml coconut water
Water, to taste
18. Green And Lean Protein Shake
1 scoop of chocolate whey
2tsp supergreens
Handful of kale
1tsp flaxseed oil
Water, to taste
19. Big Breakfast Protein Shake
This morning milkshake has four different sources of bulk-building protein.
1 scoop of vanilla whey
Handful of porridge oats
1tbsp Greek yogurt
400ml almond milk
Water, to taste
20. Great Grape Protein Shake
The grapes are a great source of vitamin C, potassium and manganese and the berries contain plenty of antioxidants, while chia seeds deliver an extra hit of protein.
2 scoops vanilla flavour protein powder
Handful of purple grapes
Handful of blueberries
1tsp dry chia seeds
1tsp flaxseed oil
120ml of water
21. Oat-Some Energy Protein Shake
Anything with bananas and oats is going to be packed with energy making this the perfect pre-workout, energy boosting concoction. As well as energy this shake will help to prevent muscle cramping and sustain your blood sugar too.
2 scoops banana or vanilla-flavoured protein powder
2tbsp of rolled oats
2 bananas
240ml of unsweetened almond milk
120ml of cold water
¼tsp of cinnamon
1tsp of honey
4 ice cubes
22. Chocolate And Peanut Butter Protein Shake
Who doesn't like chocolate and peanut butter together? As well as being a decadent mixture of two milkshake favourites, this recipe is actually good for you. The peanuts are full of good stuff including protein, folate, vitamin E and manganese.
2 scoops of chocolate protein powder
1 banana
2tbsp of good-quality peanut butter (the less sugar the better)
240ml of unsweetened almond milk, skimmed milk or soy milk
Ice cubes to taste
23. Peachy Green Protein Shake
A nutrient-rich breakfast smoothie. It'll come out green and may look fairly unappetising but it will start your day off the right way with a hearty serving of fruit, veg and protein.
2 scoops vanilla protein powder
Handful of frozen pineapple
½ a banana
2 handfuls of kale
½ a frozen peach
240ml of unsweetened almond milk
---
More Protein Shake Recipes And Accessories
Sign up for workout ideas, training advice, reviews of the latest gear and more.