A Plant-Based Protein Shake Recipe that Works for Vegans
And people who've run out of protein powder. And people who like delicious things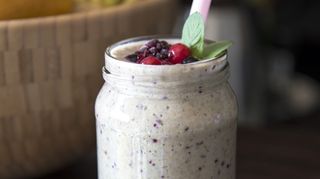 (Image credit: Unknown)
Protein shakes are a staple of many gym-goers' diets and they're also making their way into the mainstream. But what if you want a shake that's full of goodness with a decent protein content without having to scoop any powder or get cows involved? You make one of DW Fitness nutritional expert Carly Tierney's favourite plant-based protein shakes.
Ingredients
190ml soy milk
1tbsp nut butter
1tbsp chia seeds
All you have to do is blend.
Use a natural nut butter (where the only ingredient is the nut itself) to avoid added sugar or unhealthy fats. Soy milk is naturally high in protein (although not as high as cow's milk), as are nuts and chia seeds, which combine to provide around 12g of protein in one serving of this shake. Plus, it'll be delicious. Nut butter always makes things delicious.
You could swap soy milk for other plant-based milks, but that'll drastically cut down the amount of protein in the shake. If you're happy to drink cow's milk, use that instead to bring the protein value per serving up to 27g.
RECOMMENDED: Protein Shake Recipes
If you're looking to spice up this protein shake, try experimenting with some of these extra ingredients suggested by Coach's sister title, Men's Fitness.
Nutmeg
Ground nutmeg retains its fibre content to assist the digestive process, helping you absorb all the other nutrients in your shake.
Cinnamon
The sweet spice slows the rate at which your stomach empties after meals, reducing the rise in blood sugar after eating. It also has anti-inflammatory benefits.
Ginger
Feeling a little queasy after a tough workout? Ginger will settle your stomach. Feeling under the weather? It'll promote healthy sweating to help flush out a cold.
Maca
Also known as Peruvian ginseng, this relative of the radish helps regulate your endocrine system, for improved energy, sleep and mood.
Spirulina
A form of algae, in dried powder form it's about 60% protein – plus it boasts a shedload of vitamins and minerals for better immunity.
Sign up for workout ideas, training advice, reviews of the latest gear and more.
Pennie is the founder of fitness magazine Oh My Quad and has a decade's experience working as a freelance journalist for various magazines on- and offline. She is also a personal trainer based in North London and the GoodGym Barnet trainer, so spends a lot of time running around and picking things up.