This Iced Coffee Protein Shake Recipe Is The Ultimate Summer Drink For Gym-Goers
Refresh yourself and refuel your muscles with this chilled coffee treat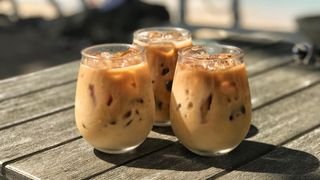 (Image credit: David Templer)
Protein shakes and coffee are probably the two drinks most beloved by gym-goers of all stripes. Coffee to perk you up pre-workout and a protein shake to refuel your muscles afterwards. Two excellent drinks and a pairing that can be combined into one all-conquering summer superdrink. Just use this iced coffee recipe from David Templer.
"Enjoy this iced coffee drink as an afternoon pick-me-up or drink it 30 minutes before your workout to give you a boost while packing in the protein," says Templer.
The recipe below suggests using vanilla flavour protein powder, but Templer says mocha or chocolate powder would work too. Read our recommendations of the best protein powder to discover which brand we think makes the best-tasting chocolate powder.
If this doesn't hit the spot, browse these 23 protein shake recipes for more inspiration.
Iced Coffee Protein Shake Recipe
Method
The preparation starts the night before. Make a regular hot coffee (as strong as you like) and then pour it into an ice tray. Pop the coffee in the freezer overnight so it turns into ice cubes of coffee. Make a lot if you want to enjoy iced coffee all week long.
Mix 30g of vanilla whey protein powder with 300ml of your choice of milk and give it a shake until the protein and milk have blended together. Use milk that's at room temperature if possible so the coffee ice cubes of melt sooner.
Pop your coffee cubes out of the tray and into a glass, then pour the milk mixture over. Top it up with normal ice if needed or if you want a weaker coffee.
Ingredients (Serves One)
30g vanilla whey protein powder
300ml milk (of your preference, Templer recommends coconut or unsweetened almond milk)
Coffee
Nutritional Info
Calories 174 Protein 30g Carbs 26g Fat 5g
*Using 300ml coconut milk
Sign up for workout ideas, training advice, reviews of the latest gear and more.