The Best Protein Shakers To Buy
Don't just rely on freebies. Here's how to pick the right powder blitzer for your protein shake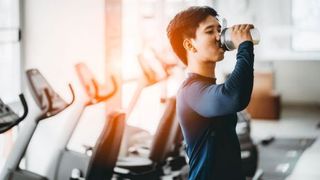 (Image credit: Unknown)
It might seem like just a plastic container, but it's also the breeding ground for that god-awful stench that appears if you forget to wash it out quickly enough. Which means you, like us, are probably in the market for a new protein shaker pretty regularly. But which one to choose?
When it comes to picking a protein shaker a good starting point is where you'll be using it. For instance, we think a flip top is far more convenient if you're exercising outside, whereas a screwtop is far less likely to leak all over your treadmill.
But that isn't the only thing you need to consider: Does it mix your protein well? Does it do anything else? Can you justify the price tag for those extra features? Have you the time and inclination to look after an expensive do-it-all battery powered mixer, or are you likely to leave it to fester at the bottom of your gym bag, destined to end up in the bin as you recoil from its hellish stench?
Here are a few of our top picks to help you decide.
---
(opens in new tab)
Predator Nutrition Blender Bottle
The Fun One
It's fair to say there isn't a lot of fun in the world of protein shakers, where most brands understandably opt for practicality over personality. That makes Predator Nutrition's range of pop-culture shakers, including Star Wars, Harry Potter and Marvel designs, a breath of fresh air, and well worth investigating if you're looking for something a little different. Our preferred pick is this charming Grogu shaker, because everyone needs more of the little Yoda-a-like in their life. It's also a decent shaker, of course, with an 800ml capacity and a dishwasher-safe design.
Buy from Predator Nutrition (opens in new tab) | £15.98
---
(opens in new tab)
Bulk 750ml Shaker
The Cheap One
Sometimes simplicity is king, which is where this shaker from Bulk comes in. It's got one job – to mix your protein shake – and sure as day turns to night, it does that job just fine. If it's zero frills and cheap thrills you're after, this is the one.
Buy from Bulk (opens in new tab) | £5
---
(opens in new tab)
Promixx 2.0
The All-Singing One
The Promixx 2.0 uses an X-shaped blade and 16,000rpm high-torque motor in its base to mix the ingredients. Trust us, it's as fast as it sounds – within ten seconds, you'll have a lump-free shake. And rest easy – you won't have to buy expensive batteries every few months, a rechargeable lithium battery and a USB charging cable are included.
---
(opens in new tab)
BlenderBottle GoStak
The Multi-Tasking One:
Carry your various supplements and snacks with you in the most convenient manner possible with this set of stackable beakers, all of which have leakproof lids. So if you want to take protein powder, BCAAs, creatine, vitamins and any other supplement after a workout, you can bring them all with you separately and mix them at the gym. The stacks also fit inside BlenderBottle's classic protein shaker (opens in new tab), though you can also just chuck your powders into the biggest tub and mix them in there.
See related
Why you can trust Coach Our expert reviewers spend hours testing and comparing products and services so you can choose the best for you. Find out more about how we test.
---
(opens in new tab)
SmartShake
The On-The-Go One
The SmartShake is the original protein shaker with compartments, giving you the opportunity to pack your post-workout power, snacks and supplements in one place. Plus, the compartments conveniently fit inside the shaker when they're empty. This one's perfect for anyone who likes to be organised – so if your headphones always end up tangled, you're not ready for this.
---
(opens in new tab)
Myvegan Metal Shaker
The Vegan One
This stylish stainless-steel shaker is a considerable upgrade on any plastic bottle, and will also make it clear that there's no whey to be found inside it. Or any other animal products, of course. It has a 750ml capacity and a leak-proof screw-top lid. The shaker isn't dishwasher-safe, but the tricky-to-handwash lid is.
Buy from Myprotein (opens in new tab) | £10
---
(opens in new tab)
TPW Black N' Gold Shaker
The Gold One
For those who want to add some glamour to their post-workout refuelling routine, try this glitzy shaker from The Protein Works. The steel shaker is leakproof and easy to clean, and it has a large capacity of 739ml so you have plenty of shaking space to mix up your drinks.
Buy from The Protein Works (opens in new tab) | £12.99
---
(opens in new tab)
If this were a game of Top Trumps, we'd be playing the Alpha Bottle's capacity stat every time. It stands head and shoulders above the competition when it comes to volume, holding a massive 750ml. It gives you the chance to double-down on protein powder without the shake getting too thick, as well as helping you stay hydrated if you let it do double duty as your water bottle. As an added bonus, it's shape makes it easy to hold on to, meaning you don't need mitts like Eddie Hall to grasp this monster.
---
(opens in new tab)
Ohelo Tumbler
The Multi-Functional One
Ostensibly a reusable coffee cup, this weighty tumbler has been designed to work as a protein shaker too. Its mesh filter catches any lumps of protein powder and the leak-proof lid is great if you want to mix your shake at home before hitting the gym with the aim of consuming it mid-workout. The only wrinkle is that the twist-to-open lid is stiff and not that easy to grip – something you may struggle with after a punishing set of pull-ups or the like that's exhausted your grip.
The fact that it's a coffee cup is also useful: if your pre-workout supplement of choice is an espresso shot, you can make one at home and trust the thermos insulation to keep it warm while you make your way to the gym. Plus, reuse the tumbler afterwards to make your shake at the gym and you'll add coffee notes to the flavour. Don't try it the other way around though – no-one likes a protein powder aftertaste with their coffee.
Buy from Ohelo (opens in new tab) | £29
Sign up for workout ideas, training advice, the latest gear and more.
Pennie is the founder of fitness magazine Oh My Quad (opens in new tab) and has a decade's experience working as a freelance journalist for various magazines on- and offline. She is also a personal trainer based in North London and the GoodGym Barnet trainer, so spends a lot of time running around and picking things up.