The Best Reusable Coffee Cups
You can give up the coffee or give up using disposable cups. We know which one we're choosing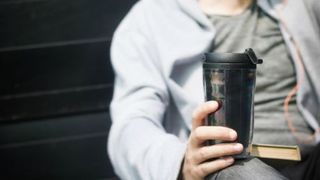 (Image credit: Unknown)
In some ways we feel we're partly to blame. When we asked "Is coffee good for you?" the answer that came back was a resounding yes, so no-one could blame you for mainlining espresso. Of course, we aren't the only reason the UK consumes phenomenal amounts of coffee every day, but we had to recognise our contribution to thousands of non recyclable paper cups that are used and discarded each day and do something about it – however small. But you know that, otherwise you wouldn't be browsing the web for reusable coffee cups.
---
Ecoffee Cup
Most Eco-Friendly
(opens in new tab)
The Ecoffee Cup is made out of bamboo fibre – a material that's very in vogue right now because it's more sustainable than most. It also means when the cup meets the end of its life span you can crush it, soak it in boiling water and then say farewell to it on the top of your compost heap (the silicone lid and sleeve can be put in your recycling). Although the bamboo feels like the sort of thick card you would associate with any disposable cup, it's actually durable and dishwasher-safe. One nice feature is a detachable stopper in the lid to keep the contents from spilling, plus there are three bright designs to pick from.
Buy on Amazon (opens in new tab) | From £9.50
---
Stojo Pocket Cup
Most Portable
(opens in new tab)
Take the pocket part literally. This vessel collapses into a leak-proof disc that can be stowed away until your next visit to a coffee shop, or until you can throw it in the dishwasher at home. The Stojo is made from silicone, is BPA-free (like pretty much everything nowadays) and is recyclable. It's also microwave safe, unlike bamboo. The standard version has a perfectly decent capacity of 350ml, but if you like your coffee venti-sized, you can get the Biggie version which can hold half a litre and comes with a reusable straw. Both options include a heat sleeve which collapses along with the rest of the cup.
Buy on Amazon (opens in new tab) | £9.97
---
(opens in new tab)
If one of the many petty indignities your workplace has visited upon you is a refusal to supply mugs alongside the refreshment provision, this is a fine way to claw some self-respect back. It's a proper mug with a proper handle, along with a travel lid and stainless steel insides. The only downside is that the bamboo outer walls, while looking Instagram-ready, mean it's hand wash only.
Buy on Amazon (opens in new tab) | £16.99
---
See related
Why you can trust Coach Our expert reviewers spend hours testing and comparing products and services so you can choose the best for you. Find out more about how we test.
---
KeepCup Original
Best All-Rounder
(opens in new tab)
The founders of Australian brand KeepCup are former café owners so they should know their coffee receptacles. Made from plastic that's BPA-free and recyclable, the KeepCup is notably lightweight – plus it offers a greater range of sizes than other brands, with the five options ranging from extra small (118ml) for espressos and macchiatos to large (454ml) for lattes and other tall coffees. You can also pick from a number of different colours all named after food, like fennel, hibiscus and sumac. You can even buy each part of the cup – body, lid, band and plug – separately, in order to put together a custom version.
Buy from Selfridges (opens in new tab) | £11-£24
---
Joco Reusable Glass Coffee Cup
Most Stylish
(opens in new tab)
This cup by staunchly anti-plastic brand Joco feels chunky but lightweight. It's made of non-porous borosilicate glass (translation: it won't affect the flavour of your brew), and comes in 6oz (170ml), 12oz (341ml) and 16oz (454ml) sizes. We particularly liked the easy-to-grip heat-proof silicone sleeve and matching lid. Its chief weaknesses are that its rotund shape means it won't fit into lots of cup holders and the relatively high price, but you may decide its looks are worth the extra expenditure.
Buy on Amazon (opens in new tab) | £19.99
---
Bodum Vacuum Travel Mug
Best For Keeping Drinks Hot
(opens in new tab)
If heat retention is your main priority – say you take a lot of long train journeys and like your coffee to last – then this travel mug from Bodum is a great shout. Made of stainless steel, its double-wall design will keep your coffee hot for a good few hours (or if you're sipping iced coffee in a heatwave instead, it'll stay chilled even longer). Its slip-proof silicone band makes it easy to lug around, and it will fit into the standard cup holder. Be warned, though – the mug isn't completely leakproof and it's technically a travel mug. But you can solve the former by keeping the mug upright, and the latter by keeping shtum.
Buy on Amazon (opens in new tab) | From £14.34
---
Simplr
Best Reusable Glass Cup
(opens in new tab)
If you've been reading and thought, "I wish I could get the heat-resistant borosilicate glass of the Joco and the double walls of the Bodum", call us genie because we're in the granting mood. Its size lets it fit under most espresso machines, and it will survive trips through the microwave and dishwasher unscathed. The drinking spout, while looking a bit like something on a baby's beaker, is actually very pleasant to sip from.
Buy on Amazon (opens in new tab) | £10.99
Sign up for workout ideas, training advice, the latest gear and more.