The Best Reusable Water Bottles
As God is your witness, you will never go thirsty again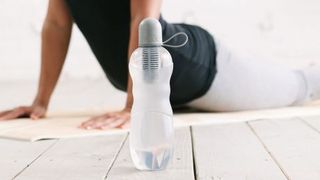 (Image credit: Unknown)
You know what's great for you? Drinking water. We're pretty sure everyone agrees on that. Even in the darkest corners of the internet, where the Earth is flat and humans have never walked on the Moon, people accept you need to drink water to survive.
To drink water you need a container to put it in. We've long moved beyond cupped hands – it's just not practical. A reusable water bottle can be a lifelong companion if you buy a good one, and by going with one of our picks you can be sure you're getting a good one.
Must-have attributes for water bottles include not leaking (obviously) and a sturdy build, so that it won't start leaking after a couple of accidental knocks. Not quite must-have, but undoubtedly desirable features include a stylish design, vacuum seals to keep drinks at the right temperature, and clips to attach the bottle to a backpack. Then there are a few bonus features that will appeal to some, like built-in filters or an infuser.
You'll find the best water bottles to cater for all desires below and you can also rest assured that any plastic in the below bottles is BPA-free. The risks of BPA (opens in new tab) seem to have been slightly overblown, but most reusable water bottles are BPA-free now anyway.
---
(opens in new tab)
We thought all reusable water bottles helped to address the plastic crisis equally, but this one takes things up a notch and then some. Not only is it made from recycled plastic bottles that may otherwise have ended up in the ocean, but your purchase also funds the collection and reuse of the equivalent of another 1,000 bottles (11.4kg of the material, to be precise). As well as scoring maximum eco-points, it's also smartly designed with a carry loop, thermos insulation and two screw tops, one on the spout and one as wide as the main body to make cleaning easier – although you can shove it in the dishwasher so it's pretty easy already. It's expensive, but file under "worth it" and tell your friends.
Buy from The Ocean Bottle (opens in new tab) | £40
---
(opens in new tab)
The eagle-eyed among you may have noticed that most attempts to reduce single-use plastic waste tends to involve multi-use plastic which – one day – is probably going to be waste. Well, take your head out of your hands because Nought has an answer: the outside of its bottle is made out of a material wrought from bamboo. It has a stainless-steel inside to add a thermos element and its attendant multi-tasking properties (keep hot things hot or cold things cold) and a food-grade silicone seal… ah, plastic. Still, minimal plastic!
Buy from Nought (opens in new tab) | £25
---
(opens in new tab)
The flat, canteen-style design of this plastic flask makes it easier to slip into briefcases and handbags, but it does have a decent 650ml capacity. The cap is also attached to the bottle so there's no chance you'll fumble and drop it on a dirty train floor making the whole caboodle forever unclean (although if you do, it's reassuring to know that the plastic is recyclable). It also comes complete with a good deed – for every purchase, a donation equivalent to two days' safe drinking water is made to the American non-profit Water For People.
Buy on Amazon (opens in new tab) | £14.99
---
(opens in new tab)
This smart glass water bottle isn't just a looker. It can handle 650ml of hot or cold liquid, and can make really cold drinks thanks to a neck that's big enough to allow ice cubes through. The filter in the Bobble Sport (below) is replaced with a straw and this dishwasher-safe, leak-proof bottle is also the right size for standard cup holders, so it's useful for frequent travellers.
Buy on Amazon (opens in new tab) | £24.99
---
(opens in new tab)
It's surprisingly easy to lose a couple of hours on the Hydro Flask website, because they make such a huge range of bottles, cups, flasks and coolers, all of which are absolutely top notch. Start your collection with this bottle, which comes in standard or wide mouth versions and will keep drinks cool for 24 hours, or hot for 12. Make sure you pick your colour wisely, because when you subsequently add a Hydro Flash beer cup, wine tumbler and coffee flask, you'll want them all to match.
Buy on Amazon (opens in new tab) | From £29.95
---
(opens in new tab)
One for the more adventurous types. The LifeStraw Go has an integrated filter that removes bacteria and protozoa, so you can drink safely from pretty much whatever water source is to hand. The filter has an impressive 4,000-litre lifespan so you won't be bankrupting yourself with constant filter purchases. LifeStraw increased this number from 1,000 litres following testing, so even if you see it advertised as 1,000 litres, or have an older bottle, fear not – the filter will last 4,000 litres. You can also get a LifeStraw Universal pack that contains a filter, which can be attached to any bottle if you already have a favourite. Furthermore, LifeStraw commendably puts some of the money from each purchase towards providing clean water for school children in areas where it is scarce.
Buy on Amazon (opens in new tab) | £23.89
---
If tepid water is as much a personal affront as disposable water bottles, you'll find Chilly's pretty cool. The double walls and vacuum seal keep drinks cold, Chilly's claims, for up to 24 hours. The impressive array of designs and prints that are straight from some kind of Instagram fever-dream are also cool. See exhibit A: the halved-avocado Summer print.
Buy on Amazon (opens in new tab) | From £15
---
(opens in new tab)
If you're not a fan of the tap water in your area, see if the activated carbon filter in this bottle helps. It removes aesthetic impurities, so it'll taste different – maybe better depending on your personal preference – although it won't be any healthier. Each filter is good for around 300 bottles' worth, although Bobble recommends replacing it every two months (a filter is £5.49 a pop (opens in new tab)). The Bobble bottle's well designed for sport too –it's the right size to fit in bike cages and treadmill cup holders, and there's a textured indent on the bottle to help you hang on when you're dripping with sweat. The bottle is also dishwasher safe, avoiding the need to acquire a brush that will fit the mouth of the bottle.
Buy on Amazon (opens in new tab) | From £8.98
---
(opens in new tab)
Another water bottle with Thermos-like qualities, this one distinguishes itself by having a larger opening so you can drop in a couple of ice cubes. There's also a handle and carabiner on the lid so you can hang it off your backpack for easy access.
Buy on Amazon (opens in new tab) | £19.95
---
(opens in new tab)
You don't need to filter tap water in the UK but if you want to, this water bottle is one of the most efficient ways to get it done on the go. A small replaceable filter fits in the bottle itself so you can just refill it and drink as you would with any other bottle. There are 600ml and 1-litre versions available, and the squeezable body and sports top makes it easy to chug down water quickly. The bottle itself is pretty cheap but it's currently £8 for a pack of eight filters (opens in new tab) (RRP £14.30), and Brita recommends changing them every week.
Buy on Amazon (opens in new tab) | £10.74
---
(opens in new tab)
The brand that, more than any other, has made spending £35 on a reusable water container a thing that seems somehow reasonable. You can scoff all you want at the idea of a stylish water bottle, but that's the only way to describe S'well's wares. The marble and wood designs in particular are downright sexy. S'well's stainless steel bottles are also vacuum-sealed so they keep drinks cold for 24 hours and hot for 12.
Buy from John Lewis (opens in new tab) | From £14.95
---
See related
---
(opens in new tab)
They may not be the most practical for office use, but Nalgene's plastic bottles are basically indestructible, making them ideal for the great outdoors. Also, using a Nalgene as opposed to one of those hipster stainless steel bottles everyone else has shows you're not a poser – you just bloody love water. Yes, we know, drinking water has never been more socially complicated.
Buy on Amazon (opens in new tab) | £7.99
---
(opens in new tab)
You know you should be drinking more water, but you just can't make yourself do it. You need some flavour in your liquids. If that's you, get an infuser bottle like the Infruition Sport. You can put berries or mint or cucumber or whatever your taste buds desire (mint and cucumber?!) in the infusion chamber and, just like magic, your water will taste a little bit like that fruit or those herbs or… whatever you like. Probably not chocolate though.
Buy on Amazon (opens in new tab) | £7.99
---
(opens in new tab)
This sturdy, double-walled bottle will keep your cold drinks cold and can be clipped to the outside of a rucksack via the loop on its lid. The chunky bite valve allows plenty of liquid through, so you can refresh yourself in a hurry.
Buy on Amazon (opens in new tab) | £21.95
Sign up for workout ideas, training advice, reviews of the latest gear and more.