The Best Casein Protein Powders, Plus Benefits And Side Effects
Discover how this slow-release protein powder can help aid muscle recovery and browse our top casein picks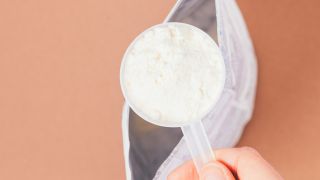 (Image credit: Getty Images)
If you've been introduced to the world of protein supplements already, there's a good chance that a whey protein shake has become a part of your post-workout routine. While these offer a convenient way of getting essential nutrients to your muscles to jump-start the recovery process, there are other times – such as when you're asleep – when a slower, more sustained release of amino acids is more useful in aiding the repair and growth of your muscles.
Enter casein protein. The other protein to come from dairy, casein is the yin to whey's yang. Rather than being absorbed quickly by the body, casein forms a gel-like substance in the gut and its nutrients are released into the bloodstream over hours rather than minutes.
I have personal experience of its effects because I take casein protein during intense training blocks where quick recovery is essential for consecutive days of workouts. A shake 30 minutes before bed gives me enough time to digest it without it feeling like it's sitting on my stomach; eight hours later, I wake up feeling ready for a workout.
Compared with whey, there are a limited number of products available, but below are our picks of the best casein protein powders, followed by an expert explanation of casein: what it is, what the benefits are and any side effects.
If you are looking for whey powders, try our recommendations of the best protein powders, or for plant-based supplements, visit our best vegan protein powder round-up.
The Best Casein Protein Powders
1. Myprotein Casein Protein Elite
Cheapest casein powder on test
Specifications
Calories:
116 (strawberry)
Reasons to buy
+
Tested by Informed Sport
+
Great price
Myprotein has two blends of casein powder: the standard slow-release micellar casein, and this "elite" version. In practice, both have identical nutritional profiles (116 calories and 25g protein per serving). However, this top-tier version is batch-tested by Informed Sport to ensure that it doesn't contain any naturally occurring banned substances, making it safe for athletes who may face drug tests. While that may seem a bit much for the average weights room regular, it can provide added peace of mind for just 10p more per serving.
Chocolate taste test: The powder mixed well and didn't leave a chalky feeling in the mouth. The flavour itself didn't pack much of a punch, but wasn't too thin and was easy to drink.
Editor's note: Because Myprotein Casein Protein Elite is temporarily out of stock on Myprotein.com, here are the best deals on Myprotein's slow-release casein.
---
2. Bulk Micellar Casein
Most protein per serving
Specifications
Flavours:
Unflavoured, chocolate, strawberry, vanilla
Calories:
111 (chocolate)
Reasons to buy
+
High protein content
+
Mixes well
I was a big fan of Bulk's whey protein offering, so I was excited to see if the affordable supplement specialist could do it again with its casein creation. The impressive 26g of protein per serving looked promising and while the range of flavours plays it safe, they are all firm favourites.
Strawberry taste test: Unfortunately, the strawberry-flavoured offering from Bulk was the hardest to stomach of the powders tested. It was quite watery with minimal hints of strawberry and the texture was even worse. Despite vigorous mixing, it failed to mask the graininess that can hamper casein shakes, and coated my mouth with an unpleasant powdery residue.
---
3. Protein Works 100% Micellar Casein
The best low-calorie casein powder
Specifications
Flavours:
Banana smooth, choc mint brownie, chocolate silk, strawberries 'n' cream, vanilla crème
Calories:
106 (chocolate silk)
Reasons to buy
+
Low in calories and fat
+
Frequent deals can reduce the price per serving
Reasons to avoid
-
Relatively low protein content
The Protein Works positions itself as a premium-performance supplement producer, which makes its 100% Micellar Casein something of a steal at 90p per serving. It doesn't match the alternatives tested for protein content, but is ideal for those looking to add slow-release protein to their daily training routine without a big hit on the scales.
Chocolate silk taste test: The name of the flavour might be a bit flowery, but is 50% right – the Protein Works powder was the smoothest I tried, although the chocolate flavour was somewhat lacking. Although nothing to do with the taste, the "super fresh seal" clogged up each time the packet was opened, meaning it was difficult to keep it "super fresh".
Casein Protein Buyer's Guide
Right after a tough workout many turn to a fast-acting protein, such as whey, to deliver essential nutrients to your muscles quickly and initiate the recovery process. But at other times you don't want such a sudden rush of amino acids, and instead need a slow and sustained release to keep your muscles well fed – like when you're getting your all-important eight hours of sleep. That's when casein protein comes into its own. For all the info on casein, we spoke to Adam Feit of PrecisionNutrition.
About Our Expert
When we spoke to Adam Feit he was Precision Nutrition's head strength and sport psychology coach. He is currently assistant professor of exercise science at Springfield College
What is casein protein?
Casein is one of the two forms of proteins that come from dairy, whey being the other one.
How is casein different from whey?
Whey protein has a higher and quicker rate of absorption than casein. Though both are among the richest sources of essential amino acids, which are important for muscle growth, casein is more gel-forming in the gut than whey. This means it's digested and absorbed more slowly, releasing its nutrients into the bloodstream over time rather than all at once.
When should you take casein?
You can have a casein-based protein any time if it helps you fulfil your protein needs, whether the goal is improved health, fat loss or muscle gain. But if maximal muscle gain is the goal, then before bed might be an extra beneficial time to have casein protein, either via powder, Greek yogurt or cottage cheese.
Are there any possible negatives to using casein powder?
As stated, casein protein has the tendency to become more "gel-like" than whey so drinking too much of it around exercise could cause some gastrointestinal discomfort and distress. If you want to take a protein supplement close to high-intensity activity, consider a whey protein alternative instead.
What should you look for when choosing between different brands of casein powder?
The major litmus test for any type of supplement is the purity and safety of the ingredients themselves. Consumers should ensure that their purchase has been tested by a third party such as NSF, Informed Choice or Consumer Lab.
Also, try to get a casein protein that is mostly just protein, with relatively small amounts of carbs and fats. Some supplement companies add fillers, which can add unnecessary calories to the overall total. Consider experimenting with protein blends that contain a mixture of whey, casein and other proteins, such as egg.
Sign up for workout ideas, training advice, reviews of the latest gear and more.
Charlie Allenby is a journalist with a passion for pedalling. He contributes features and buying advice about cycling, and is Coach's dedicated turbo trainer reviewer. He is also Coach's chief whey and casein protein powder tester, trying as many brands as possible.
Charlie's first book, Bike London, is out now. He has written for The Guardian, The Independent and BikeRadar, among others.