The Best Protein Bars: The Tastiest And Healthiest Options
They're not cheap and can contain more calories and sugar than chocolate bars. Choose wisely with our expert guide and top picks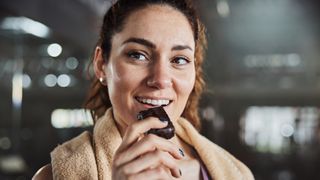 (Image credit: Getty Images)
Protein is so much more convenient these days. Where once gym-goers had to tuck into a couple of rotisserie chickens to refuel their muscles after a hefty workout, they can now mix up a protein shake or, more convenient still, tuck into a protein bar.
These are now widely available, involve zero preparation, and the best protein bars taste good enough to seem like a treat as well as a way to help build muscle. However, there are downsides, mainly involving the diamond-hard texture and artificial flavour of some, and you can't assume all are a healthier snack bar – some very much aren't.
That's what we discovered when we spoke to Kurtis Frank from nutrition and supplement encyclopaedia examine.com for expert advice on what to look for when buying protein bars. The entire conversation is further down the page, but in brief, the first thing to check is the ratio of protein to calories – 15g of protein in a 200-calorie bar or 25g in a 250-calorie bar are good yardsticks. If you can find a bar you like the taste of with a decent amount of fibre, that's also a welcome bonus. Make sure the carbs are low too, although if you're an endurance athlete looking for a pre-session snack to top up your glycogen stores, try one of the best energy bars instead.
Frank recommends being sensitive to price as well, because on a cost-per-calorie basis protein bars can be surprisingly expensive. Of course, go too cheap and the taste and especially texture will suffer. "Whether or not it can be used as a brick cannot easily be conveyed through the label," says Frank. "It will ultimately require some taste testing to find out which ones can break a window when thrown."
Fearing for your teeth, we bravely chomped our way through as many as possible. In some cases, that really did take a lot of bravery, but that does mean we've weeded out the duds and we feel confident that if you stick to our list of the best protein bars your teeth will remain uncracked.
Of course, a varied diet is always preferable so make sure you don't come to rely too heavily on protein bars. You can mix things up (literally) with the best protein powders or best vegan protein powders, but nothing can compare to the advantages of eating high-protein foods instead of protein supplements.
The Best Protein Bars
1. Optimum Nutrition Protein Bar
Delicious and nutritious
Reasons to buy
+
Genuinely delicious
+
Enjoyable texture
+
Low fat and sugar
Reasons to avoid
-
Protein content could be higher
Our favorite flavor: Chocolate sea salt crunch
For me, it's a race between this Optimum Nutrition bar and Grenade's Oreo option for the title of "best-tasting protein bar on the market". It's rich and indulgent, providing a ready-made substitute for an actual chocolate bar if you're looking to make more nutritious switches in your diet. Even the aftertaste is enjoyable, something I've found to be a rarity among protein bars.
The fine details: It's not just the flavor that earns this protein bar a glowing review. It has a decent macro profile too, with lower values for fat (10g), carbs (20g) and sugar (1.9g) than most competitors I've tried. With 221 calories, it sits within the "average" bracket among protein bars, and the 18g serving of protein is solid without being anything to write home about.
---
2. Healthspan Elite All Blacks Plant-Based HiLo Protein Bar
An indulgent, gooey plant-based bar
Reasons to buy
+
Vegan
+
Enjoyable caramel topping
+
High in protein
Reasons to avoid
-
Texture could be smoother
-
A bit dry
Our favorite flavor: Chocolate and salted caramel
Vegan protein bars, like their plant-based powder counterparts, can often be tasteless and grainy. This Healthspan bar bucks the trend. It has a generous helping of a caramel substitute on top of its protein-rich fudge-like center, all wrapped in a thin layer of chocolate. The result is a bar that's richer than many vegan options. The bars can be a little dry and there remains a hint of grainy aftertaste, but it's still an enjoyable sweet treat.
The fine details: This HiLo bar does exactly what it promises: It delivers high amounts of protein and minimal sugar. In each bar, you'll get a solid protein serving of 21g, as well as a 14g carb hit, 11g of fat and 1.2g of sugar.
---
3. Foodspring Protein Bar
Best low-sugar protein bar
Reasons to buy
+
Authentic chocolate taste
+
Great texture
Reasons to avoid
-
Comparatively low protein content
-
Flavors can be hit and miss
Our favorite flavor: Soft caramel
This won't give you the same 20g protein hit as rivals like Optimum Nutrition and Grenade, but these bars do provide a flavorsome low-sugar option. Having tried all five flavor options I emerged with two clear favorites—soft caramel and double chocolate cashew. The soft caramel was the runaway winner, with a chocolate exterior and Malteser-like balls topping a caramel and nougat-esque filling. This layered approach delivered a winning texture and satisfying levels of sweetness post-workout. However, if you don't have such a sweet tooth, the dark chocolate and cashew combo is more likely to float your boat.
The fine details: While the protein content is nothing to write home about, just look at that barely-there sugar content—0.4g, the lowest we've found! Maltitols are the chief sugar substitutes, with the sweetener sucralose also appearing further down the ingredient list.
---
4. Science In Sport Protein Bar
A snackable protein top-up
Reasons to buy
+
Great flavor
+
Comes in two portions for snacking
Reasons to avoid
-
Higher in carbs and fat than most
Our favorite flavor: Cookies and cream
I tried two flavors—dark chocolate and raspberry, and cookies and cream—and while the former's quick hit of raspberry was pleasant, the latter blew it away on the taste front. It delivered the sweet hit you want from a dessert-flavored snack bar, with a milky cookie taste and a texture that made it easy to eat. It comes in two 32g portions too, which I appreciated because it allowed me to eat one and stash the second half away for later in the day.
The fine details: At 20g per 64g serving (both snack portions in the packet), the protein provision is enough to rank the SiS bar with the best of them. The carb (24g), fat (12g) and calorie numbers are a little higher than average, but it maintains a low sugar content of 2.2g.
---
5. Misfits Protein Bar
Best low-carb protein bar and low-calorie protein bar
Reasons to buy
+
Vegan
+
Only 186 calories per bar
+
Pleasing taste and texture
+
Lots of fiber
Reasons to avoid
-
Some flavors are a little dry
Our favorite flavor: Chocolate caramel
The caramel in this vegan bar means that it easily avoids the common protein bar problem of being too dry, and the overall flavor is rich without being too sweet. Taste and texture both get a big tick from us, and the other flavor we tried—chocolate hazelnut—is almost as good, just a bit drier.
The fine details: Misfits knows what's good about the bar and broadcasts it in huge digits on the front of the packaging. There's 16g of protein (in the chocolate caramel bar, 15g in other flavors) in each 45g bar, and under 1g of sugar. The amount of protein is a little light compared with some other options, but the calorie count is also low at 186, and the hidden bonus is the massive 8g of fiber each bar also contains.—NHF
---
6. Bulk Protein Flapjack
Best protein bar for muscle gain
Reasons to buy
+
Good for bulking up
+
High in carbs and calories
+
Lots of fiber
Reasons to avoid
-
Some will prefer low-carb and low-cal
-
Comparatively high in sugar
Our favorite flavor: Chocolate chip
This beast of a bar is one to use after intense workouts when you need a generous helping of protein, carbs and calories to help your body recover. It's not going to replace the sheer joy of biting into a real chocolate chip flapjack, but it is a satisfying snack loaded with a lot more protein than you'd get from a standard flapjack.
The fine details: Each 85g bar contains 21g of protein, 32g of carbs and 337 calories. There's also a pleasing 7.6g of fiber, with oats helping to beef up that number, but watch out for the sugar here—at 12g per bar it's higher than you'll find in most other options on this list.—NHF
---
7. PhD Smart Bar
A good daily bar with subtle sweetness
Reasons to buy
+
High in protein, low in sugar
Reasons to avoid
-
Higher carbs and fats than most
Our favorite flavor: Caramel Crunch
I tried this alongside PhD's chocolate brownie Smart Plant Bar and the original Smart Bar was the clear flavor winner. The taste wasn't overwhelming, but the addition of a thin caramel layer on top of the creamy, fudgy center did give it a light quality. This isn't the bar to reach for when you want to satisfy a serious sweet craving, but the subtle flavors make it a good fit for a more regular post-workout protein top-up.
The fine details: The first thing I look out for on bars like these is a protein content of 20g or more—and it's a "yes" to that. Then it's time to look at the carbs, fats, sugars and calories (23g, 12g, 1g and 256, respectively). All, aside from the sugar, are a little higher than most of the bars I've tried before, but the overall balance is still solid.
---
8. Veloforte Protein Bar
Best-tasting protein bar
Reasons to buy
+
Delicious
+
Natural ingredients
+
Good for endurance sports
Reasons to avoid
-
Only 12g protein
-
High in sugar
Our favorite flavor: Forza
The Forza is hands down the best-tasting protein bar I've come across, which means I'm prepared to overlook its downsides, like the high price and relatively low protein content at 12g per bar. This all-natural bar contains a winning blend of apricots, almonds and fennel, and if the word fennel puts you off, try the mix of hazelnuts, coffee and cocoa in Veloforte's Mocha bar instead.
The fine details: The Forza bar contains three times more carbs than protein with 38.3g of the former (and 27.3g of sugar), making it a better pick for endurance athletes seeking to refuel after a long training session than weightlifters looking for a pure protein punch. It also contains 7.4g of fiber.
---
9. Bounty Hi Protein Bar
Best protein bar that tastes like a chocolate bar
Reasons to buy
+
Tastes like a Bounty
+
18g of protein
A number of protein bar versions of well-known chocolate snacks have been released in the UK. The M&M bar was a hit. The white chocolate Snickers a miss. The Bounty bar marks a return to form and even has a valuable lesson for the rest of the industry: desiccated coconut hides a multitude of sins. Not that the rest of this bar gets much wrong. The center is gooey, rather than chewy, there's a milk chocolate casing, and in a move which will keep traditionalists happy, there are two mini bars in each pack.
The fine details Part of the reason coconut tastes so delicious is that it's so fatty, so you're using up a third of your daily recommended allowance of saturated fat if you polish off the pack. Artificial sweeteners aren't used so sugars are also comparatively high at 8g. With all that going on, it's impressive that 18g of protein was squeezed into a 207-calorie bar. Like the M&M bar, this is a treat with a protein bonus, rather than a healthy staple. But who doesn't like a bonus with their treat?
---
10. Optimum Nutrition Plant Protein Bar
Best plant-based protein bar
Reasons to buy
+
Enjoyable understated taste for daily use
+
Vegan Society-approved
+
Decent 18g protein hit
Reasons to avoid
-
Fairly high in carbs and fats
-
Only two flavor options
Our favorite flavor: Chocolate mint
If you're going to buy the Optimum Nutrition Plant Bar, I'd recommend plumping for the chocolate mint snack over the double rich chocolate flavor (the only two options). I found the latter didn't deliver on its decadent promises, but the chocolate mint bar delivered great taste not unlike an After Eight. It's less showy than the caramel-laden sweetness of many competitors too, giving it a more understated taste that I enjoyed on the walk home from my daily workouts.
The fine details: This vegan-friendly bar is a decent all-rounder, offering 18g of protein and 222 calories in each 60g bar. It's also a great option for anyone who's lactose intolerant, saving your stomach unnecessary stress. The fat and carb levels are higher than you might like if you're looking for a post-gym hit of pure protein, but endurance and hybrid athletes may appreciate this balanced macro profile.—HB
---
11. Myprotein Crispy Wafers
Best Myprotein protein bar
Reasons to avoid
-
Leaves lots of crumbs
-
Relatively high fat content
Our favorite flavor: Chocolate hazelnut
Write-up: If you're sick of the jaw ache that comes from eating chewy protein bars, this is the snack for you. It offers the same 15g protein hit as Myprotein's more traditional protein bars like the Crispy Layered and Lean Layered protein bars, but delivers it in lighter, tastier and arguably more fun wafer form. A word to the wise, though: If you're eating this crumbly bar at your desk, don't expect to do it neatly.
The fine details: The protein-to-calorie ratio is a little underpowered compared with the standard recommended by Frank, but 15g of protein is still nothing to sniff at. The sugars are a middling 5.5g, but the fat content is high at 9g and there's zero fiber.
---
12. Optimum Nutrition Nutty Chocolate Caramel Protein Bar
Something different for fans of Rocky Road
Reasons to buy
+
Fun flavor and texture
+
Nothing like any other protein bar I've tried
Reasons to avoid
-
Not for those who don't like Rocky Road
Our favorite flavor: Nutty Chocolate Caramel
Once you've tried one protein bar, you've tried them all, right? Well, apparently not. This Optimum Nutrition option breaks the status quo, with real raisins and peanuts sprinkled throughout to give it a flavor and texture reminiscent of Rocky Road (or tiffin, for any fellow Brits). Not only is this a nice change from the usual formula, it's also enjoyable in its own right.
The fine details: Despite the extra ingredients, this bar doesn't overstep the macro mark. Its 20g of protein makes it a great post-workout snack, and it keeps sugars to a minimum. Given the fullness of its flavor, I was also pleasantly surprised to find there were only 16g of carbs and 6.7g of fat per serving.
---
13. 33Fuel Eroica Protein Bar
Best protein bar for endurance sports
Reasons to buy
+
Delicious
+
All-natural ingredients
+
Great for endurance sports
Reasons to avoid
-
Expensive
-
High in calories and sugar
Our favorite flavor: Eroica
This is an excellent all-round protein bar, especially for endurance athletes or anyone not especially worried about their carb and sugar intake. It's one of the only bars that comes close to being as delicious as Veloforte's Forza bar, since it's also made from natural ingredients like nuts and candied peels, and it contains more protein at 20g per double-bar pack. However, it's expensive – those all-natural bars go easier on your stomach than they do on your wallet.
The fine details: The substantial 100g pack contains an awful lot of stuff besides that 20g of protein, and some will be alarmed at the 38g of sugar and 409 calories per pack. It's high in carbs too, at 43g per pack, and there's 17g of fat (of which 1.47g is saturates). This is very much a bar for fuelling high-energy pursuits, but it tastes so good you'll gladly put the work in to justify it.
---
14. KIND Protein Bar
Best protein bar with natural ingredients
Reasons to buy
+
Great taste
+
Natural ingredients
Reasons to avoid
-
Only 12g protein
-
High in sugar and fat
Our favorite flavor: Double Dark Choc Nut
They're not as high in protein as others on this list, but KIND bars are a genuine treat, full of nuts and dark chocolate This particular bar is made from peanuts, almonds and dark chocolate, so obviously it is very nice. We challenge anyone to make a bar that tastes bad using those three primary ingredients.
The fine details: The protein levels are just 12g per 50g bar, although the fibre count is high at 4.9g. They're also pretty high in fat at 17g per bar, even if most of that is the "healthy" unsaturated kind. Essentially they lean towards the treat category, with the extra protein content being a bonus.
---
15. Grenade Oreo Protein Bar
A great chocolate bar replacement
Reasons to buy
+
Delicious, with genuine Oreo pieces
+
Decent 21g protein hit
+
Low in sugar
Reasons to avoid
-
Fairly high carb and fat content
Do you like Oreos? Do you want a snack with a healthy 21g hit of protein? If you answered yes to both, your prayers have been answered. This delicious bar has bits of real Oreo crumbled into the center alongside soft chocolate and nougat layers that give it an enjoyably soft and chewy texture much like a Mars bar. Sweet treat aficionados will be able to tell the difference, but in my opinion this is among the closest you'll come to a protein snack that could pass as a chocolate bar.
The fine details: As mentioned above, each 60g bar delivers 21g of protein and just 1g of sugar. The flavor is amazing, but this does come at the expense of some fairly high carb, fat and saturated fat levels (20g, 10g and 5.6g respectively).
---
16. M&M's Hi Protein Chocolate Bar
M&M chunks and plenty of protein
Reasons to buy
+
Good chocolate bar replacement
+
Low in calories
Reasons to avoid
-
High in sugar
-
Other bars have more protein
Our favorite bar: Chocolate
As people increasingly turn to protein bars as slightly healthier snacking alternatives to chocolate bars, it's only natural that traditional chocolate brands are aiming to get in on the action. The M&M's protein bar is not quite as tasty as the chocolate-centred sweet itself, but it is satisfyingly chocolatey and contains large M&M chunks. The texture was hard to judge because we left these on a counter during a heatwave, so presumably they're not usually quite so liquified, but there were no signs of any stodginess.
The fine details: There are two flavours of the bars—chocolate and peanut—and both contain 15g of protein, which is a solid enough amount for a 51g bar. The peanut bar is a little higher in calories at 207 compared with the chocolate flavour's 192. However, the sugar levels are high at 15g per bar, half of your daily recommended maximum and significantly more than you'll find in most protein bars, which tend to use artificial sweeteners instead. That puts these bars firmly in the occasional treat camp, but they're still a little healthier than going full chocolate.
---
17. OTE Anytime Protein Bar
A tasty protein bar for endurance sports
Reasons to buy
+
Great for endurance sports
+
Tastes good
Reasons to avoid
-
Just two flavours
-
Only 11g protein
-
High in sugar
Our favorite flavor: salted caramel
There are two flavors: mint chocolate and salted caramel. The former is an acquired taste but the salted caramel bar will appeal to many. The pleasing chewy-flapjack texture makes it satisfying to wolf down after a hard session or just as a mid-afternoon pick-me-up.
The fine details: The OTE Anytime Bar isn't as packed with protein as other options, with 11g in each bar, but it does contain 26g of carbohydrates. It's the perfect snack for after long runs or rides when you need to replenish your energy.—NHF
---
18. Bulk Macro Munch
Dessert-flavoured bars that satisfy the tastebuds
Reasons to buy
+
Wide range of flavors
+
8.7g fiber per bar
+
Good texture
Reasons to avoid
-
Higher in calories than other bars
Our favorite flavor: Brilliant Birthday Cake
Bulk has, somewhat ambitiously, decided to call these gourmet protein bars, which creates an expectation that any bar is going to struggle to meet. We like that the bar has sprinkles on top, and some kind of jam-style layer that adds to the ersatz cake experience. The texture also delivers, avoiding excessive chewiness. It's a great protein bar – just don't call it gourmet.
The fine details: Each 62g bar contains 233 calories and 20g of protein, with the sugar count kept low at 2.9g through the use of isomalt and sucralose sweeteners. The list of ingredients is dismayingly long, although to be fair the sprinkles are a surprisingly large part of that. There's a nice surprise at the end of the nutritional info though—the 8.7g of fiber in each bar.
---
19. Barebells Protein Bar
Tasty bars with a 1950s Americana look
Reasons to buy
+
Great design
+
Vegan options
+
Less than 2g sugar
Reasons to avoid
-
Some flavours are not that tasty
Our favorite flavor: Hazelnut & Nougat
They say a picture is worth a thousand words, but Barebells' design is worth precisely one – "lifestyle", with a premium 1950s Americana look that's undeniably alluring. We initially found the flavors a bit of a let-down—that is, until Barebells released the Hazelnut & Nougat bar, which is very tasty indeed. The texture is spot-on too, with an enjoyable level of chewiness that doesn't stray into the cardboard-style consistency of some protein bars.
The fine details: It's another of the new breed of bars with very low sugar, just 1.9g, and with 20g of protein in just 205 calories it's punching above its weight. There's also a respectable 4.2g of fiber per 55g bar.
---
20. Warrior Crunch Protein Bar
Crunchy treats with interesting flavours