3 High-Protein Vegan Recipes From The Vegan Athlete's Cookbook
You can get plenty of protein from a vegan diet, but it's not always straightforward. This new cookbook makes it easy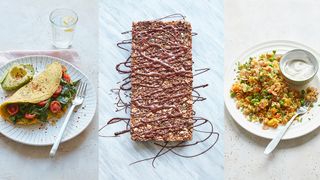 (Image credit: Claire Winfield)
The food industry has become obsessed with protein in the past few years and there are good reasons for that. It's important for maintaining and building muscle mass, and like fibre it keeps you feeling full for longer than other macronutrients.
It is not the be-all and end-all though, as we were reminded of when speaking to Anita Bean about her new sports nutrition recipe book The Vegan Athlete's Cookbook (opens in new tab). Bean talked us through the evidence that shows the performance advantages athletes achieve from a vegan diet, which come down to higher consumption of plant nutrients and improvements to the gut microbiome. And that's coupled with the fact that you can get all the protein you need from plants – if you know what you're doing.
"It's true to say that most plant foods have a lower protein content than animal-derived foods," says Bean, "but I wrote the book to dispel the myths surrounding vegan diets, including that vegans can't get enough protein. The book shows people how they can get enough protein from a plant-based diet. All the main meal recipes in the book contain a minimum of 20g of protein, which is the magic number all athletes aim for."
To get you started, Bean has shared three recipes.
Chickpea Omelette Recipe
If you thought egg-based dishes like omelettes were off the menu on a vegan diet, then think again! With a few adjustments, it is perfectly possible to recreate your favourite breakfast dish. This omelette is made with chickpea (gram) flour, which is widely available from supermarkets. It's a brilliant egg substitute for vegans because it is rich in protein, fibre and iron. I have filled the omelette with tomatoes and spinach, but you could add chopped red onions, mushrooms, red peppers or peas.
Ingredients (Serves One)
60g chickpea (gram) flour
¼tsp salt
⅛tsp baking powder
Pinch of turmeric
Pinch of paprika
Pinch of nutritional yeast flakes
125ml plant milk alternative (any type)
A small handful of chopped fresh herbs (eg parsley, chives or basil) or 1tsp dried mixed herbs
For the filling
2tsp olive oil
6 cherry tomatoes, halved
A handful of baby spinach
To serve
½ small avocado, peeled, pitted and sliced
Pinch of chilli flakes
Method
Whisk together in a bowl the gram flour, salt, baking powder, turmeric, paprika, yeast flakes and milk alternative until smooth. Add the herbs, stir to combine, then leave to stand for a few minutes.
Meanwhile, make the filling: heat 1tsp of the olive oil in a non-stick frying pan over a medium heat, add the tomatoes and cook for a few minutes. Add the spinach, then remove from the heat and set aside.
Wipe out the frying pan and heat the remaining oil over a medium heat. When hot, pour in the batter and tip the pan so it spreads out thinly over the base. Cook gently until the top sets and bubbles appear on the surface. Spoon the filling on to one half of the omelette, then fold the other half over using a spatula. Press down with the spatula to seal it and cook for another minute.
Slide the omelette on to a plate and serve with avocado slices and a sprinkle of chilli flakes.
Nutrition per serving: 463 calories | 20g protein | 22g fat (4g saturates) | 40g carbs (8g total sugars) | 11g fibre
Spiced Chickpea Pilaff With Almonds And Coconut Yogurt Recipe
This tasty combination of rice, chickpeas and almonds is an ideal pre-exercise meal that will sustain you through your workout. Chickpeas are nutritional powerhouses, packed with carbohydrate, protein, fibre, B vitamins, iron, zinc and magnesium. They are the perfect nutritional complement to rice, balancing out the shortfall of essential amino acids and raising the overall quality of protein. Carrots and butternut squash are both rich in beta-carotene, while green peppers and peas are loaded with vitamin C. Almonds add additional protein, healthy fats, calcium and vitamin E. Substitute pecans or cashews if you prefer. If you don't have all the individual spices, then use 2tbsp of mild curry paste instead.
Ingredients (Serves Two)
1tbsp light olive or rapeseed oil
1 small onion, finely chopped
½ green or red pepper, deseeded and chopped
1 garlic clove, crushed
2cm piece fresh root ginger, grated
1tsp cumin seeds
1tsp ground cumin
1tsp ground coriander
1tsp garam masala
½tsp turmeric
¼tsp dried chilli flakes
1 large carrot, diced
¼ butternut squash (approximately 250g), peeled and cut into 1cm cubes
100g basmati rice
300ml hot vegetable stock or water
400g can chickpeas, drained and rinsed
25g sultanas
75g frozen peas
To serve
25g almonds, toasted and crushed
Small handful of finely chopped mint
2tbsp coconut yogurt alternative
Method
Heat the oil in a large non-stick pan, and fry the onion and green pepper over a gentle heat for five minutes. Add the garlic, ginger, cumin seeds and the remaining spices, and continue cooking for one minute.
Add the vegetables and rice. Mix until coated in the spices, then add the vegetable stock or water, chickpeas and sultanas. Stir well, bring to the boil, then reduce the heat, cover and simmer for about 10 to 12 minutes until most of the liquid has been absorbed and the rice and vegetables are tender. Make sure the mixture does not boil dry; add extra water, if necessary. Add the peas for the last three minutes of cooking.
Serve topped with the almonds and chopped mint, and a spoonful of coconut yogurt alternative.
Nutrition per serving: 652 calories | 23g protein | 18g fat (2g saturates) | 91g carbs (25g total sugars) | 18g fibre
Super-Seedy Bars Recipe
I wanted to create a snack bar that delivered maximum possible nutrition plus fantastic taste and here is the result: super-seedy, crunchy, nutty, heavenly bars that are high in fibre, omega-3 fats, protein, B vitamins, vitamin E, magnesium, iron and zinc. Nuts and seeds are real powerhouses of nutrients, and therefore form the basis of these bars. They team beautifully with dark chocolate, which packs a hefty polyphenol punch. Perfect after exercise or any time you want a nutritious treat.
Ingredients (Makes Eight Bars)
125g mixed seeds (any combination of sunflower, pumpkin, sesame and flaxseeds)
100g mixed nuts (any combination of almonds, cashews, brazil nuts and pecans), roughly chopped
25g ground flaxseed
25g rolled oats
1tsp vanilla extract
½tsp cinnamon
75ml golden, agave or maple syrup
50g dark chocolate (at least 70% cocoa)
Method
Preheat the oven to 180°C/fan 160°C/gas mark 4. Meanwhile, line a 900g loaf tin (18 x 6cm) with baking paper.
Place the seeds, nuts, flaxseed and oats in a large mixing bowl. Add the vanilla extract, cinnamon and syrup and mix. Spoon into the prepared tin. Press down firmly, making sure there are no gaps, and bake for about 30 minutes until lightly golden but not brown around the edges. Take out of the oven and press down again using a large spoon. Allow to cool completely.
Break the chocolate into small pieces, place in a microwavable bowl and heat on full power for two to three minutes, stirring at 30-second intervals, until almost molten. Stir again and leave for a few moments until completely melted. Alternatively, place the chocolate pieces in a heatproof bowl set over a pan of gently simmering water, and heat until the chocolate starts to melt, then stir until completely melted. Drizzle over the cooled nut mixture.
Pop the tin in the freezer for the chocolate to set. Once cooled, cut into eight bars. They will keep in an airtight container for up to seven days.
Nutrition per bar: 266 calories | 8g protein | 18g fat (4g saturates) | 16g carbs (12g total sugars) | 4g fibre
Recipes taken from The Vegan Athlete's Cookbook: Protein-Rich Recipes To Train, Recover And Perform (opens in new tab) by Anita Bean (Bloomsbury, £16.99). Out now
Sign up for workout ideas, training advice, the latest gear and more.
Jonathan Shannon has been the editor of the Coach website since 2016, developing a wide-ranging experience of health and fitness. Jonathan took up running while editing Coach and has run a sub-40min 10K and 1hr 28min half marathon. His next ambition is to complete a marathon. He's an advocate of cycling to work and is Coach's e-bike reviewer, and not just because he lives up a bit of a hill. He also reviews fitness trackers and other workout gear.