The Best Woks To Buy For Your Kitchen
Add stir-fries to your culinary repertoire by purchasing one of our top wok picks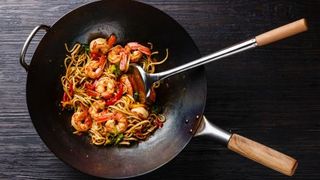 (Image credit: Unknown)
Quick, easy and healthy, a stir-fry is a brilliant dish to have in your recipe arsenal, and a wok is the best tool for the job if you don't want unevenly cooked meat and soggy vegetables.
But that's not all woks are for – it's a surprisingly versatile pan to have in your kitchen cupboard. In addition to sizzling and searing, woks can be used for steaming, smoking, boiling and frying.
While rounded-bottom pans are traditional, if you're going to be cooking on an induction or electric hob or want to put your pan in the oven, you should opt for one with a flat bottom. Depending on how easily you can lift fully-laden pans and the size of the wok you're eyeing up, you may wish to buy one with a second handle to make tossing the contents around easier.
It's worth noting that if you pick a wok without a non-stick coating you'll need to season it before you use it for the first time by heating oil with a high smoke point (rapeseed, peanut, lard) for around 20 minutes, and then rinsing and drying the pan. This method will prevent your food from sticking and your wok from rusting
Take a look at our list of the best options for every kitchen and budget.
---
Kitchen Craft
Best For Under £20
A robust wok for a tasty price, this Kitchen Craft model is lightweight and can be used on induction hobs. It's made from traditional heavy-gauge carbon steel so you can use metal utensils without damaging it, though the material will discolour over time. Unlike most non-stick pans it will stand up to a gentle scouring (without soap), but bear in mind that you'll need to season it before you use it for the first time, which adds an extra step to proceedings.
Buy on Amazon (opens in new tab) | £13.96
---
Tefal Expertise 28cm
Most Versatile
Like all Tefal pans, this wok features a Thermospot that lets you know when the pan is hot enough to begin cooking. It might sound like a small thing, but if you're a bit of beginner in the kitchen it can help give you the confidence to wait until the pan is properly hot. The pan can be used in a number of ways from stir-frying to making sauces and soups thanks to its high sides, and it's oven-safe up to 175°C.
Buy on Amazon (opens in new tab) | £52 (currently reduced to £42.51)
See related
Why you can trust Coach Our expert reviewers spend hours testing and comparing products and services so you can choose the best for you. Find out more about how we test.
Greenpan Venice Pro
Most Robust
If pans don't tend to last long in your busy home, whether that's down to regularly cooking for a large family or housemates treating your kitchen tools shabbily, try this wok. The diamond-enhanced ceramic coating make its surface impervious to many of the scratches and scrapes that ruin less durable ones. It can also handle the use of metal utensils and be heated up to 450°C (though not for long periods). It's heavier than your average pan but the second handle helps.
Buy on Amazon (opens in new tab) | £76.50 (currently reduced to £70)
---
Judge Radiant 26cm
Best For Even Cooking
Woks are brilliant for even, all-over cooking, and one of the absolute best at this is the Judge Radiant pan with its triple layer of Teflon non-stick and ferrous particles. The double handles come in handy for tossing, and the wok comes with a lid for stewing and steaming. It also looks great and is part of a matching set of cookware from Judge.
Buy on Amazon (opens in new tab) | £24
---
See related
Stellar 3000 28cm
Best For Healthy Cooking
The raised honeycomb base of the Stellar 3000 pan doesn't just look cool, it also stops your food from soaking up more oil than it needs to by keeping ingredients from the very bottom of the wok – a useful feature if you're a health-conscious home cook. It also has a Teflon Platinum Plus non-stick coating, which makes the cleaning as easy as the cooking. It's oven-safe up to 180°C and works on induction hobs.
Buy on Amazon (opens in new tab) | £49.99
---
School Of Wok
Best For Large Households
(opens in new tab)
With its large 35.5cm size and two handles to help you toss the bigger portions, this pan from Jeremy Pang's Covent Garden cookery school will mean you can cater for up to six people easily. It's very low-maintenance and because of its depth, it's also suitable for deep-frying.
Buy from Lakeland (opens in new tab) | £27.99
---
Salter Marble Collection
Best For Fuss-Free Cooking
It's scratch-proof, it's dishwasher-proof and, thanks to the ultra-non-stick coating that means you don't have to add any oil, it's pretty much idiotproof. The marble effect coating looks gorgeous and, considering the price, it's extremely versatile – the tempered glass lid with steam vent makes this pan ideal for preparing stews, curries and many other dishes.
Buy on Amazon (opens in new tab) | £50 (currently reduced to £24)
---
Le Creuset Cast Iron
Best For One-Pot Cooking
While it might be a touch too heavy for tossing your stir-fry with a few flicks of the wrists, the Le Creuset cast-iron wok earns a place on our list because everything from stir-frying to steaming to deep-frying to searing to simmering can be done in this pan. Weighing in at more than 5kg, it's incredibly robust and will stand up to any heat source from induction hob to oven.
Buy on Amazon (opens in new tab) | £219 (currently reduced to £175.20)
Sign up for workout ideas, training advice, reviews of the latest gear and more.
Caroline Preece worked as a central e-commerce writer at Coach's former publisher, Dennis Publishing, between 2019 and 2020, contributing buying guides and product recommendations.