Spirit Of The London Marathon Award-Winner Jeremy Joseph: 'It's An Event That Brings London Together'
Ahead of his 13th London Marathon, we chat with the owner of G-A-Y and Heaven nightclubs who helped launch Rainbow Row in 2022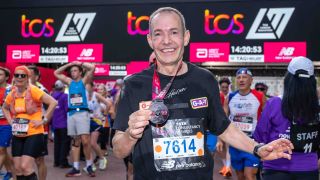 (Image credit: London Marathon)
One of the most memorable moments in London Marathon history is when Matthew Rees stopped to help David Wyeth down The Mall to the finish line. This selfless act inspired the Spirit of the London Marathon Awards, which recognizes the stories of participants, volunteers and supporters.
Jeremy Joseph, owner of London nightclubs G-A-Y and Heaven, and 12-time (soon to be 13) runner of the London Marathon, received the award in 2022. Coach grabbed the chance to talk to him about his London Marathon journey and his award.
We speak as he hits mile two of his final long run before the big day. As he clocks up the miles, I ask how he ended up entering so many London Marathons.
Joseph says he was living with an eating disorder and frequently running on a treadmill to try and burn calories. One day a power cut forced him outside and that is how he was introduced to non-treadmill running.
Soon his running distances were increasing each week. A staff member at the time was training for the London Marathon and Joseph decided to sign up too, running for Amnesty International. It was the 30th anniversary of Heaven, so Joseph set out to raise £30,000—£1,000 for every year the club had been open.
The ease with which he reached his fundraising goal kept him coming back for more. "People are so supportive," he says. "Even with all the other fundraising events we've done, nothing has raised money like the London Marathon. It's an event that brings London together and I think people look at it and think 'this is amazing, I'm going to support this'."
Rainbow Row
One of the reasons Joseph was given the Spirit of the London Marathon award was his contribution to Rainbow Row, a new initiative for the 2022 event.
Rainbow Row is a stretch on the London Marathon route just past 21 miles that celebrates the vibrancy and inclusivity of the LGBTQIA+ community.
"London Marathon organisers contacted me saying they wanted the London Marathon to be more inclusive and represent more communities, and one of these communities is the LGBTQIA+ community," he says. "They asked if I had any ideas, so we discussed it and the idea of Rainbow Row came up.
"They then looked at the logistics and chose Rainbow Row as a key part of the race. With five miles to go, it's the final stretch and the route home."
When I ask Joseph how he felt on the day of the London Marathon 2022 as he approached Rainbow Row, he laughs and says he was otherwise occupied.
"I did an interview with the BBC at the London Marathon Expo and they asked me to stop at Rainbow Row for an interview. We had to coordinate where the cameras would be, so my first thought when I hit Rainbow Row was where to run to do the interview.
"Restarting was absolutely hell on Earth. I could hardly move my legs. But stopping was the best thing I ever did, I loved being interviewed! It was just the most amazing feeling. I actually deep down hope I get asked again this year because I love to be a part of it."
London Marathon 2023
Regarding the upcoming marathon, Joseph says he's apprehensive thanks to pain from an injury. "I'm very nervous—I don't know where my legs are going to be next week. It's a very nerve-racking thing so please sponsor me!"
Our call is interrupted briefly by the sound of my border collie barking in the background, prompting Joseph to share some of the charities closest to his heart, including Dogs Trust.
"Without my dog Jacob, I wouldn't have gotten through lockdown. It was really important to me to make sure they were one of the charities that I'm running for," he says.
Joseph is running for 13 charities in 2023:
His goal is to raise a total of £130,000; £10,000 for each charity.
"I think it doesn't matter the amount you sponsor someone because [however much it is,] it does really encourage people," says Joseph. "If you can only afford a couple of pounds, that's fine! No-one expects anyone to donate and then struggle [for money], but if you do donate just a little bit to whoever you know running, I think it's an amazing way to show support."
Spirit Of The London Marathon Award
After more marathon chat, we get on to his award, which Joseph says he was shocked to win. "I don't actually think I deserve it," he admits, "because London Marathon Events changed me as a person. I want to give them the award.
"The way I look at fundraising is all because of the London Marathon. The people behind the London Marathon are the most incredible people. To be able to be involved with them is such an honour. And they should get more credit."
Joseph is in the process of changing his businesses, moving shares from G-A-Y Group Ltd into his G-A-Y Foundation, so that part of the business can become a charity. This, he says, is a result of COVID-19 and lockdown. "I felt that when we reopened after COVID and lockdown, I was going back to where I was two years ago and just worked," he says. "I felt like I had no purpose any more. I wanted to not just work, but for work to have a purpose."
He reiterates that he doesn't want to take the credit for his fundraising efforts, instead praising every single person who has donated and helped along the way.
"The London Marathon should again take the credit. Without the event, we'd never have raised the money."
You can find Joseph's fundraising page on the TCS London Marathon website.
Feeling inspired to raise money in next year's event? Here's how to run the London Marathon for charity.
Sign up for workout ideas, training advice, reviews of the latest gear and more.
Lois Mackenzie is a fitness writer working on news, features, reviews and buying guides for Coach and sister site Fit&Well. Lois is a hill walker and avid runner who is training for her first marathon. Before joining Coach, Lois worked as a senior SEO reporter at Newsquest Media Group.