Manhunt tracking challenge
After learning some basic evasion techniques can MF web editor Max Anderton avoid capture by a team of expert trackers?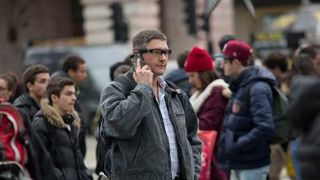 (Image credit: Unknown)
It's a rainy Friday morning and I've just arrived at a hotel in central London to be briefed before undertaking a citywide manhunt-style challenge. Britain's most experienced tracking and survival expert Perry McGee – a man who trains the police and armed forces in the skills to track down fugitives – meets me. Moments after exchanging pleasantries Perry runs his hands down my legs, across my back and along my arms. We haven't just really hit it off. Perry's frisking me for any items that I could use to help me complete my challenge. As Perry takes my phone and wallet he explains that he would normally take my shoelaces too, but thankfully health and safety rules work in my favour meaning I'm not allowed to be de-laced.
As well as training military and police types, Perry also runs the National Tracking School, which teaches tracking and survival skills to civilians. 'These are the types of skills necessary for being stuck behind enemy lines, but they are also useful for civilians from all walks of life,' says Perry. 'They teach you to be more aware of your surroundings and to use your initiative, which are useful qualities in all sorts of everyday situations.'
Today's challenge is inspired by a new Discovery TV show called Manhunt, which sees former Navy SEAL Joel Lambert attempt to evade the world's most elite tracking units in different environments around the world. My task isn't quite as hardcore, but still follows the same basic premise. From my hotel starting point I need to gather clues from five checkpoints in central London (The City, London Bridge, Regent's Park, Piccadilly Circus and Hyde Park). The catch, or should I say catches? I'm not allowed to use GPS or public transport, can't speak to any members of the public and, most importantly, I can't be seen by the team of trackers who are after me.
With backgrounds ranging from animal tracking in Zimbabwe to Special Forces training, the guys who'll spend the day hunting me look like they mean business. Luckily, the game isn't over if I'm seen and I won't be bundled into the back of a van or anything like that, but points will be docked every time I'm spotted and seeing as I'm competing against another journalist, pride is definitely at stake.
Seeking advice from Perry he talks about the importance of not leaving any 'sign' as I traverse my environment. In a jungle this means not leaving trails of damaged plants and disturbed mud, while footprints, litter and a jumpy disposition are key giveaways in urban surroundings. He also talks about 'the rules of stealth,' which are all about disguising your shape, size, movement and noise.
Trying to process all this information and think about how I can put Perry's tips into action I'm ushered out onto the street. The tracking team are scattered around various spots between my starting point and first checkpoint in The City. I assume someone will be watching me from the second I leave so decide the best option is to bolt for the nearest alleyway from the word go. Thank goodness I still have my laces.
Read part two of Max's Manhunt challenge here.
Manhunt is on Discovery Channel on Thursdays at 9pm. Click here to read our interview with the star of Manhunt, Joel Lambert.
Sign up for workout ideas, training advice, reviews of the latest gear and more.
Max was the head of digital content for Men's Fitness which worked alongside Coach between 2015 and 2019.