Dai Greene interview: Wings for Life World Run
Olympic Hurdler Dai Greene speaks to MF ahead of the Wings for Life World Run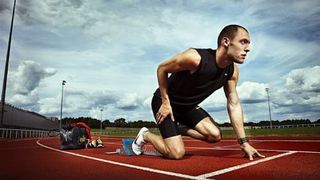 (Image credit: unknown)
World and Commonwealth 400m hurdles champion Dai Greene is one of the many athletes using their talent for a good cause at the Wings For Life World Run, a charity event organised by Red Bull taking place at 40 locations around the world on 4th May. Ahead of the race, MF spoke to Greene about his training, how far he can run and whether he's ever been chased by a car before.
How are you training for the Red Bull Wings For Life World Run?
Well luckily being a pro athlete I don't have to do an abundance of training for it. At that time of year I'm usually in peak condition from my year-round training, so I don't have to change too much of what I am already doing.
So the training doesn't differ greatly from your regular hurdles training?
No, not really. I might do a little bit more long-distance running, but I try to do long distance fairly often anyway – it keeps my legs strong. I do more sprints when training for hurdling, but that can still be beneficial for this race. The most important thing as always is to just guard against any injuries.
So a long-distance run won't be out of your comfort zone?
Not at all – I do a lot of long-distance training in the winter, a few thousand metres here and there, so I'm quite used to it. Long-distance obviously isn't my forte as I'm a hurdler but I do enough of it to get by.
Why did you decide to take on the challenge?
I was made aware of it after attending Red Bull charity dinners and I thought it seemed like a great thing to be involved in. As an athlete it wasn't something that would be a massive upheaval for me, so I thought it would be fun and fulfilling to help out and play a part.
The race involves being chased by a car. Have you experienced anything like that before?
No, I can't say I have. That makes me want to do quite well in it, but considering it's for charity I'll try to tone down my competitive nature as much as I can. I'm not used to not competing, and I definitely haven't had a chaser car involved before!
Are you setting yourself any targets for the event? How far do you think you'll get before the car catches you?
I think I'll just play it by ear. I just wanted to be involved in the event more than anything because it's a good cause, so I won't be stressing myself out too much about how far I get. I'll try my best, of course, but it'll be nice to compete in a race that isn't so competitive for once. I know how to pace myself so once I've found the right pace I hope I should be able to go for quite a while.
Dai Greene will take part in the Wings for Life World Run on 4th May 2014. wingsforlifeworldrun.com
Follow Dai Greene on Twitter: @DaiGreene
Sign up for workout ideas, training advice, reviews of the latest gear and more.
Coach is a health and fitness title. This byline is used for posting sponsored content, book extracts and the like. It is also used as a placeholder for articles published a long time ago when the original author is unclear. You can find out more about this publication and find the contact details of the editorial team on the About Us page.