Lone Survivor: Mark Wahlberg Workout Tips
Mark Wahlberg's trainer explains how he got the actor in marine shape for action thriller Lone Survivor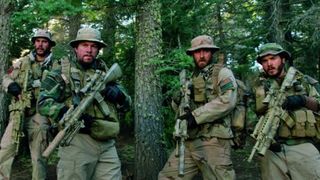 (Image credit: unknown)
After pumping himself up to huge proportions to play a bodybuilding criminal in Pain & Gain, Mark Wahlberg had to trim himself back down to play a Navy SEAL in Lone Survivor – Peter Berg's Afghanistan-set thriller that tells the real-life story of a group of marines who soon turn from hunters to hunted during a mission to take down a notorious Taliban leader.
Ditching the isolation machines altogether, Wahlberg hired long-time trainer and Brian Nguyen – a key member of the 42-year-old actor's entourage since working with him on 2006's American football drama Invincible – to prepare him for the rigourous marine bootcamp he was about to embark on. We caught up with Nguyen to find out how he used functional training to get Wahlberg battle ready.
How did Mark prepare for his role in Lone Survivor?
Mark only had four weeks in between finishing Pain & Gain and starting on Lone Survivor. We got him back down to around 185lbs [84kg] from 210lbs [95kg] by cutting out the weight training and switching his diet from eating heavy to eating clean. After all the bench pressing and heavy squatting he was doing for Pain & Gain, we also had to reestablish his shoulder and hip mobility as he was dropping weight.
As soon as he got to the Lone Survivor set in New Mexico he went straight into marine training, which involved a lot of functional work – running up and down hills with a gun and a heavy backpack – so if he didn't have that mobility it would have been a disaster.
What did your training involve?
We tried to keep it functional. If you spend your whole time pushing and pulling heavy weights like Mark was on Pain & Gain, your body is going to get out of sync and that's what happened – old, nagging injuries like his back and shoulder pain came back. So we did inverted rows on the TRX and other shoulder stability exercises like Turkish get-ups, and we did lots of spider-man floor moves and lunges to improve his hip mobility.
We continued to do things like front squats but we moved more towards kettlebell variations like goblet squats, because Mark's got awful wrists from doing so much boxing – it really compromises him. We also incorporated slams and jumps with battle ropes into his training for power.
Is Mark good at embracing new fitness trends?
Oh, without a doubt. His brand-new house is being built right now and we just finished the gym – inside his gym he has a Keiser squat rack, he has a fantastic new kettlebell rack and TRXs hanging from the top for suspension training. Power Plate training is also a huge thing for him – he does flexibility work on it for 10-15 minutes every morning to work on his flexibility. He'll stand on there and get into a deep squat to open up his hips, then he goes into some basic squats, push-ups and reverse lunges.
Now he'll peruse through the Perform Better catalogue now and be like, "Hey, do we have one of those?" We're always trying new things but it's always about making sure our workouts are fun. There's also an element of competition, especially with his entourage – if I do 10 pull-ups, he's got to do 12! When he was doing the marine training for Lone Survivor, he had to do a lot of up-down moves like burpees, which he absolutely hates, but he used that competitive edge to get through it.
Mark's got another action-heavy role in Transformers: Age Of Extinction coming up. Have you changed anything about his training for that?
Mark was doing more complexes with the kettlebells going into Transformers because he was always on the move, so he had to fit his training in whenever he had a half-hour break on set. For example, he'd do 30 seconds of single-arm swings with each arm, then 30 seconds each of goblet squats, alternating press-ups, double-arm swings and threaded lunges. He'd do them all back-to-back, so it would be three minutes of straight work and one minute rest and we'd do that five or six times. That one completely wipes you out and it's constantly a challenge – he would never walk away from that complex without feeling sore!
Lone Survivor is available on Blu-ray and DVD on 9 June, courtesy of Universal Pictures UK. Brian Nguyen is the fitness director and owner of Brik Fitness
Sign up for workout ideas, training advice, reviews of the latest gear and more.
Richard worked as a features writer in 2013 and 2014 for Men's Fitness UK, which predated and later shared a website with Coach. Richard went on to a career as a professional journalist and editor, working for brands like Red Bull, Total Film, Den of Geek and others.