5 ways to excel at your sport
How a little love and passion could help you to excel at your chosen sport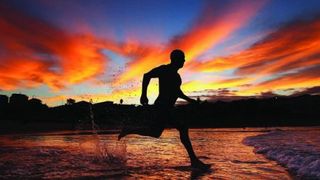 (Image credit: Unknown)
As winner of six world swimming championships, two Commonwealth Games golds and ten European titles, Mark Foster knows the recipe for sporting success. Here he explains to MF why being in love with the sport you're doing is the first step to becoming truly great at it.
Commit to it
My dad nearly drowned because he couldn't swim. As a result, he was determined that my sister and I learn, so he took us to the local pool every Sunday for swimming lessons. I loved it and while the other kids were splashing about dunking each other and stuff like that I used every second of the lesson to practise my strokes, quiz my coach and do all I could to be the best in the class. My swimming teacher was the mother of Sarah Hardcastle [silver medallist in the 400m freestyle and bronze in the 800m freestyle at the 1984 Olympics] and she saw my determination and suggested I compete.
Find a hero
The first time I knew I wanted to go to the Olympics was when I was ten years old and Duncan Goodhew came to my swimming club to do a masterclass. He asked how many strokes we thought it would take for him to get from one end of the pool to the other. Everyone put their
hands up and guessed around 15 or 20. I still vividly remember him diving in, taking just three strokes and powering across the pool. My mind was completely blown and I decided right then and there that I wanted to be able to do that too and the only way I could was to work as hard as possible.
Dedication's what you need
Talent isn't enough. Sometimes a person who wants it more will beat someone who's more talented but isn't willing to push themselves as hard. Wanting it and working harder can actually be more important than talent because talent isn't what drags you out of bed to train at 5am. I failed to win my first few races because my competition was better, but by the time I was 15 I was the fastest swimmer in the country because I was prepared to put in the work.
Learn to love
You'll only be really good at something if you enjoy it, but that doesn't mean you'll love every aspect of it, at first at least. I used to hate diving into freezing cold water at dawn, but I knew that to stand on the podium – a part of swimming I did love – it was a necessary evil. Over time I came to love getting into water early in the morning, because I knew the more I embraced it, the better I would do. The way we approach any action makes a difference to the result. Go into something positively and it's far more likely you'll finish it positively too.
Don't fear failure
Too many people think that if they don't try they can't fail. That's true, but being afraid of failure won't get you anywhere. Challenge yourself. Even if you don't succeed you can be proud that you've had the strength of character to take on something difficult and give it your all.
Mr Motivator
Foster shares the motivational tricks that helped him succeed
Be realistic
'Motivation in sport is all about setting goals that are achievable. There's no point in deciding you're going to be an Olympic champion before you've even competed at local level. Set your sights on something attainable, do it, then re-focus your crosshairs.'
Have fun
'Your dedication will falter if your training starts to feel too much of a chore. Vary your sessions and set challenges to make training more like playing a game. If you find you struggle to drag yourself out of bed to train, try training at a different time or doing a different sesssion.'
Make friends
'Turning training from a work commitment to a social occasion makes it something to look forward to. Not turning up for a session means you're letting your mates down, plus there's nothing like friendly rivalries to make you push yourself that bit harder – even if it's just to rub your victory in their faces.'
Sign up for workout ideas, training advice, reviews of the latest gear and more.
Coach is a health and fitness title. This byline is used for posting sponsored content, book extracts and the like. It is also used as a placeholder for articles published a long time ago when the original author is unclear. You can find out more about this publication and find the contact details of the editorial team on the About Us page.