Kit Harington's Pompeii workout
We caught up with Kit Harington's trainer, Nuno De Salles, to talk training, diet and why his costume was nearly changed for the film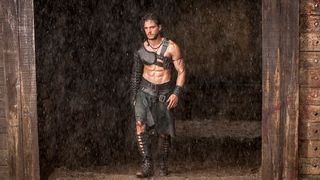 (Image credit: Unknown)
What sort of shape was Kit in when you first started working with him?
He was actually in pretty bad shape. He'd been promoting the third series of Game of Thrones and he'd got pretty unfit. The director of Pompeii was panicking when he found out, at one point there was discussion about having to change the costumes on the film because of it.
We had eight weeks to get him in shape so I said I needed total control of his diet and training to get it done.
What was his biggest hurdle to get over?
After my ten-minute freak-out when I found out what shape Kit was in, the first thing we sorted out was the diet. It was actually the thing Kit was most apprehensive about. I think from the outside it seems like the biggest thing to change but once he started he really took to it quickly.
I had him eating four meals a day. In terms of percentages I had him eating 45% carbohydrates, 35% protein and 20% fat.
Kit is genetically predisposed to gaining muscle. I've never seen someone change their body so dramatically in such a short space of time. However, the only thing I would say was that he was a perfectionist and he would sometimes hit the gym too hard too a point where sometimes I had to slow him down.
Did he have to take any supplements to keep up with training?
Obviously when you combine Kit's filming commitments with his training regime he had a pretty full schedule. I wanted to make sure he was taking the right supplements so he could keep up with the demands on his time. We avoided creatine because Kit said when he'd tried it in the past it hadn't agreed with him. I had him taking whey protein, casein and BCAAs as well as magnesium to help with his energy levels.
What did Kit's training look like?
The film has a lot of stunts and fight scenes so we needed Kit to be able to keep up with these without picking up injuries. As well as working on bodybuilding, there was a big focus on dynamic work. Towards the end of filming we switched to focus just on bodybuilding. All the shots of Kit topless in the film were arranged to be right at the end of the shoot so we had the time to make Kit look as impressive as possible.
I also had to keep training short, as we couldn't afford to take Kit away from filming for hours at a time. He trained for 60-minute sessions six days a week.
Can you give us an example of one of Kit's workouts?
For his back workout we'd start with dead lifts. One week we would do five sets of ten to 12 reps then the following week I would increase it to six sets of ten to 12 reps. And then after a certain amount of time I would cut it to three sets of five to seven reps but a little heavier. Then, seeing as Kit really took to chin-ups, we often included them as well as rows.
We would incorporate abs workouts at least three times a week. Not too much because I'm not a big believer in hitting it directly. I played around with volume too as I think your body is very good at getting accustomed to specific stresses.
Pompeii is out now on DVD & Blu-ray
Sign up for workout ideas, training advice, reviews of the latest gear and more.
Matt joined Men's Fitness in April 2014 as features writer after spending several years writing for a luxury lifestyle magazine, swapping champagne and canapés for cardio and leg days.
Matt is a keen Thai boxer and his interest in fitness took off when he made the decision to compete semi-professionally and had to get in shape. Training aside, he says the worst thing about fighting is resisting the urge to apologise all the time.
Oh, and he's still on the look out for a decent fight nickname after being told 'The Best' was reaching a little bit…
Favourite move: Any kind of squat variation
Favourite sport: MMA and Muay Thai kickboxing
Personal best: Competing in a semi-pro K1 bout
Targets: Sub-1hr 40m half marathon and winning a fight by KO
Scariest MF moment: Writing about myself in the third-person for this profile
Favourite MF website story: Spider-Man workout
Favourite trainer quote: 'Hands up, chin down' – every striking coach ever
Biggest gym crime: Avoiding the weights and sticking to the treadmill