10 best movies starring Dwayne 'The Rock' Johnson
MF's pick of Dwayne Johnson's best big-screen ventures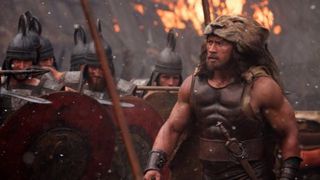 (Image credit: Unknown)
Wrestler-turned-actor Dwayne 'The Rock' Johnson has proved himself to be a highly versatile actor and performer and to celebrate the Blu-ray, 3D Blu-ray and DVD release of Hercules this week we've compiled a list of our favourite films featuring the big man.
Let's take a look at ten of his most significant roles (in chronological order)...
The Mummy Returns (2001)
The Mummy Returns was Johnson's feature film debut, where he made a brief appearance as The Scorpion King. While he didn't get much screen time, it was a significant role and great platform for him to launch his Hollywood career.
The success of the movie led to his first leading role in the spin-off The Scorpion King and Johnson was listed by Guinness World Records as the highest-paid actor in his first lead role.
Rock Fact Johnson's only spoken lines are in Ancient Egyptian. Loosely translated, the line 'haku machente' means 'It's hot as hell'.
The Scorpion King (2002)
The Scorpion King was the prequel to The Mummy Returns which explored how the character rose from being a simple mercenary to a powerful ruler. The film played to Johnson's strengths, combining full on-action sequences and showcasing his talent for comedy.
Rock Fact Director Chuck Russell was keen to incorporate a physical manoeuvre in the film which only Johnson could perform. There is a scene where he springs to his feet from lying on his back. Russell said that he had never seen a man as large as Johnson do that.
Dwayne Johnson's fat-shedding secrets.
The Rundown (2003)
A smart, funny action film, to many The Rundown (aka Welcome To The Jungle) was the film that cemented Johnson as a versatile action-comedy actor. Johnson forms a hilarious double act with Sean William Scott (American Pie) as the pair hunt for an artifact that will free an Amazon village from the tyranny of a mining mogul played by Christopher Walken.
Rock Fact Johnson's stunt double was his cousin Tanoai Reed, who has worked with him on numerous action films since.
Be Cool (2005)
The follow-up to Get Shorty, with John Travolta reprising the lead role, featured one of Johnson's most memorable performances and the first in which he played against type. He plays Elliot Wilhelm, a flamboyant bodyguard who dreams of stardom.
Rock Fact In the scene where Elliot is chasing Raji (Vince Vaughn) around the car, most of the dialogue was improvised. At the end, when Raji says 'E. Weasy' and dances, the camera moves back and you can see Johnson smiling.
Gridiron Gang (2006)
Gridiron Gang gave Johnson his first purely dramatic role. The film was based on the true story of Sean Porter (played by Johnson) who created a football league at his youth detention centre. The film made good use of Johnson's natural charisma and he was praised for his nuanced performance.
Rock Fact During a practice scene in the film, Johnson is seen wearing the number 94 on his shirt, the same number he wore at his real-life college team the Miami Hurricanes.
The Other Guys (2010)
A brilliant parody of 80s and 90s buddy cop movies. Will Ferrell and Mark Wahlberg are the stars, while Johnson co-stars alongside Samuel L Jackson as the most hilariously OTT and macho cops on the squad.
Rock Fact The film features subtle cameos from Brooke Shields, Tracy Morgan and Rosie Perez.
Fast Five (2011)
Fast Five shook up the Fast & Furious formula and pitted Johnson as a charismatic villain against regulars Vin Diesel and Paul Walker. Johnson plays DEA Agent Hobbs, who follows the team in Rio Janeiro as they pursue a heist in the hope of buying their freedom.
Rock Fact The movie features the following cars... Acura NSX, 1970 Dodge Charger, Pontiac Firebird Trans Am, Ford GT40, Chevrolet Corvette Grand Sport, De Tomaso Pantera GT5-S, Custom Truck, Armet Gurkha F5, Ford Galaxie 500 XL, Ducati Streetfighter, Porsche 911 Carrera, Subaru Impreza WRX Sti, Nissan 370z, Dodge Chargers, Charger SRT-8, Dodge Challenger SRT-8, Nissan GT-R, Lexus LFA, Koenigsegg CCXR.
Pain And Gain (2013)
Pain And Gain was directed by Michael Bay and marked a serious departure from his usual flashy, big-budget movies. Johnson stars alongside Mark Wahlberg and Anthony Mackie in the real-life-inspired comedy-drama as a Miami bodybuilder determined to pursue the American dream at all costs.
Rock Fact Johnson added around 7kg of muscle to his already-impressive frame for the role, weighing in at around 125kg.
Fast And Furious 6 (2013)
The sixth movie in the Fast & Furious franchise reunited Diesel, Walker and Johnson, who returned as Agent Hobbs. Johnson relished his role as an antagonist to the rest of the characters and proved there was still plenty of life and fun left in the franchise.
Rock Fact Over 100 cars were wrecked in the process of filming.
Hercules (2014)
Johnson is perfectly cast as the mighty Hercules in this thrilling story of fearlessness, courage and heroism, supported by a stellar cast which includes Ian McShane, Joseph Fiennes, Rufus Sewell and John Hurt.
Rock Fact To prepare for the role, Johnson took on a gruelling training regime lasting eight months. Shooting a scene where Hercules is chained up Johnson stated that he 'blacked out' after every take: 'I asked the prop department to lock me in real steel chains that I couldn't break, so the performance would be real.'
HERCULES is out on Blu-ray, 3D Blu-ray and DVD now
Sign up for workout ideas, training advice, reviews of the latest gear and more.
Coach is a health and fitness title. This byline is used for posting sponsored content, book extracts and the like. It is also used as a placeholder for articles published a long time ago when the original author is unclear. You can find out more about this publication and find the contact details of the editorial team on the About Us page.