The best fitness accounts on Instagram
Instagram is loaded with fitness accounts but some aren't as good as others. Here's 10 of the best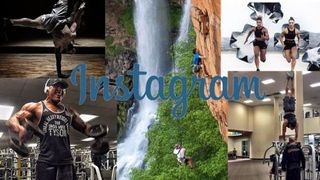 (Image credit: unknown)
From (healthy) food porn to impressive exercises, Instagram is a goldmine for any fitness enthusiast looking for a bit of extra motivation and inspiration. Be sure to follow MF on Instagram for a regular hit of healthy recipes, innovative exercises and behind the scenes peaks of our celebrity and sports star photoshoots.
Having a smattering of health and fitness related pictures in your news feed every day is also a great way to learn new things, whether it's a fresh take on a classic workout or a deliciously inventive recipe.
The only problem? There are so many accounts out there it can be tricky finding the people who actually know what they're talking about and aren't just obsessed with posting gym seflies. Don't worry – we've sorted the wheat from the chaff so you don't have to.
1. Ricky Warren (@rix.official)
Who? London based calisthenics coach and mixed martial artist.
Why? Warren's Instagram is full of the sort of bodyweight feats that'll have you itching to take up calisthenics yourself. Plus, it doesn't hurt that his pictures and videos are often in exotic locations around the world. Ask nicely and he may even find time to coach you himself.
2. Jay Cardiello (@JayCardiello)
Who? Cardiello has trained athletes and celebrities such as Jennifer Lopez, 50 Cent, NFL players and Sofia Vergara.
Why? He drops regular research-based "fit tips" on a range of health and fitness topics, but with a particular focus on nutrition.
3. Jen Selter (@jenselter)
Who? Instagram, uh, glute sensation, and American fitness model from NYC, Selter has taken Instagram by storm with over six million followers.
Why? Ideal for important glutes research
4. Alex Honnold (@alexhonnold)
Who? Rock climber known for his free solo ascents of the largest walls in America. He's the ultimate risk-taker.
Why? Honnold's account is stuffed full of death defying shots of him in perilous situations so you don't have to go there yourself.
5. Kenneth Gallarzo (@progressive_calisthenics)
Who? A world-class bodyweight coach capable of some incredible feats of strength, Gallarzo is co-founder of World Calisthenics Organization
Why? Need some motivation to work on your pull-ups? Gallarzo's daily videos depict a world in which gravity doesn't seem to exist as he does some seriously impressive bodyweight moves.
6. Will Arrufat (@willsworkout)
Who? Nike-affiliated coach who works with both elite and amateur athletes
Why? Arrufat is an energetic guy with a lust for life that he shares through workout tips, exercise guides, and nutrition advice.
7. Jennifer Forrester and Kaisa Keranen (@TwoBadBodies)
Who? Former University of Washington track and field teammates, who now work together creating new routines and fitness exercises.
Why? Their account has tons of video workouts and healthy food ideas
8. Curtis Williams (@curtiswilliams17)
Who? Sports performance coach and former NFL athlete. Williams refers to himself as 'Health Warrior.' Curtis is also a member of the Armour Performance Training Council in NYC.
Why? Williams shares loads of other ways to train besides just going to the gym.
9. The Rock (@therock)
Who? This beast needs to introduction.
Why? If you ever need a little kick out of bed, or a push to the gym, following the Rock's Instagram will do that for you.
10. Michael Marchese (@upyourfitness)
Who? Fitness instructor, with 14 years of personal fitness experience and owner of MRG Fitness New York.
Why? His outdoor and indoor workouts are highly impressive. Marchese uses different training methodologies which you can see from all the videos he posts, where he's either upside down, or just casually hanging from a bar.
Follow MensFitnessUK on Instagram here.
Sign up for workout ideas, training advice, reviews of the latest gear and more.