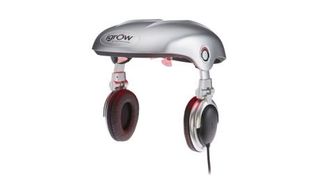 (Image credit: unknown)
It's been eight weeks since I began using iGrow – a new product that uses laser technology to improve hair follicle function – in a bid to halt or even re-grow my receding hairline.
First things first: it's definitely working. To help track my progress, I'm having monthly appointments with Consultant Trichologist Iain Sallis (that's a 'hair doctor' to you and me). At our most recent check up, Sallis happily informed me that my 'downey' hair growth – the tiny baby hairs that eventually thicken to become regular hairs – is up by between 10-15% at the sides of my hairline, and although I was slightly skeptical given that they're too small for me to see in the mirror (or in the photograph below), closer examination by my enthusiastic wife confirmed the good news.
The iGrow site claims that the product can provide visible results within 16 weeks, so the fact that I'm getting genuine growth – albeit too small for me to see – in just 8 weeks is great news.
On a practical level, incorporating thrice weekly 25-minute iGrow sessions into my routine has been fairly straightforward, I just make a point of whacking the helmet on every other day when I'm relaxing watching TV in the evening. It's relatively comfortable to wear, and the interface on the controller couldn't be simpler to use, although the novelty of pretending that I'm Robocop has, sadly, worn off. The only slightly annoying thing is that having an army of lasers targeting your skull for half an hour does leave you with a toasty cranium, which isn't ideal if – like me – you live in a flat above a restaurant that gets extremely hot during the summer.
Start (left) Month 2 (right)
Minor quibbles aside, I'm chuffed that I'm making progress and looking forward to seeing visible changes between now and my next blog in two months time, by when the 'downey' hairs will hopefully have thickened considerably.
iGrow is available to buy at www.igrowlaser.co.uk
Sign up for workout ideas, training advice, reviews of the latest gear and more.
Between 2010 and 2016, Ben was the deputy editor of Men's Fitness UK, which predated, and then shared a website with, Coach. Ben also contributed exclusive features to Coach on topics such as football drills, triathlon training plans and healthy eating.