Medicine Ball Home Workout
Build strength, power and a core of iron, with this medicine ball home workout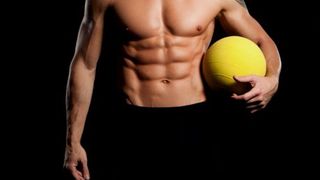 (Image credit: Unknown)
Is your training on the ball? It should be. Training at home doesn't always allow the movements modern medicine balls are designed for – being flung across a room at high velocity, say – but the instability they provide can help you to hit your stabiliser muscles without taking chunks out of your walls. Ultimately this will significantly boost your core strength, allowing you to lift heavier in the long run.
Directions
Do this core-strengthening session once a week as a supplement to your regular gym sessions.
1 Crossover press-up
Sets 3 Reps 8
Adding imbalance and a unilateral challenge to your press-ups will force your chest to explode (not literally). Simply perform a press-up with one hand on the ball, change hands at the top, and repeat on the other side.
2 Close-grip round-the-clock
Sets 3 Reps 3 each side
Hit your triceps hard. Starting with both hands on the ball, walk your feet in a semicircle. Keep your glutes and core braced and your back and hips in line. If you've got a big living room you can try the full circle, you massive show-off.
3 Roll-out
Sets 3 Reps 5
This is like the classic abs wheel move but with more time under tension. Start with your hands on the ball and knees on the ground. Roll the ball away from you, one hand at a time, until your torso is as close to horizontal as possible, then reverse back to the start.
Sets 3 Reps 10
Another classic move with a spherical twist for an added stability challenge. Start with both feet on the ball and your upper body on the floor. Raise your hips explosively into the air, then lower under control.
Sets 3 Reps 12 each side
The one you've seen before, but harder. Sit on the floor with your knees tucked and feet slightly raised. Touch the ball to the floor to one side of you – that's what makes it tougher – then the other. Slower is better.
Sign up for workout ideas, training advice, reviews of the latest gear and more.
Coach is a health and fitness title. This byline is used for posting sponsored content, book extracts and the like. It is also used as a placeholder for articles published a long time ago when the original author is unclear. You can find out more about this publication and find the contact details of the editorial team on the About Us page.