Carb-cycling weight-loss plan
Cycle your carbs for a month and see the weight drop off.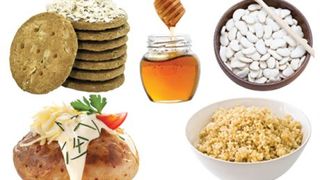 (Image credit: unknown)
This eating plan, created by nutritionist Lucy-Ann Prideaux, uses a fast and effective fat-loss technique called carb cycling – a dietary trick that maximises fat loss without depriving your body of nutrition or energy.

The principle of carb cycling is to eat very few carbs for two consecutive days, followed by one day of eating lots of carbs. This means that, just as your body's stored carb reserves are about to be depleted, the high-carb day will recharge your energy and speed up your metabolism, leading to even greater fat loss. Reducing your carbs for two days also allows you to use your fat stores for energy but prevents your body from entering a catabolic state, which is where the body begins utilising muscle tissue to get energy from the protein in the muscles.

Our six-day plan gives you all the nutrients you need with plenty of variety, with an extra daily menu you can use on any low-carb day to mix it up even more. Stick to the plan for just 30 days and see the fat fall away.
Day 1
LOW-CARB DAY
Breakfast: Citrus and almond fruit salad: peel 1 orange and 1 grapefruit and chop the segments in half. Mix with yoghurt, handful of blueberries and 2tbsp crushed almonds.
Snack: 1 Eat Natural bar. 1 apple.
Lunch: Quinoa salad: cook 50g dry grain quinoa in water. Mix 100g chopped cherry tomatoes, sliced cucumber, 100g garden peas and 2 chopped hard-boiled eggs.
Snack: Handful of walnuts. 1 banana.
Dinner: Ginger chicken: stir-fry 1 sliced chicken breast in olive oil with a little chopped ginger. Add 1 sliced courgette, 1 sliced carrot and ½ tray of green beans. Add soy sauce and a little water and allow to steam until cooked. Serve with 70g (dry weight) quinoa.
Snack: 2 oatcakes.
Daily totals: 1,880 calories, 226g carbs, 108g protein, 67g fat
Day 2
LOW-CARB DAY
Breakfast: Apple and seed muesli: mix together 2tbsp rolled oats and 2tbsp each of pumpkin seeds, sunflower seeds and sesame seeds. Soak for at least half an hour (or overnight) in the fridge in semi-skimmed milk. Before serving, add 1 small grated apple and 2tbsp yoghurt.
Snack: Handful of walnuts. 1 banana.
Lunch: 1 wholemeal pitta bread filled with tuna, ½ an avocado and 1tbsp low-fat cottage cheese.
Snack: 1 pear.
Dinner: Lime salmon steak: brush a salmon steak with olive oil and season with black pepper. Thinly slice ½ a lime and place the slices on top of the salmon. Grill for ten minutes. Serve with 100g steamed broccoli, 75g sugar snap peas and 70g )dry weight) quinoa.
Snack: 1 apple.
Daily totals: 1,891 calories, 170g carbs, 131g protein, 81g fat
Day 3
HIGH-CARB DAY
Breakfast: Cook 60g oats in water. Toward end of cooking add 200g frozen summer berries and stir for 3-5 minutes until hot. Serve with 1tbsp sunflower seeds and 1 pot of natural yoghurt.
Snack: 1 peach.
Lunch: 1 baked potato filled with 1tbsp hummus, 1 sliced tomato, sliced cucumber, sliced red pepper and mixed salad leaves. 1 banana.
Snack: 1 Eat Natural bar. 1 apple.
Dinner: Brush 1 large cod fillet with a little olive oil and season with black pepper and ground cumin. Place the fish under a hot grill for approximately ten minutes. Serve with 250g boiled new potatoes, 100g steamed carrots, garden peas and fresh coriander.
Snack: 3 oatcakes.
Daily totals: 1,801 calories, 323g carbs, 78g protein, 40g fat
Day 4
LOW-CARB DAY
Breakfast: Carb-free tortilla: beat 3 eggs with 2tbsp yoghurt, add ½ red pepper, ½ onion, ½ courgette (all chopped), 1tbsp peas, salt and pepper. Cook in a medium-hot pan.
Snack: Large handful of pumpkin seeds. 1 apple.
Lunch: Salmon salad: mix 1 small can of butter beans with 1 small can of salmon. Add 2 handfuls of lettuce leaves, 1 sliced tomato, ½ a tray of sugar snap peas and ½ a sliced onion and dress with cider vinegar, olive oil and pepper.
Snack: 1 nectarine.
Dinner: Roast 1 courgette, 1 onion, 1 carrot and 1 red pepper (all chopped) with garlic, cumin and chilli for 40 minutes. Brush a turkey breast with olive oil, season, grill for 15 minutes and serve on the veg.
Snack: 1 banana. 80g grapes.
Daily totals: 1,812 calories, 159g carbs, 143g protein, 72g fat
Day 5
LOW-CARB DAY
Breakfast: 2 boiled eggs. 2 slices of toasted wholemeal pitta spread with unsalted butter and Marmite.
Snack: 1 apple. 1 pear.
Lunch: Tuna and avocado mash: mash ½ a ripe avocado and a drained 200g can of tuna. Season and add juice of ½ a lime. Serve on top of 1 chopped little gem lettuce, 1 sliced tomato, sliced cucumber, ½ a grated carrot and ½ a grated courgette.
Snack: 4 oatcakes topped with cottage cheese and cucumber. 1 peach.
Dinner: Salmon ratatouille: fry ½ a chopped onion and a little chopped ginger in olive oil. Add ½ a carrot, ½ a red pepper and ½ a courgette (all chopped). Stir and add 400g canned tomatoes, 1 can of salmon and 2tsp tomato purée. Simmer for 5-10 minutes and serve.
Snack: 1 banana.
Daily totals: 1,804 calories, 165g carbs, 124g protein, 77g fat
Day 6
HIGH-CARB DAY
Breakfast: Mix 5tbsp natural yoghurt, 50g rolled oats, 200g defrosted summer berries, 1 sliced pear and 1tbsp honey.
Snack: 1 wholemeal pitta filled with low-fat cottage cheese and 1 chopped tomato.
Lunch: Chickpea salad: mix lettuce and 5 fresh chopped salad ingredients of your choice. Add ½ a large can of chickpeas (drained) to the salad and dress with olive oil and vinegar.
Snack: 4 oatcakes with peanut butter and sliced apple.
Dinner: Lightly oil and season a skinless chicken breast and place under a hot grill. Steam chopped broccoli and 100g green beans and serve with the chicken and 70g dry grain quinoa.
Snack: 1 banana.
Daily totals: 1,845 calories, 249g carbs, 122g protein, 44g fat
Extra menu
LOW-CARB DAY
Breakfast: 2 poached eggs, 2 large grilled tomatoes and 2 portobello mushrooms.
Snack: 150g pot natural yoghurt. 1 peach. 1 orange.
Lunch: Cut open 1 wholemeal pitta bread and spread with peanut butter. Fill with ½ a sliced avocado, cottage cheese, lettuce, sliced cucumber and sliced tomato.
Snack: Handful of mixed sunflower and pumpkin seeds. 1 apple.
Dinner: Poached salmon steak: add 1 sliced courgette, 200g whole cherry tomatoes and a handful of sugar snap peas to a wok and add water to cover the veg. Place a salmon steak on top with a handful of fresh coriander. Bring the water the boil, reduce the heat, cover and allow the fish and veg to cook through.
Snack: 2 oatcakes. 1 banana.
Daily totals: 1,820 calories, 157g carbs, 98g protein, 94g fat
For more great weight-loss plans, go to our weight-loss meal plans section. You'll find a new one in every issue of the mag too, so subscribe today.
Sign up for workout ideas, training advice, reviews of the latest gear and more.
Coach is a health and fitness title. This byline is used for posting sponsored content, book extracts and the like. It is also used as a placeholder for articles published a long time ago when the original author is unclear. You can find out more about this publication and find the contact details of the editorial team on the About Us page.