Fat loss plan that cuts out refined sugar
This plan will help you lose weight by cutting out all refined sugars.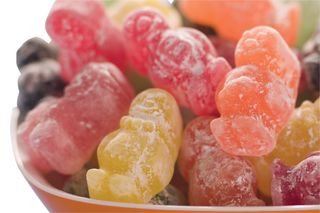 (Image credit: Unknown)
Sweets occasionally get some good press, such as when endurance runners recommend jelly babies for an instant energy hit. While some sweets do have a limited use in a few sports, in general they deliver a load of calories with little or no nutrition and they're no use for satisfying hunger either. In fact they increase your appetite by raising insulin levels and leaving you with cravings.

This fat loss plan devised by Lucy-Ann Prideaux (simply-nutrition.co.uk) cuts out all refined sugars, which keeps glucose and insulin levels down and maximises your body's fat-burning processes. It also encourages you to eat little and often which should help you leave the jelly babies well alone.

Monday
Breakfast: 200g plain live yoghurt mixed with 30g rolled oats, 100g summer fruits, 1tbsp sunflower seeds and the juice of a passion fruit.
Snack: Apple.
Lunch: Mix 50g salad leaves, 150g cherry tomatoes, 100g chopped cucumber, 100g cubed plain tofu, 100g butterbeans, 1tbsp crushed almonds, balsamic vinegar and fresh coriander.
Snack: Pear.
Dinner: Stir-fry 1 turkey breast in 1tbsp olive oil with fresh ginger, a small cauliflower, ½ a fennel head, 1 courgette (all chopped), 75g green beans and a splash of Tamari soy sauce.
Daily total: 1,593 calories, 174g carbs, 149g protein, 61g fat.

Tuesday
Breakfast: Soak 60g rolled oats in water overnight. Serve with raisins, almonds and ground cinnamon.
Snack: Punnet of raspberries.
Lunch: Mix 200g canned tuna with 2tsp tinned chickpeas, salad leaves, cucumber, spring onion, grated carrot, coriander, 30g (dry weight) cooked brown rice, olive oil and balsamic vinegar.
Snack: 25g pumpkin seeds.
Dinner: Grilled medium salmon steak, 75g quinoa (dry weight), 150g broccoli and 100g green beans.
Daily total: 1,561 calories, 180g carbs, 140g protein, 48g fat.

Wednesday
Breakfast: Breakfast mousse.
Snack: Handful of almonds.
Lunch: Sandwich: ½ a sliced avocado, 2 sliced boiled eggs, 1 sliced tomato and rocket on sourdough bread. Apple.
Snack: Banana.
Dinner: Slice 1 sweet potato, 1 onion, 1 courgette, 1 carrot and 1 pepper. Roast with 1tsp olive oil, 2 cloves garlic, ½tsp ground cumin, black pepper and chilli flakes for 40 minutes. Serve with grilled haddock.
Daily total: 1,815 calories, 223g carbs, 92g protein, 63g fat.

Thursday
Breakfast: Soak 75g of oats in water overnight. Cook for 5 minutes. After 4 minutes add 1 chopped apple.
Snack: Handful of almonds.
Lunch: Drain 1 can of tuna and mash with ½ an avocado and 100g low-fat ricotta cheese. Serve with cherry tomatoes, cucumber, carrot, red pepper, raw mushrooms and green beans.
Snack: Apple. Handful of pumpkin seeds.
Dinner: Stir-fry 1 turkey breast in 2tsp olive oil with chopped fresh ginger for 3min. Add 1 sliced courgette, 1 sliced carrot, green beans, soy sauce and a little water and let the veg steam until cooked. Serve with 100g brown rice.
Daily total: 1,804 calories, 232g carbs, 64g protein, 56g fat.

Friday
Breakfast: Whip together 30g rolled oats, 1 sliced banana, 150g low-fat natural yoghurt and 20g crushed walnuts.
Snack: Apple.
Lunch: Grilled chicken breast with salad leaves, tomato, cucumber, beetroot, ½ a carrot, ½ a raw head of fennel, lemon juice and fresh coriander. Serve with 60g (dry weight) Japanese soba noodles.
Snack: ½ a large punnet of strawberries.
Dinner: Grill 1 medium salmon steak with olive oil, black pepper and 1 sliced lime until cooked through. Serve with 170g steamed broccoli, 75g green beans and 100g cooked brown rice.
Daily total: 1,729 calories, 252g carbs, 98g protein, 36g fat.

Saturday
Breakfast: Poach a medium haddock fillet. Flake the cooked fish into a bowl with 50g (dry weight) cooked brown rice. Add 1 chopped boiled egg and plenty of freshly chopped fresh parsley.
Snack: Pear. Small pot of natural yoghurt.
Lunch: Soak 50g bulgar wheat in hot water for 20min. Mix with a small can of kidney beans (drained), 100g chopped cherry tomatoes, watercress, rocket, lemon juice and olive oil. Serve with ½ a carton of fresh soup.
Snack: Handful of walnuts.
Dinner: 1 grilled trout and with 4-5 different vegetables left over from the week, stir-fried with soy sauce and fresh coriander or steamed.
Daily total: 1,839 calories, 249g carbs, 125g protein, 51g fat.

Sunday
Breakfast: Mix 3 eggs and 100g diced tofu. Cook over a low heat, stirring. Serve on 1 slice of toasted sourdough bread.
Snack: Fresh strawberries.
Lunch: 1 baked sweet potato with a small can of chickpeas, 2tsp balsamic vinegar, 2tsp sunflower seeds, watercress and rocket.
Snack: a carton of fresh soup.
Dinner: Fry 1 chopped onion and 1 crushed garlic clove. Add ¼ of a chopped aubergine, 2 sliced courgettes, a few mushrooms, 1tsp tomato purée and a large can of tomatoes. Cook for 15min. Serve with 1 grilled chicken breast and 1tbsp thick Greek yoghurt.
Daily total: 1,855 calories, 191g carbs, 127g protein, 68g fat.
For more great weight-loss plans, go to our weight-loss meal plan section. You'll find a new one in every issue of the mag too, so subscribe today.
Sign up for workout ideas, training advice, reviews of the latest gear and more.
Lucy Miller is an experienced journalist who has worked across a range of health and fitness titles. She was the fitness and nutrition editor at Men's Fitness UK, and has also been fitness editor of both Health & Fitness UK and Women's Fitness UK. Lucy qualified as a NASM-certified personal trainer and nutritionist in 2008.