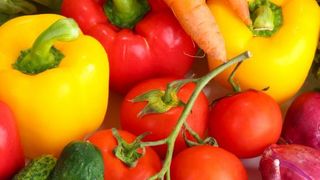 (Image credit: Unknown)
In This Series
The following three diet recipes for men come from Michelin star chef Adam Gray. Executive chef at Skylon in the Royal Festival Hall, London, Gray has been a chef for 28 years and has held a Michelin star for 11. He cycles 30km a day, competes 
as a runner and trains in krav maga, making him one of Britain's fittest chefs. Here are his healthy takes on three of Britain's best loved dishes.
The meal: Bangers and mash
It may not be an obvious muscle-building meal, but with a few healthy tweaks – courtesy of chef Adam Gray – this classic British combo can easily be turned into a workout-fuelling feast.
The swap: Potatoes for new potatoes
'New potatoes are lower GI than normal potatoes, which means they're less likely to cause your blood sugar levels to spike,' says Gray. 'They also contain more nutrients, including high levels of vitamin C, vitamin B6, copper, potassium and zinc.'
The bonus: More iron less insulin
Spinach provides high levels of iron, which helps your body create the energy required for workouts. Spring onions contain chromium, which lowers insulin, enabling you to maintain low levels of body fat.
Ingredients (serves 2)
300g new potatoes / 4 free-range Cumberland sausages / 50g rapeseed oil / 2tbsp natural yoghurt / 3-4 spring onions, finely sliced / 100g baby spinach, washed and drained / Salt and pepper
To make
Place the new potatoes in a large pan, cover them with cold water and bring to the boil. Reduce the heat and simmer.
Meanwhile, place the sausages under a hot grill, turning them occasionally until they're brown on all sides and fully cooked.
Once the new potatoes are tender, drain them into a colander and leave them to steam for one to two minutes.
Put the potatoes in a medium-size pan and crush them with a fork.
Add three-quarters of the oil, the yoghurt and the spring onions to the potatoes and mix thoroughly.
In a separate bowl, add the remaining rapeseed oil to the spinach.
Spoon a pile of the crushed new potatoes on to a plate and place the baby spinach and sausages on top. Season and serve
The meal: English breakfast
The classic Saturday morning hangover cure doesn't have to be a greasy affair, brimming with trans fats. Just make sure you choose fresh, high-quality ingredients and be smart about how you cook them.
The swap: Fried eggs for poached
'High-temperature cooking, especially frying, produces toxic compounds that cause inflammation in the body and can lead to diseases such as diabetes and heart disease,' says Gray. 'Poaching your eggs instead minimises these toxins.'
The bonus: More healthy fats, less LDL cholesterol
Rapeseed oil provides omega 3 to improve joint health, while tomatoes contain lycopene, which helps to lower levels of 'bad' LDL cholesterol.
Ingredients (serves 1)
½ plum tomato / 1tsp rapeseed oil / 2 free-range pork sausages / 2 slices free-range smoked back bacon / 100ml white wine vinegar / 2 free-range eggs / 1 large mushroom, washed / 1 slice stone-ground wholemeal bread
To make
Brush the tomato with rapeseed oil and place under a medium grill with the sausages and bacon.
Turn the sausages and bacon occasionally to ensure they cook evenly.
Meanwhile, fill a small saucepan with water until three-quarters full, add the white wine vinegar and bring to the boil.
Crack the eggs into separate cups. Gently pour them one at a time into the pan.
Stir the water in an even clockwise motion so the eggs gently spin, and cook for four to five minutes.
Once the eggs are firm but not overcooked, remove with a slotted spoon and place on a piece of kitchen roll to remove moisture.
Place the mushroom under the grill alongside the tomatoes, sausages and bacon for two minutes.
Toast the bread and serve.
The meal: Sunday roast
The secret to Sunday dining? Think of it as fuel, not indulgence. If you're going to hulk out at a single meal, it's worth making a couple of easy fixes to ensure it goes straight to your muscles not your gut. Oh, and treat yourself to a glass of red wine. If anyone asks, it's for the resveratrol, which fights the signs of ageing.
The swap: Beef for turkey
'If you only eat turkey at Christmas, you're missing out,' says Gray. 'Turkey is a low-GI, lean meat, which is ideal if you're trying to lose weight. Plus it still provides 30g of muscle-building protein per 100g and contains high levels of tryptophan, which helps to regulate appetite.'
The bonus: More energy, fewer sugar spikes
Cheddar cheese is a great source of energy-boosting vitamin B12, while sweet potatoes are low GI and help to regulate blood sugar levels.
Ingredients (serves 1)
2-2.5kg turkey breast, boned and rolled / 100ml rapeseed oil / 8 medium sweet potatoes, peeled and evenly chopped /
2 bunches Chantenay or baby carrots, washed / ¼ bunch fresh tarragon leaves, roughly chopped / 1tbsp natural yoghurt /
1 medium cauliflower, cut into 3cm pieces / ⅓ loaf wholemeal bread / 2tbsp dried cranberries, roughly chopped /
2tbsp dried sage / 2tbsp mature cheddar, grated / 500g baby spinach, washed / Salt and pepper
Roast turkey
Heat the oven to 220°C/gas mark 7.
Cover the turkey with half the oil, and season. Roast for 20 minutes, then reduce the heat to 170°C/gas mark 3 and cook for another 50 minutes, or until the juices run clear.
Remove from the oven and leave to rest. When the meal is ready to serve, return to the oven at 170°C/gas mark 3 for 10 minutes. Use the juices for gravy.
Roast sweet potatoes
Place the sweet potato in a pan of cold water and bring to the boil. Simmer for one minute, then drain. Pour the remaining oil into a warmed roasting tray, then add the sweet potato. Roast for 15 minutes. Turn the potatoes over and cook for another 15 minutes. Remove from the oven and season.
Cauliflower with toasted cranberry and herb breadcrumbs
Bring a pan of water to the boil. Add the cauliflower and simmer for four minutes. Blend the bread in a food processor. Mix the breadcrumbs in a bowl with the cranberries, sage and cheese. Place the drained cauliflower in a heatproof dish. Sprinkle with the breadcrumb mix and brown under a medium grill.
Baby carrots with tarragon
Bring a pan of water to the boil and add the carrots. Simmer for three to four minutes until tender, then drain. Return the carrots to the pan and add the tarragon and yoghurt. Mix thoroughly.
Sign up for workout ideas, training advice, reviews of the latest gear and more.
Max was the head of digital content for Men's Fitness which worked alongside Coach between 2015 and 2019.