Fat -fighting carbonara recipe
Want a creamy but healthy pasta feast? Chow down on chef Adam Gray,s waistline-friendly variation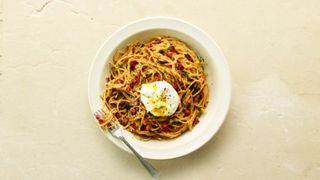 (Image credit: Unknown )
The meal: Spaghetti carbonara
Blood-sugar spiking white spaghetti and calorific double cream do not a lean man make. Luckily, this recipe contains neither, so you can enjoy a mouth-watering carbonara without worrying about your waistline. The lack of white carbs should leave you feeling a lot less bloated too, while the cheese and pancetta provide a hefty hit of muscle-building protein.
The swap: Cream for natural yogurt
'Saturated fat might not be bad for you in small doses, but double cream is extremely high in it,' says Gray. 'Natural yogurt is much lower in fat and calories – plus it's also a great source of stress-reducing vitamin B12.'
The bonus: More energy, less cell damage
Eggs offer plenty of energy-boosting vitamin B2, while wholemeal spaghetti contains more manganese than white, giving you more protection against the cell damage caused by free radicals.
The recipe
Ingredients (serves 2)
220g wholemeal spaghetti / 1tbsp rapeseed oil / 120g smoked pancetta / 4 egg yolks plus 2 whole eggs / 6tbsp low-fat natural yogurt / 6tbsp Lancashire cheese, grated / White wine vinegar / White pepper, to taste
To make
Add the rapeseed oil to a pan of boiling water and cook the spaghetti according to its instructions.
While the spaghetti is cooking, slice the pancetta and fry – without any oil – until it's crisp. Place the pancetta on some kitchen paper and set it aside.
Whisk the egg yolks and yogurt in a bowl, season with the pepper and add 4tbsp of the cheese.
Poach two eggs in gently boiling water with a little white wine vinegar in it for three minutes. Stir the water before adding the eggs, and give the first a few seconds to set before adding the second.
When the spaghetti is ready, drain it into a colander, leaving a little of the moisture clinging to it. Quickly return it to the saucepan and add the pancetta and the egg and yogurt mixture.
Stir thoroughly until all the spaghetti is covered.
Place the pasta in a deep plate, sprinkle with the remaining cheese and top with a poached egg.
The chef: Adam Gray
Adam Gray is executive chef at Skylon in the Royal Festival Hall, London. He has been a chef for 28 years and has held a Michelin star for 11. He cycles 30km a day, competes as a runner and trains in krav maga.
Sign up for workout ideas, training advice, reviews of the latest gear and more.
Coach is a health and fitness title. This byline is used for posting sponsored content, book extracts and the like. It is also used as a placeholder for articles published a long time ago when the original author is unclear. You can find out more about this publication and find the contact details of the editorial team on the About Us page.