3 of the best fitness restaurants
MF visits 3 of the UK's best fitness-focused restaurants and picks up some brilliant recipes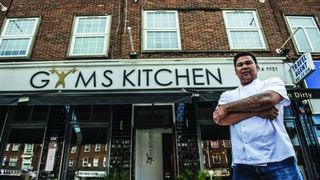 (Image credit: Unknown)
Think eating out means a day off good nutrition? Not any more. A new generation of fitness eateries are combining fine dining with even finer macronutrient ratios – so you can build muscle, torch fat and stay healthy without dreading your lunch hour. Throw the steamed chicken and broccoli in the bin, and try these recipes for size
Gym's Kitchen
'I think we could end up in every high street,' says Richard Klein, one of the three co-founders of Gym's Kitchen, the east London restaurant that's proved enormously popular since it opened in 2012. 'There's been a natural progression away from fast food. People want to know that they're eating quality food now, and we're trying to provide that in a way that also tastes really good.'
Klein, alongside friends Sunny Kudhail and Steven Mavrou, has created a protein-packed menu that tastes good enough to attract everyone from pro bodybuilders to the TOWIE cast – and with a second branch already open and (potentially) more on the way, they could be coming to a street near you. But don't wait: try the signature Gym's Kitchen breakfast dish right now.
Blueberry protein pancakes recipe
6 egg whites / 7tbsp oats / Handful of fresh blueberries / 1tbsp yogurt / ¼tbsp baking powder / Pinch of cinnamon / 2 drops vanilla essence / 1 scoop protein
To make
Whisk all the ingredients together until there are no lumps in the batter.
Heat a pan until a drop of water thrown into it sizzles instantly.
Add coconut oil to the pan (butter will do if you don't have it).
Add the batter to the pan and cook for two minutes on each side or until your pancakes are golden brown.
Wild Food Café
'We've been told countless times that we have the best veggie burger in the world,' says Joel Gazdar, founder and head chef at the Wild Food Café. 'Most veggie burgers are made from soy, which is the most hybridised product there is, and maybe peas, beans and carrots. But you can't substitute the nutritional density of good-quality meat.'
The Wild Burger is different. It follows the Café's ethos of using high-quality, organic ingredients, and the full-strength version takes 48 hours to make. Still, our DIY home version works almost as well.
Wild Burger recipe
200g non-green olives (ideally pink) / 50g of dried dulse (red seaweed) soaked in pure water for 15 minutes, drained and finely chopped / 100g shiitake mushrooms, finely chopped / 1 red pepper, finely chopped / 1 red onion, finely chopped / 200g sunflower seeds / Chia seeds / Seasoning (optional) – smoked paprika, garlic, finely chopped parsley
To make
If you have fresh olives you'll need to pit them. Fold them into a clean tea-towel and pound them with a rolling pin, after which the pits will easily come out.
Combine all the ingredients except the chia in a bowl. Mix and massage, then add the chia. Keep mixing until the mixture begins getting sticky enough to hold together, then form into patties.
Serve in a bun, a wrap or – for bonus nutrients – a gutted whole red pepper.
The Good Life Eatery
'We want to be about food that's good for you – not manipulating food,' says Shirin Kouros, co-founder and head chef at the Good Life Eatery, which is about to celebrate its first anniversary. 'I'm really into fitness – I do a lot of TRX work and I box with David Haye's trainer. And when it comes to food, if I don't know where the the ingredients come from, then I won't eat it. I don't count calories or fat, but I'm aware of sugar and carbs.' Kouros has used those rules to create one of the Good Life Eatery's trademark dishes – and you can do the same.
Paleo Chicken Fingers
350g organic mini chicken fillets / 300g roasted almonds, crushed / 250g egg whites / 150g coconut flour / 250g Greek yogurt / 75g Dijon mustard / 75g American yellow mustard / 100g honey / 2tsp lemon juice / Salt and pepper
To make
Preheat your oven to 225˚/gas mark 7-8
Pat the chicken breasts dry with kitchen towel. Lightly coat them with coconut flour, then the egg whites, and finally the almonds.
Season and bake for 15 minutes. Raise the oven temperature for the final five minutes to brown the chicken.
Mix the rest of the ingredients in a bowl and serve as a side dish.
Sign up for workout ideas, training advice, reviews of the latest gear and more.
Coach is a health and fitness title. This byline is used for posting sponsored content, book extracts and the like. It is also used as a placeholder for articles published a long time ago when the original author is unclear. You can find out more about this publication and find the contact details of the editorial team on the About Us page.