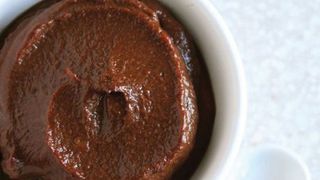 (Image credit: Unknown)
It's easy to make a healthy meal from a sweet potato, nature's jack-of-all-trades. It's equally satisfying baked on its own, mashed and paired with sausages or as part of a dessert. Stuffed with nutrients and fibre, it's also lower GI than many stodgier traditional carb sources – including regular spuds – so sub it in for potatoes in a variety of meals to reduce the risk of spiking your blood sugar and minimise fat storage.
Sweet potato hash
Ingredients (serves 2)
2 small sweet potatoes, cubed / 1 onion, chopped / 1tbsp olive oil / 1tsp cayenne pepper / Salt and pepper to taste / 1 red pepper, chopped / 1tbsp dried mixed herbs
To make
Heat the oil over a medium heat and cook the sweet potatoes and onions with the salt, pepper and cayenne pepper, covered, for about five minutes until soft. Remove the lid and cook for two to three minutes until browned. Add the remaining ingredients, mix and cook, covered, for another two to three minutes. Remove the lid, garnish with the mixed herbs and serve immediately. karolgladki.com
Sweet potato chocolate pudding
Ingredients (serves 2)
1 large sweet potato / 35g unsweetened cocoa powder / 2tbsp pure maple syrup / 60ml unsweetened vanilla almond milk / ½tsp espresso powder / ½tsp pure vanilla extract
To make
Bake the sweet potato in an oven, preheated to 200°C/gas mark 6, for one hour until soft, then peel it and purée in a food processor. Measure out 150g of the puréed sweet potato and mix it with all the remaining ingredients in the blender until smooth.
Baked eggs in sweet potato
Ingredients (serves 1)
1 large sweet potato / 2 eggs / 1tbsp grated parmesan cheese
To make
Heat your oven to 200°C/gas mark 6. Prick the sweet potato a few times, place it on a baking tray and cook it for 45 minutes. Allow it to cool, then hollow out a hole in the centre of the sweet potato, place it inside a small baking dish and crack the eggs into the hole. Top with the cheese and bake for 25 minutes. allapoppy.com
Switch up more foods with sweet potatoes
By the numbers
A medium size sweet potato provides 37% of your vitamin C RDA
One small sweet potato contains 231% of your RDA of vitamin A
Sign up for workout ideas, training advice, reviews of the latest gear and more.
Between 2010 and 2016, Ben was the deputy editor of Men's Fitness UK, which predated, and then shared a website with, Coach. Ben also contributed exclusive features to Coach on topics such as football drills, triathlon training plans and healthy eating.