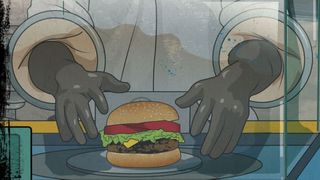 (Image credit: unknown)
Transdermal supplementation
What is it?
A new breed of supplement sprays that you apply directly to your skin. In theory this allows them to be absorbed directly into your bloodstream, bypassing the digestive system – which slows down the absorption of traditional oral supplements – to make them faster-acting and more reliable.
Does it work?
'Research from Manchester Met University found that caffeine took effect ten times quicker when taken transdermally compared to orally,' says performance nutritionist Ben Coomber, 'so it's certainly faster-acting. What's more, it required only a tenth of the dosage to have the same effect.' However, the barrier to entry – quite literally – is the size of our pores, which restricts which supplements can be absorbed transdermally. 'The research suggests that nutrients such as caffeine, taurine, zinc and magnesium can be effectively absorbed transdermally, but plenty of others – including most types of protein – can't, and will still need to be taken orally,' says Coomber.
Where do I get some?
UK-based company Transdermal Technology currently offers two transdermal sprays: a pre-workout performance-booster containing caffeine, taurine and guarana and a post-workout recovery spray consisting of zinc, magnesium and niacin. Each spray costs £18 and contains 40 doses, which typically reach peak concentration in your bloodstream in 15 minutes, compared with 60 minutes for an oral supp.
Lab meat
What is it?
You've probably heard of this one, but it's going to be massive: scientists have been working on creating artificial, laboratory-manufactured meat replacement products. These consist of a variety of plant materials, including amaranth and pea protein, which have been broken down and reassembled into 'meat' patties. The resulting products have the taste and texture of actual meat and offer the additional benefit of optimum leanness. It couldn't come at a better time, following a 2013 UN report highlighting 'unsustainable' levels of meat consumption in Western countries.
Does it work?
'Under a microscope, it's biologically the same as real meat,' says sports scientist and performance nutritionist Laurent Bannock. 'The only major difference is that it contains lower quantities of certain key amino acids, which are needed for muscle growth.' So while it does offer a very lean alternative to regular meat, with less impact on the environment and zero cruelty to animals, lab meat does require some additional supplementation. 'If and when it becomes widely available and affordable, if muscle growth and athletic performance are important to you, I'd recommend supplementing lab meat with leucine to boost your amino acid intake,' says Bannock.
Where can I get some?
There are no companies offering lab meat in the UK yet, but that's likely to change in the near future. Current market leaders include Beyond Meat, an American company that offers plant-based meat products including realistic-looking 'beef' burgers and 'chicken' strips, and German company Like Meat, whose product range includes Bratwurst-style sausages and doner kebab 'meat'.
Nutrigenomics
What is it?
The process of optimising your diet to suit your DNA. The theory is that by examining your genetic profile, it's possible to highlight any potentially problematic genes you carry – for example the PPARA gene, which affects the regulation of body fat. You can then adjust your diet accordingly to work around or counteract these genetic limitations to enhance body composition and athletic performance. This isn't new, but it's becoming more accessible to the average gym-goer.
Does it work?
It's a young and shallow field of research and has provoked much debate in the scientific community. But a University of Toronto study from 2014 found that 'individuals may benefit from adhering to different dietary guidelines than others, depending on their genotype'. In theory, it should help remove the trial and error part of experimenting with different diets to find out what works best for you. One note of caution is that scientists are still identifying the roles certain genes play. But if you want to get ahead of the curve, there's no need to wait. 'The sequence of our genes stays the same throughout our lives,' says leading dietician Nanci Guest. 'So a genetic assessment done now will be just as valid in years to come, and you'll be able to refine your diet even further as more information becomes available about the specific genes you carry.'
Where can I get some?
DNA Fit offers self-test swab kits, which you use at home and then send back for assessment. The company then provides you with analysis and feedback, including tailored diets and training plans based on a selection of genes that relate to weight loss (such as GDF5 and FABP2) and athletic performance (including ACTN3 and IL-6). Prices range from £99 to £249.
Sign up for workout ideas, training advice, reviews of the latest gear and more.
Sam Razvi wrote for Men's Fitness UK (which predated and then shared a website with Coach) between 2011 and 2016.