Five Healthy Smoothie Recipes You Need to Try Today
Increase your energy, aid your recovery, or simply treat your tastebuds with these absolute winners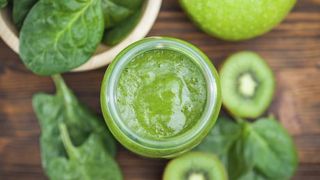 (Image credit: Unknown)
A few years ago, the smoothie was sitting pretty as beloved King of Liquid Food Land, but recent complaints of excessive sugar have jeopardised that status. And it's no wonder why when a typical banana and mango smoothie can set you back a whopping 470 kcal and 79 grams of sugar – more sugar than two cans of coke. But if you're cautious about what goes in them, smoothies can still be convenient, delicious snacks or even meal replacements. That's why we put together this list of healthy smoothies, crafted by experts, to help you lose the extra weight. Whether you need a quick and healthy meal replacement or something powerful to boost your workout and maximise your recovery, we've got something for you.
RECOMMENDED: More Smoothie Recipes
Gym Fuel Smoothie
200kcal, 37g sugar
Yes, this is quite sweet but you can keep it natural – no artificial pre-workout chemical-laden stuff here. A pair of kiwis has the same amount of potassium – great for your muscles – as a large banana, but with 40kcal less. It's simple, hydrating energy. Blend:
Half a mango (70kcal, 16g sugar)
2 kiwis (80kcal, 13g sugar)
A handful of strawberries (50kcal, 8g sugar)
Water and ice.
Weight Training Recovery Smoothie
391kcal, 27g sugar
Christina McKevitt is the in-house nutritionist for kitchen technology company Smeg. She recommends blending:
150g natural Greek yoghurt (130kcal, 5g sugar)
100ml rice milk (47kcal, 4g sugar)
A handful of spinach leaves (7kcal, 1g sugar)
1 banana (90kcal, 12g sugar)
1 tsp of ground flaxseed (37kcal, 0g sugar)
A scoop of vanilla protein powder (approximately 80kcal, 5g sugar, though this depends on brand).
The reason most smoothies these days don't include cow's milk is because many in the health and fitness industry believe that dairy can induce gut issues. If you don't have any kind of reaction however you might consider using full-fat milk here for extra protein and creaminess. Beware the skimmed version as it contains more sugar and is less satiating.
Cardio Training Recovery Smoothie
110kcal, 16g sugar
Cardio training is all about sweat, and that means rehydration afterwards is crucial. It's also a time to ingest as many nutrients as possible, particularly if you've been pushing your body to the limit. Bonus: Ginger is a natural anti-inflammatory so helps tired muscles recover. Blend:
A beetroot (40kcal, 6g sugar)
1 apple (60kcal, 10g sugar)
A thumb of ginger (10kcal, 0g sugar)
Water to taste.
Dessert Smoothie
454kcal, 35g sugar
"Almonds are great for releasing energy slowly into your system," says smoothie expert Jamie Meek, founder of Glo! Juice bar in Clapham. "They contain lots of healthy fats, fibre, protein, magnesium and vitamin E, which help to lower blood-sugar levels and lower blood pressure. This can reduce hunger and promote weight loss." You'll also appreciate the high levels of magnesium in this because it helps tired muscles relax. Blend:
250ml almond milk (43kcal, 0.5g sugar)
2 tbsp of almond butter (196kcal, 0.5g sugar)
1 large frozen banana (120kcal, 16g sugar – they make smoothies creamier than fresh ones, but don't forget to take the skin off before you freeze it)
Then add:
1 tbsp of raw cacao (31kcal, 1g sugar)
A dash of salt – use Himalayan salt if possible because it's full of essential minerals
Half a tbsp of cinnamon
1 tbsp of honey (64kcal, 17g sugar).

The 'I Need To Eat More Vegetables' Smoothie
63kcal, 5g sugar
"This smoothie is full of goodness and has hardly any sugar in it," says Meek, "But if you find slurping down all those veggies difficult use a Granny Smith apple (approximately 60kcal, 10g sugar) or pear (95kcal, 16g sugar) to make it more palatable." Also, McKevitt says: "Kale is higher in vitamin C than most other vegetables, containing four-and-a-half times much as spinach." Blend:
A celery stick (6kcal,1g sugar)
About 3-4in cucumber (8kcal, 1g sugar)
A large handful of kale (33kcal, 0g sugar)
Three quarters of a cup of pineapple (14kcal, 3g sugar)
A sprig of mint (2kcal, 0g sugar)
About three-quarters of a cup of water.
Sign up for workout ideas, training advice, reviews of the latest gear and more.