Try This Pork Loin Sandwich for National Sandwich Day
Up the protein proportion for a satisfying, muscle-building lunch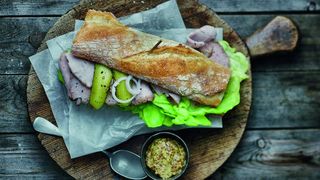 (Image credit: unknown)
Photograph: Jean Cazals
Bread can get a bad rep, but it's brilliant. That's why you should celebrate National Sandwich Day with this pork loin sandwich recipe taken from Cooking, Blokes & Artichokes to give you a big protein hit along with the essential nutrients to keep you going. It's a great recipe to scale up and make for a whole army of people: buy a 1kg to 1.4kg pork loin and roast it, get a couple loaves of great bread, and lay all the ingredients out in serve-yourself fashion.
Ingredients
170g pork Preferably centre-cut loin. This will comfortably serve two people
Pork brine Make this, following the simple recipe here, before doing anything else
2 big slices of hearty bread, such as baguette or sourdough Toasting is optional
Mixed salad leaves and throw in some sliced onion and other crunchy veg for texture
Pickles 
Herb-based pickles work well but feel free to experiment
How
Make the pork brine. Take 480ml water, 1tbsp salt, 1½tsp granulated sugar, 1 sprig coriander, 1 clove and 1 star anise and combine them all in a small saucepan. Bring to the boil over a high heat, then allow to cool to room temperature.
In a ziplock bag or covered container, combine the pork and brine and let it sit in the refrigerator for at least two but ideally four hours.
Preheat the oven to 190°C/gas mark 5.
Give the pork a quick rinse and dry it with kitchen paper. Place it in a small metal or glass dish and roast it until the internal temperature of the meat reaches 57°C, around ten minutes (20 minutes per 450g is a good guideline for pork, in case you're cooking a bigger piece of meat).
Remove the meat from the oven and let it rest for ten minutes.
Slice the pork as thinly as possible. Butter the bread and top it with a thick layer of pork, then top that with salad and pickles.
RECOMMENDED: How to Make Glazed Pork Ribs
4 Reasons To Eat More Pork
1. Protein
A 100g serving of pork loin contains 27g of protein and just 13g of fat, making it a perfect post-workout muscle-building meat.
RECOMMENDED: High-Protein Foods
Unlike other red meat, pork is high in thiamine (also known as vitamin B1), an essential nutrient involved in scores of biological functions.
Pork is also packed with the essential element zinc, which plays a pivotal role in at least 100 enzymes, as well as improving hormone function.
Phosphorus is an element crucial to nucleic acids like DNA and RNA, as well as ATP, your body's primary source of cell energy.
Taken from Cooking, Blokes & Artichokes by Brendan Collins (£20, Kyle Books). Buy on amazon.co.uk
Sign up for workout ideas, training advice, reviews of the latest gear and more.
Coach is a health and fitness title. This byline is used for posting sponsored content, book extracts and the like. It is also used as a placeholder for articles published a long time ago when the original author is unclear. You can find out more about this publication and find the contact details of the editorial team on the About Us page.