How to Make Glazed Pork Ribs
Up your protein intake and blow your tastebuds' minds with this epic meat fest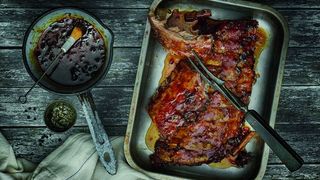 (Image credit: Unknown)
Photograph: Jean Cazals
Everyone likes ribs, but the secret to making this muscle-building pork feast taste amazing is Chinese five-spice powder. It takes its name not from the number of ingredients, but the way this single spice mix hits on all five principal tastes: sweet, salty, sour, bitter and umami. The sweet, spicy flavour acts like a bridge between salt and the heat of chillies, giving these ribs a really round, warm deliciousness. It also lends meat a handsome reddish tone – like the one you get when you put meat in a smoker – which is a big improvement over the unappetising grey tinge that ribs can take on when they're cooked in the oven.
RECOMMENDED: How to Cook Pan-Roasted Salmon
Ingredients
2 racks of pork spare ribs cut St Louis−style by a butcher Because ribs are delicious
2tsp Chinese five−spice powder Hits all five principal tastes in one spicy mix
Palm sugar caramel sauce See below for how to make the sauce that makes the meal
Coarse sea salt A good pinch of coarse sea salt will further enhance the flavour
Freshly ground black pepper As well as seasoning, black pepper is high in vitamin K and iron
How To Make Glazed Pork Ribs
Preheat the oven to 180°C/gas mark 4.
Season your ribs on both sides very simply with salt and pepper and dust with the Chinese five-spice powder.
Place the ribs meat-side down in a pair of aluminium or glass baking dishes. Cover the dishes with foil and roast the meat for four hours.
Drain off the drippings. Flip the ribs over using two spatulas (and an extra pair of hands, if you have them) so the meat side is now up. Be gentle, as they may be so tender they start falling apart.
Paint a layer of palm sugar caramel sauce on the ribs and return them to the oven uncovered for a further 20-30 minutes. Serve straight out of the oven.
Palm Sugar Caramel Sauce
Ingredients
400g palm sugar
1tbsp fresh lemon juice
200g thinly sliced shallot (4–6 large shallots)
1 dried hot red chilli
3 star anise
1 cinnamon stick
2tsp freshly ground black pepper
120ml Thai fish sauce
How To Make The Perfect Ribs Sauce
In a heavy-based saucepan over a medium heat, combine the palm sugar, lemon juice and 4tbsp water and bring to the boil. Using a wet pastry brush, wash down any sugar crystals stuck to the side of the pan. Reduce the heat and let it simmer until it begins to reach an amber colour after about 20 minutes (watch the pan carefully, because caramel can go from pale to burnt in seconds).
Remove the pan from the heat and stir in the shallots, chilli, star anise, cinnamon stick and black pepper. Whisk in the fish sauce and another 4tbsp water. Return the pan to a medium heat and stir until the caramel is smooth.
Pour it into a heatproof bowl and let it cool. Remove the chilli, star anise and cinnamon stick, and pour over the ribs while warm.
Taken from Cooking, Blokes & Artichokes by Brendan Collins (£20, Kyle Books). Buy on amazon.co.uk
Sign up for workout ideas, training advice, reviews of the latest gear and more.
Coach is a health and fitness title. This byline is used for posting sponsored content, book extracts and the like. It is also used as a placeholder for articles published a long time ago when the original author is unclear. You can find out more about this publication and find the contact details of the editorial team on the About Us page.