An Athlete's Diet Diary
Lynsey Sharp lets us in on what she ate today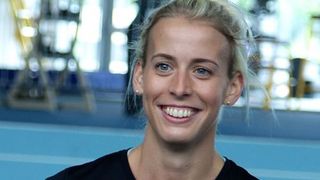 (Image credit: unknown)
The 800m athlete, Olympic semi-finalist, Commonwealth silver medallist and European champion, 24, tells us how she fuels her body for her busy training schedule.
Breakfast About 8.30am, I tend to eat porridge made with almond milk. I'll add protein powder, honey, cinnamon, blueberries, raspberries and sometimes I sprinkle some nuts over it. Between breakfast and lunch, straight after training, I'll have a shake. I'll throw whatever I have in the fridge, so some fruit, vegetables, green vegetables, like spinach, pineapple juice and some protein powder.
Lunch I'll have salmon, steak or chicken with eggs and three types of vegetables, such as asparagus or spinach. I like carbs for energy so will usually have rice or potatoes alongside.
Dinner Dinner is quite similar to lunch. I'll be meat, veg and rice or potato. I'm trying not to eat bread or pasta – although, sometimes I'll have rice pasta. My signature dish is curry – I tend to make a variety of them with coconut milk.
Snack Usually I'll snack on yoghurt and granola, fruit, Nakd bars or ricecakes. I'm really in to pistachios at the moment!
Drinks I always take water to training with me and probably have at least a litre whilst I'm there and always have some with my meals. I'll probably drink around 2.5 litres a day, if not more! It's important for me to keep hydrated.
Supplements I take Omega fish oils, Vitamin C every morning to stop me getting quite ill, glutamine tablets and magnesium at night to help me sleep.'
Treats I used to be really in to cake! I'm trying to stop eating it. I love chocolate brownies or flapjacks. I have a sweet tooth, so I'll have a dessert now and then for a treat.
Kitchen must-haves There will always be porridge and rice in my cupboard. I'll also have tins of tuna in case I run out of meat or fresh fish. I'll always have packets of spinach in my freezer, as it goes off so quickly in the fridge and it's so handy to put in juices or meals!
Nutritionist's verdict: 8/10
Nutritionist Fiona Hunter says: Dairy-free alternatives to milk such as almond, oat and rice milk tend to have much less protein than cow's milk, so it's a good idea for Lynsey to add some protein powder to boost the protein content of her porridge. If she's avoiding dairy, she should make sure she chooses a brand that's fortified with calcium, as it's important for her bones.
On the whole, her diet is healthy and well balanced and provides all the nutrients she needs to keep her body healthy and fuel her training. She could try swapping canned tuna for canned salmon – it's a much better source of omega-3 fats and, if she eats the small bones, it'll also provide calcium.
Sainsbury's sponsorship of the British Athletics summer events series reflects its wider commitment to inspiring healthy lifestyles for all, and complements grassroots campaigns such as Active Kids and Sainsbury's School Games. Tickets for the Sainsbury's Birmingham Grand Prix and IPC European Championships in Swansea via britishathletics.org.uk (opens in new tab)
This article first appeared in Women's Fitness
Sign up for workout ideas, training advice, reviews of the latest gear and more.
Coach is a health and fitness title. This byline is used for posting sponsored content, book extracts and the like. It is also used as a placeholder for articles published a long time ago when the original author is unclear. You can find out more about this publication and find the contact details of the editorial team on the About Us page.