Eat More Beef (While Staying On Budget)
Wallet-friendly beef recipes that won't break the bank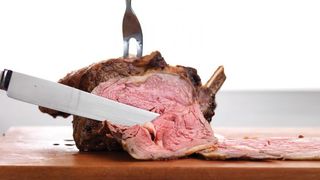 (Image credit: Unknown)
A juicy sirloin steak is hard to top, but there are lots of other tasty beef cuts – allowing you to develop new culinary skills without breaking the bank.
Chuck
'Chuck, or braising steak, is a thick cut from the shoulder of the cow,'
says Boland. 'It's low in sodium and has a delicious rich flavour. Serve this high-protein cut with amino acid-rich vegetables such as kale and baked beetroot – this way your whole meal has a tasty, fitness-boosting benefit.'
Hamburger and beetroot salad
Mix together 500g minced beef chuck (you can do this at home or ask your butcher to do it), 50g beef fat and 5g of salt. You can also add chopped onions or coriander for extra flavour, depending on personal preference.
Separate into small balls and press down to form beef patties.
Pre-heat the grill and cook the patties for 15 minutes or until cooked through, turning once.
Wrap two beetroot (per serving) with a little oil in foil. Bake at 200°C for around 30min, slice and serve mixed with salted raw kale.
Flank
'Flank comes from the meat surrounding the belly – some parts are cut for bavette steaks, which are very lean,' says Philpot. 'Bavette has great flavour but it's one of the tougher steaks, so when you prepare it make sure you clean off any sinew and cut through the meat fibres at a slight angle.'
BBQ bavette steak
Marinate your steaks in a little thyme, rosemary, garlic and olive oil.
Grill until the meat is cooked to your taste, then rest the steaks for about ten minutes to help make them tender – when they first come off the grill they will be tight and tough. Cut into slices before serving.
Serve with a salad of fresh tomatoes, cut and seasoned with sea salt and cracked black pepper, some thinly sliced shallots and a touch of olive oil (leave this to sit for about 20 minutes and it will make its own dressing).
Skirt
'Skirt isn't considered as tender as other, more common cuts of beef but it's far cheaper and has a delicious, matured flavour,' says Bennett. 'For the healthy option, remove or clean any excess fat away and replace it with a tasty marinade.'
Spring onion and chilli-marinated beef
Slice up four spring onions, two red chillies and one clove of garlic and place into a blender with a teaspoon each of salt and cracked black pepper. Pour in enough olive oil to just cover the mix, then blend until smooth.
Smother this marinade over four 150g beef skirt cuts then wrap in cling film and leave in the fridge for 24 hours before using.
Heat up a large frying pan with a little oil. When the pan is hot, add in the skirt and fry out very quickly for about two minutes on either side. The beef should be a little pink in the middle to retain its juiciness.
Shin
'Beef shin has to be cooked for a long time at fairly low temperatures, to soften the connective tissue,' says Pickett. 'A stew can provide a pretty healthy all-in-one meal as most of the fat will render down and can then be skimmed off once cooked.'
Beef shin casserole
Ask your local butcher to cut you two 250g Osso Bucco from the beef shin.
Seal the beef in a very hot pan, then place into a casserole dish. Brown 100g each of chopped onion, carrot, celery and celeriac, with three cloves of garlic and one sprig of thyme, and add to the casserole dish.
Cover with 1l of beef stock and simmer. Place the lid on top and cook in a slow oven at 120°C for 3.5–4 hours, checking every 45 minutes to make sure the liquid isn't evaporating too quickly.
Serve once cooked with a sprinkling of chopped parsley.
Sign up for workout ideas, training advice, reviews of the latest gear and more.
Sam Razvi wrote for Men's Fitness UK (which predated and then shared a website with Coach) between 2011 and 2016.