Are insects the future of muscle food?
Are edible insects really the future of muscle food? MF visits three arthropod eateries to investigate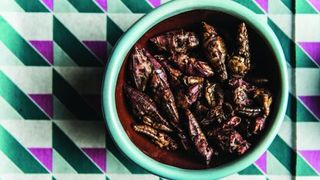 (Image credit: Unknown)
When you think of a tempting protein-rich food, you probably imagine a juicy steak, a plump chicken breast or a lovely dollop of peanut butter. You almost certainly don't think of a crunchy bug. But a recent surge in popularity – triggered by a UN campaign trumpeting their nutritional viability as an alternative to meat and dairy – has led to a range of creepy crawly-infused snacks and meals appearing in shops and restaurants.
Insects that were once the preserve of jungle-dwelling Z-list celebs are now being served as gourmet fitness food, thanks in part to their impressive protein content. Grasshoppers, caterpillars and mealworms are all over 20% protein, putting them on a par with muscle-building staples such as chicken and beef, and they're more sustainable to produce than livestock. But will they ever taste good enough to replace a steak? MF turns insectivore to find out.
Archipelago
One of the UK's leading global fusion restaurants, London's Archipelago serves a selection of unusual insect dishes, as well as rare, protein-rich meats such as crocodile, wildebeest and kangaroo.
'We do get an occasional scream from a squeamish customer,' says Daniel Creedon, Archipelago's head chef and general manager. 'But most people are very open to what we offer. It's funny, because people freak out about eating insects but they're happy to eat prawns, which are basically large insects that swim in the sea.'
On the Archipelago menu today are pan-fried crickets with quinoa, spinach and dried fruit, a cricket and locust salad and – most ominously – mealworm caviar. 'Insects have a very particular, slightly bitter flavour,' says Creedon. 'This comes from chitin, which is the protein that their exoskeletons are made from. In east Asian countries people grow up eating it and become accustomed to the flavour, but it's not something people are used to in the UK.'
I ask if the recipes are of Asian origin. 'Not necessarily,' Creedon replies. 'Most of our menu consists of dishes I designed myself. There's a lot of trial and error involved when you've got such varied ingredients.'
I start with the pan-fried crickets, which contain 13g of protein per 100g. 'We usually dry insects out in the oven to make them nice and crisp,' says Creedon. 'But we deliberately fried these crickets, so they burst in your mouth like a grape, which some people find strange.' To my surprise, the taste is fairly mild, and the grape-like texture complements the quinoa and dried fruit well. If anything, the overriding flavour is that of the spicy chermoula butter – made with chilli, garlic and coriander – that the dish has been fried in.
Next up is the cricket and locust salad. Crisp and crunchy, the locusts – which are roughly 60% protein – have a pleasing walnut-like flavour that's further enhanced by the garlic, chilli and lemongrass sauce. Finally I move on to the mealworm caviar. Served in a caramel peanut sauce with coconut cream, it's a struggle to identify a specific worm flavour, but the texture is a perfect substitute for actual caviar and the sauce is sweet and punchy.
Wahaca
Mexican street food-inspired restaurant chain Wahaca launched its flagship grasshopper dish, Chapulines Fundido, in 2013, and it's back in season – and on the menu – this November.
'Insects such as grasshoppers and crickets are very popular foods in Mexico, especially when they're fried in chilli, garlic or lime,' says Wahaca's head of menu innovations, Edson Diaz-Fuentes. 'We wanted to bring some of this interesting Mexican food to the British market, so we're flying grasshoppers in from the state of Wahaca to serve in our restaurants.'
The dish consists of a salsa base topped with melted cheese and served with tortilla chips, which you use as makeshift cutlery. 'We crush the fried grasshoppers and mix them with the other salsa ingredients,' says Diaz-Fuentes. 'Mixing them in makes the dish more appealing to people who might be scared by the thought of eating insects, although we do put one whole grasshopper on top for presentation's sake.'
The result is a satisfying cheese feast with a smoky, earthy undertone. The combination of casein-rich cheese and grasshopper – which contains 20.6g protein per 100g – makes for an excellent muscle-building meal, although I struggle to resist the urge to wash it down with a mojito.
Selfridges
One of London's oldest department stores, Selfridges offers a selection of insect-based snacks in its food hall. They're produced by exotic food specialists Edible (edible-shop.com) and provide an opportunity to sample insect cuisine without splashing out on a full restaurant meal.
First up from the Edible range is toasted scorpions. While not technically insects – although they share the same arthropod phylum and exoskeletal body type – scorpions are similar in taste and texture to crickets and locusts, with an earthy, nutty flavour and a slightly bitter aftertaste. 'All the scorpions are farm-raised, then detoxified and toasted until crisp,' says Selfridges buyer Emma Murphy. It gives them a similar texture to pork scratchings, and after a few crunchy chews they dissolve easily in my mouth.
I follow up this savoury starter with a few sweet snacks, including a sugar-free Antlix lollipop, containing black ants. According to Murphy these contain 'energy-giving enzymes', but I struggle to pick out their flavour. To wash it down, I'm given a glass of worm gin. 'The worm adds a unique taste to the gin, and you can eat it when you finish the bottle,' says Murphy. Given that it's 8am, I decide not to polish off the bottle for the sake of sampling the protein-rich worm, but the few sips I do enjoy are crisp and refreshing.
Sign up for workout ideas, training advice, reviews of the latest gear and more.
Coach is a health and fitness title. This byline is used for posting sponsored content, book extracts and the like. It is also used as a placeholder for articles published a long time ago when the original author is unclear. You can find out more about this publication and find the contact details of the editorial team on the About Us page.