Fuel your Mudder
Ensure your training is planned out properly by checking you have the right nutrition and tech in place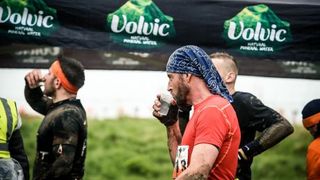 (Image credit: Unknown)
Don't be the guy at the starting line of a Tough Mudder who's done all the training, researched all the obstacles and got the best gear but when you ask him about nutrition he says goes quiet and mutters something about energy gels. That's the guy you'll see a bit later sobbing by The Liberator.
Like any aspect of your training, you need to think about it well in advance of your race. A bit part of being ready to race is carb-loading, a strategy designed to increase the amount of fuel in your muscles for endurance races.
In order to make sure you count your calories effectively, download the Lifelog app – the ultimate digital diary – use your SmartBand from Sony to track data in as much detail as you like, with you can then pair with your Xperia™ Z3+ from Sony to review and analyse it at your leisure. You can follow your fitness and entertainment, track your heart rate, set goals, and look back on the moments that matter – and it'll also monitor your calorie consumption. Perfect for getting your carb-loading right.
While carb-loading starts around a week before your race you need to make sure your body is ready for the extra calories. 'Carb-loading works best when you've already been eating a carbohydrate-rich diet during your training regimen,' says Glenn Higgins, personal trainer and nutritionist (glennhigginsfitness.com) 'It's also important to make sure you stay hydrated through the process. Try for a litre of water for every 25kg of body mass.'
Now, this isn't just a case of grabbing the baguettes and shovelling pasta until you can't breathe. 'You want to focus on quality carbs from fruits, vegetables and whole grain foods for the bulk of your carbohydrates,' says Higgins.
'Don't get so obsessed with carb-loading that you forget your other macros,' says Higgins. 'About 10 to 15% of your non-carb calories should be from lean protein sources such meat, poultry or fish. The remaining 15 to 20 percent of your calories should come from healthy fats, such as avocado or almonds.'
Seven days before your race
'In the week of the carb-loading phase, eat small meals that are carb-heavy consistently throughout the day,' says Higgins. 'If you try and do it in one hit you'll just end up feeling bloated and won't get the full benefits.'
When you're seven days out from the Tough Mudder your carb-loading really ramps up. 'Carbohydrates should constitute about 60 to 70% of your daily caloric intake,' says Higgins. 'Specifically, shoot for 3 to 5 grams of carbohydrates per pound of body weight every day, starting at 3grams before working your way up to 5.
Three days before your race
With the race closing in this is when your carb intake will be at its highest. 'At this point 70-90% of your calories should come from carbohydrates,' says Higgins.
If you're stuck for ideas for snacks to keep your carb levels up here are some suggestions from Higgins
1 large handful of raisins, dried apricots or other dried fruit
3 slices of wholemeal bread thinly spread with honey
4 thick slices of wholemeal toast
5 rice cakes spread with jam
The day before
The good news is if you've started your carb loading early you won't have to be stuffing your face with carbonara at 11pm. 'Skip the high fibre goods like raw vegetables, beans and bran,' says Higgins. 'They may well leave you feeling bloated and gassy at the starting line.'
When it comes to the all-important dinner 'it should be relatively small but carb-heavy, either pasta or fruit,' says Higgins. 'Eat on the early side so you have lots of time to digest and avoid fatty foods that take a long time to digest.'
If you prepare properly your muscles will be motoring along come race day. All you'll have to worry about is making sure you don't lose your head as you approach Sony's Arctic Enema 2.0, one of the toughest obstacles on the course.
Find out more about the Xperia Z3+ from Sony and its benefits for your Tough Mudder preparation
Sign up for workout ideas, training advice, reviews of the latest gear and more.
Coach is a health and fitness title. This byline is used for posting sponsored content, book extracts and the like. It is also used as a placeholder for articles published a long time ago when the original author is unclear. You can find out more about this publication and find the contact details of the editorial team on the About Us page.