The UK's Best Obstacle Course Races And Mud Runs
Fill your calendar with these assault course events, then find out how to ace any race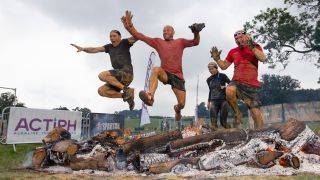 (Image credit: Spartan)
While we love a running event or cycling sportive as much as anyone, obstacle course races offer something different. Though you can go all-in with training plans and target times in OCRs (and we can help you if you do), they are just as much about having fun with friends and completing the course, overcoming the strange and usually muddy obstacles along the way.
We say usually muddy because it's worth highlighting the fact that not all OCRs are mud baths full of electric shocks and barbed wire, so if that kind of action is not your cup of tea rest assured there are options for you.
You'll find those options below, along with a whole load of OCRs where you can fully expect to get muddy and/or zapped along the way, because there is undoubtedly a lot of fun in overcoming those challenges too.
The UK's Best Obstacle Course And Mud Races Of 2022
Best For Teamwork: Tough Mudder
The biggest mud run in the UK. Standard Tough Mudder events ditch timing chips and favour teamwork instead: some obstacles are impossible to successfully tackle unaided, so participants can expect to help each other through mud pits and over walls. Events typically involve 10 or 15km of hilly racing, with chunks of deliberate unpleasantness like the Arctic Enema (a plunge into icy water) and electric shocks alongside the more traditional physically challenging stuff. You can also opt for an Infinity challenge at some of the 11 events in England and Scotland in 2022, which involves completing as many loops of the 15km or 5K courses as you can in a set time.
Shorter one-mile (1.6km) and 5K courses are also available, while those who fancy something longer can tackle the 24-hour Europe's Toughest Mudder event, where you complete a five-mile (8km) loop as many times as possible.
Sign up | £55-£159
Best For A Test Of Mettle: Spartan
This is a fixture of the mud run racing calendar for a reason. The Spartan's sprint, super, beast and ultra options offer everything from an hour-long 5K jaunt to 50K of barbed wire crawling, tyre dragging and heavy thing carrying. Failure in obstacles means punitive burpees, so it's a good idea to get your rope-climbing technique locked in.
For those who want to work as a team, the Hurricane Heat events at each Spartan weekend involve doing just that – you are assigned a team when you arrive and work together to complete obstacles, and no-one can finish alone. There are four Spartan OCR events in 2022, two close to London, one in Wales and one in the Midlands, as well as two Spartan trail-running events where you can run a 10K or 21km race without any obstacles at all bar those Mother Nature throws in your path.
Sign up | From £69
Best For Off-Roading: Wolf Run
If you prefer your obstacles to be a little more natural – think muddy woods and icy lakes – then sign up for a Wolf Run. It's a more challenging endurance event than most others – there's a fair bit of ankle-threatening terrain, as well as one of the few genuine swim sections in obstacle racing. The standard event is usually around 10km, and this year the organisers have also introduced a 5K option, plus 3km and 6km Junior races for seven- to 17-year-olds.
Sign up | £60
Best For A Fun Day Out: Inflatable 5K
While the focus is very much on fun at these OCRs, anyone seeking a challenge can find one, with 2.5km, 5K, 10K and 15km distance to choose between. The amount of huge inflatable obstacles you tackle rises from 17 to as many as 92 as you tack on more laps of the 2.5km course. There are also special survival events where along with the obstacles you have to avoid "chasers" in six (2.5km race) or 12 (5K race) special zones that attempt to remove the three tags from your tag belt – the aim is to have at least one tag still in place at the end of the course.
Sign up | £47.50 (£33 early bird)
Best For A Muddy Good Time: Total Warrior
Like Tough Mudder, Total Warrior is not strictly speaking a race, although in the Ultra Warrior event the person who completes the most 12km laps or half laps during a five-hour period will be crowned the winner. Otherwise, just go along for a good time with friends and muddy strangers who'll help you over the obstacles that dot the 12km and 6km routes. There's also a 3km Junior Warrior run if your kids fancy getting muddy too. The event takes place at Bramham Park in Leeds on the weekend of 9th to 11th July.
Sign up | From £59.95
Color Obstacle Run
This event takes its name from the coloured powder that you are showered with as you complete the 5K course, which also contains a variety of inflatable obstacles. The aim is to have fun rather than to speed through the course, with a party atmosphere fuelled by 20 music zones on the route. The UK Color Obstacle Run takes place on 7th May at Royal Windsor Racecourse.
Sign up | £44.90 before 7th April, £49.90 before 5th May, £54.90 thereafter
Mud Run Training Sessions
Stop-start racing means bursts of speed beat steady-state cardio. Plan your PB accordingly, with advice from Dr Andrew Murray, ultra-runner, sports medicine consultant at the University of Edinburgh and Merrell ambassador
Speed Intervals
"Obstacle races are very stop-start, so when I trained for Tough Mudder I played an activity that mimicked that pace once a week – like five-a-side football or squash. If that's not an option, do intervals that mimic the pace of your race: 400m repeats with relatively short rests will work. Or you could simply do a quick 5K with occasional bursts of speed."
RECOMMENDED: Interval Sessions For Runners
Grip Workout
Even if all you've got is a pull-up bar, you can still train to take on the obstacles. Do four rounds of the session below – or intersperse the moves with burpees for hand strength and conditioning
Knee tap
Reps As many as possible
Hang from the bar with both arms, then let go with one hand and reach down to tap your knee before grabbing hold again. Repeat on the other side. You'll build single-arm strength as well as the co-ordination to switch your grip quickly.
Tap swing
Time 30 seconds
You'll want a sturdy bar for this one, but it's the best way to prepare for the monkey bars. Hang from the bar and bring your knees up, then extend your legs to start your body swinging. Repeat on each swing to increase the amplitude. If you've got the space, practise dismounting with a leap.
Lateral swing
Time 30 seconds
Hang from the bar with both hands and then swing slightly from side to side, gathering momentum with your legs. The hand on the side you're swinging towards become will seem to become lighter. As you get more experienced, take a hand off the bar at the top of the move.
Hill Sprints
"I did some hill reps once a week. This can help build speed and stamina, in addition to the physical and mental strength you need." Find a 50-100m hill, run up it and walk back down. Repeat five times, and add a rep or two a week.
Power Workout
Explosiveness is useless unless it gets you over the obstacles. Add these moves to your regular routine to build sport-specific power
Use Sprints To Conquer The Quarter-Pipe
You're unlikely to find one to practise on, so train on the flat. You'll want to be as fast as possible over 50m to stand a chance of gripping the lip unaided. Do 6x50m repeats with a couple of minutes' rest – and when it comes to the real thing, lean back just slightly to convert horizontal momentum into vertical.
Use The Step Vault To Beat Under-Overs
Getting over chest-high fences (and, occasionally, under nets) is easy enough, but adding efficiency will make it faster and less tiring. Practice on your gym's plyo boxes. Approach at a jog, plant one hand on the top and take a quick step with the opposite foot as you sail over the box.
Use Cat Hang Pull-Ups To Help Get Over Walls
These build upper-body strength combined with the co-ordination needed to bring your legs into play. Hang from a wall with your knees raised. With your toes pressed to the brickwork, pull yourself up to the edge, then lower again. Once you're confident, push up to straighten your arms at the top and climb onto the wall.
Long Runs
"It's tempting to spend all your time on training for mud and obstacles, but don't neglect the running element in your race – some of these races can be of half marathon distance or even longer. The general principle is to do one longer run a week. Build it up gradually so that two or three weeks before the race, you can run the distance of the actual race. This is a must, as on race day having to go over obstacles and through mud will make it feel further, although to counter that you have the support of the others taking part."
Functional Fitness Workout
Curls won't help on the course – you need a strength regime that mimics the demands of the real thing. Use this routine once a week
1 Rope pull-up
Sets 4 Reps max
If you haven't got a rope, sling a towel over a pull-up bar. If you have, work on technique as well as grip by practising the lock-off, where you grip the rope between your feet and slide them up to take the weight off your arms.
2 Loaded carry
Sets 5 Time 30sec
Carrying heavy objects is a staple of races whether it's a log, jerry can or fellow human. Hard pressed to find them in your gym? Improvise with a heavy farmer's walk – one dumbbell in each hand – or a Bulgarian bag across your shoulders, taken as far as possible.
Sets 3 Reps max
It'll help with cargo net-based obstacles, but also build core strength for wall traverses. Set up underneath a waist-height Smith machine bar, or use a TRX, lying flat on your back. Pull your chest up to the kit, pause and lower under control.
4 Rope pull
Sets 5 Distance 20m
The Spartan Race calls it the Hercules Hoist – hauling a heavy weight over a pulley with an arm-over-arm pull. Mimic it in the gym by borrowing a battle rope and looping one end around a sandbag, then pulling. Use your back, not just your biceps.
Sign up for workout ideas, training advice, reviews of the latest gear and more.
Thank you for signing up to Coach. You will receive a verification email shortly.
There was a problem. Please refresh the page and try again.