Tough Mudder Launches New 5K Races
The events will be held in London, Manchester and Edinburgh next summer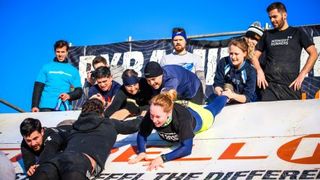 (Image credit: Unknown)
If your work nights out are starting to seem a little repetitive, involving nothing more original than heading for the nearest bar and cramming in as many drinks as possible, then here's something to consider trying – a 5K obstacle course race on a Friday night.
Tough Mudder has expanded its line-up to include a series of 5K events in London, Manchester and Edinburgh in 2018. All three cities will host weekend 5Ks, while London will also have a Friday night event for those keen on kicking off their weekend in active fashion.
The London events will take place in the Queen Elizabeth Olympic Park on Friday 23rd and Saturday 24th March. Manchester's Tough Mudder 5K is on Saturday 11th August in Heaton Park, and the Edinburgh edition is on 25th August in Holyrood Park. Further events in Bristol and south London are expected to be announced soon.
Each will feature at least ten of Tough Mudder's obstacles, including some brand spanking new ones which have been designed especially for the shorter distance. As with all Tough Mudder events, teamwork will be vital to complete the course, so either enlist some friends and family or be prepared to make new pals on the day.
Taking part in a 5K event costs £29, while spectators will be able to access the Mudder Village to watch for free – the course will wind around the Mudder Village so those watching can see all the action. Included in the entry price is a finisher's pint, T-shirt, headband and photos. Considering the price of a pint in London, Tough Mudder is getting dangerously close to paying you to compete.
The London, Edinburgh and Manchester events are all on sale now on the Tough Mudder website, where you can also sign up for alerts for when entry opens for other races. As the 5K events are shorter and less challenging than a full Tough Mudder – which is typically 16-20km long – you don't have to worry too much about training for them, but if you are wondering what kind of exercise it's worth doing to prep for an obstacle course race, check out our Tough Mudder training plan.
Sign up for workout ideas, training advice, reviews of the latest gear and more.