How To Make It Through Your First Wolf Run In One Piece
Use these straightforward training and gear tips to prepare for the popular mud run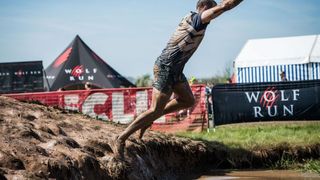 (Image credit: unknown)
There are a muddy-pit-full of obstacle course races you can choose to tackle nowadays, but the Wolf Run stands out for its use of natural obstacles. Sure, this may mean swimming across an unbelievably-ruddy-cold lake, but it also means a distinct lack of electric shocks.
Before the Wolf Run's opening event of the season at Pippingford Park in East Sussex on 28th April, organiser and route tester Will Moreton offers these handy tips so you arrive prepared.
How To Train For A Wolf Run
"It is important that people are comfortable with running between 5K and 10K," says Moreton. "It doesn't have to be quick, but get the distance under your belt."
RECOMMENDED: 5K Training | 10K Training
Once you're comfortable with that distance, Moreton recommends heading off-road. "Training on grass at the park or on rural footpaths will help strengthen your stabiliser muscles and improve your balance. As you progress, include inclines and rougher trails where you have to choose your foot placement – this will help you on any woodland sections of the Wolf Run."
Adding sprint intervals to your runs is a good way to train your body to recover quickly after tackling an obstacle. "Gradually build up the length and frequency of these sprints," says Moreton. "Begin with 75% of your top speed and keep it going until you can feel yourself starting to slow down and then return to regular running speed. Make sure you are still able to keep moving because stopping to recover during a Wolf Run when you're wet and muddy means getting cold."
Obstacle course races are a uniquely full-body challenge, though, so if you think you could get through with strong legs alone you're sorely mistaken. "Incorporate press-ups and core exercises at the end of your training runs before the warm-down," says Moreton. "These lactic acid workouts are the best way to recreate the conditions of the race in your training."
Then there's an important bit of technique to work on. "You will find yourself crawling and scrambling a lot of the time," says Moreton, and "moving quickly on your hands is a great skill to maintain speed through natural obstacles. Keep your back straight and your hips low for the best results, and try to use your forearms on the low crawls to spread upper body weight."
As a bonus, throw in some sets of jump squats because this (and other) plyometric exercises will help you to develop dynamism. "I love to see people really attacking the obstacles," says Moreton, metaphorically we presume.
Essential Gear
"Wearing the oldest pair of trainers you have is the most common mistake made by first-timers," says Moreton. "You'll see plenty of people slipping and struggling in the mud because they don't have the right footwear. Go to a specialist running shop and find a trail shoe that will suit your gait and provide grip."
RECOMMENDED: The Best Trail-Running Shoes
Once your feet are suitably shod, find something to slip onto your mitts. "You need your hands in good order to successfully tackle the monkey bars and climbing obstacles," says Moreton. "The easiest way to do this is to wear gloves."
And while the Wolf Run offers a fine range of merchandise, we'd suggest that if you're not wearing the Three Wolf Moon tee (opens in new tab) over a base layer you're missing a trick (although we will also accept this Game Of Thrones "Winter is Coming" T-shirt (opens in new tab) during the Winter Wolf Run (opens in new tab)).
The Wolf Run 2018 season begins 28th April at Pippingford Park, East Sussex. Buy tickets at thewolfrun.com/pippingford-park (opens in new tab)
Sign up for workout ideas, training advice, reviews of the latest gear and more.
Jonathan Shannon has been the editor of the Coach website since 2016, developing a wide-ranging experience of health and fitness. Jonathan took up running while editing Coach and has run a sub-40min 10K and 1hr 28min half marathon. His next ambition is to complete a marathon. He's an advocate of cycling to work and is Coach's e-bike reviewer, and not just because he lives up a bit of a hill. He also reviews fitness trackers and other workout gear.